Day 4 of the East Texas Adventure 2016 began at the Mineola Nature Preserve. On the banks of the Sabine River (this thing really gets around) it is a preserve set apart with trails, marshes, and birds of all kinds. There is also a pollinator garden there to attract bees, hummingbirds, and butterflies.
One of the larger animals you can see there is a small herd of American Bison. While commonly referred to as a "buffalo", its correct name is actually bison. These massive creatures can surprise you with their speed and agility. I remember watching them in Yellowstone leaping over fences. Many other "tourons" (tourist morons) have approached them too closely, only to learn that that massive head can toss a person quite a few yards, sometimes straight up!!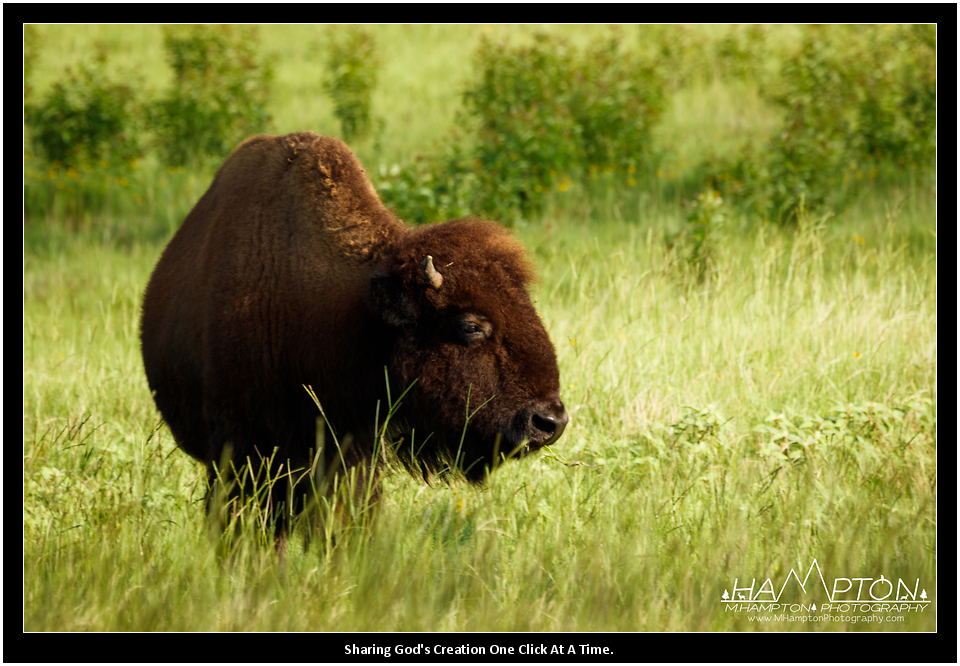 One of my goals for coming here this day was to get a good shot of the pronthotory warbler. My friend Danny Pickens comes here often and had been posting some very nice shots. With my first sighting of one the previous day I had hopes of getting a cleaner shot of one out in the open and I was not disappointed! This one came out and landed on this small branch just a few feet away from the wildlife viewing station. This is a shot that made me happy.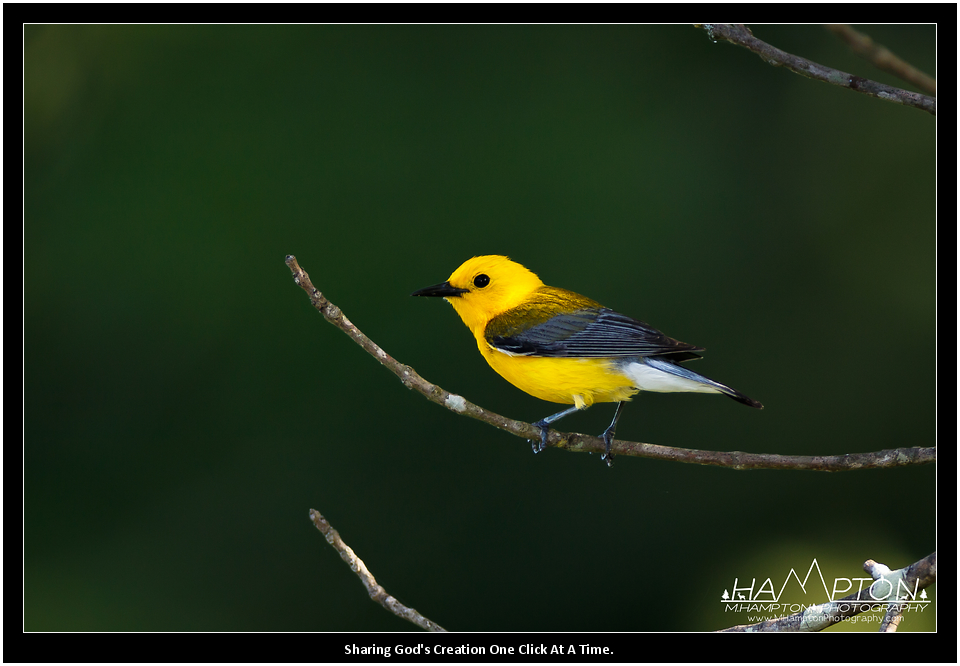 Just like the three days prior, the weather was hot and humid, but I didn't let that stop me from spending some time on the trails here. I walked down to the gator pond, but did not see any gators. They have been spotted here, but not by me.
I did however spot this indigo bunting on the trail as I was walking back towards the parking lot. I'm always happy to see these little beauties! Combine this with the earlier warbler and I was a hot, sweaty, and happy photographer this day!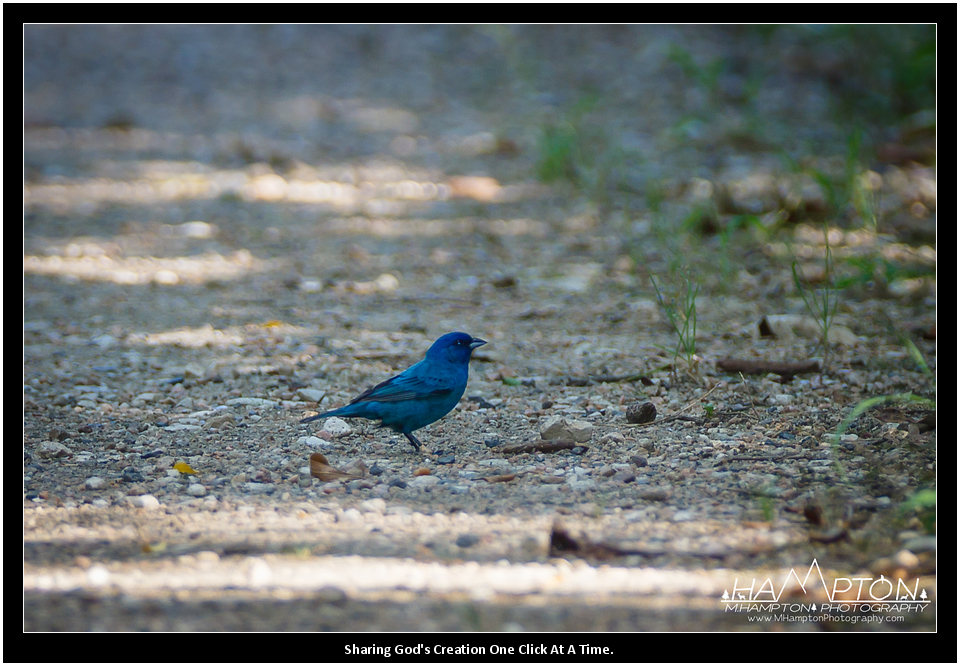 After spending the morning here it was off to the town of Mineola to get lunch and decide where to go next.
After a quick lunch at MickyD's I decided to go tourist for a bit and check out the East Texas Gator and Wildlife Center. I've been looking for gators all week, so why not go someplace where I know they exist? This is quite the interesting place and they do a lot of work with local schools and educational organizations. In fact there were a couple of school groups going through the place when I arrived.
Here you can see several young children being introduced to "lemon drop", the rather large snake.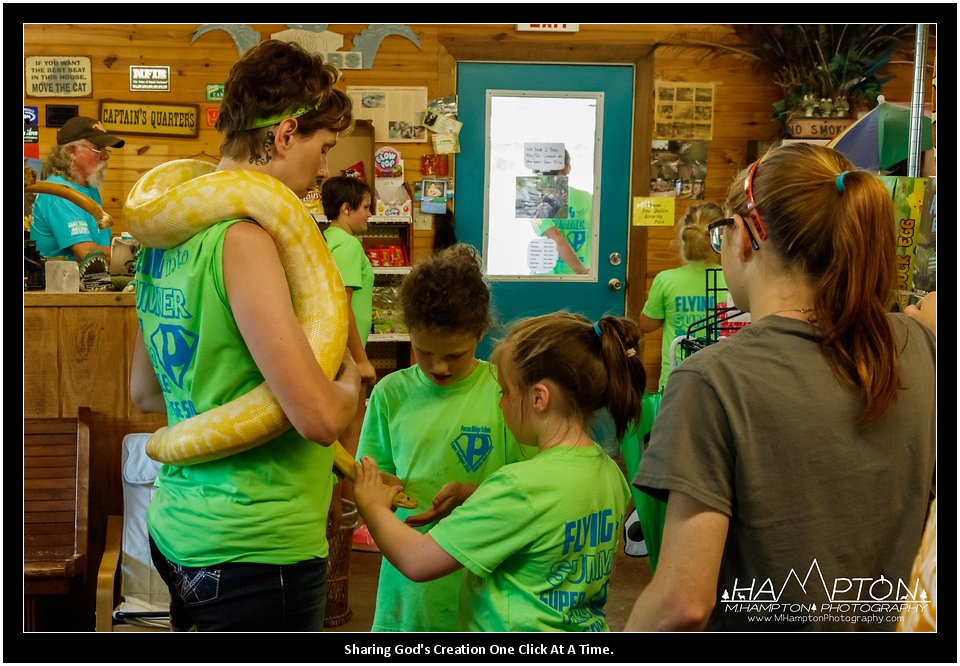 While they have several reptiles and other animals inside, I came to see gators, so I headed outside to see some gators!
I came to the first pond and looked and at first I saw no gators, but then I saw the eyes sticking up out of the muddy water. If you look closely, you can see them too. And if you look even closer, you can see another on hiding in the muddy water behind the grass on the right. The gators are here all right, but they are very stealthy, at least at first glance.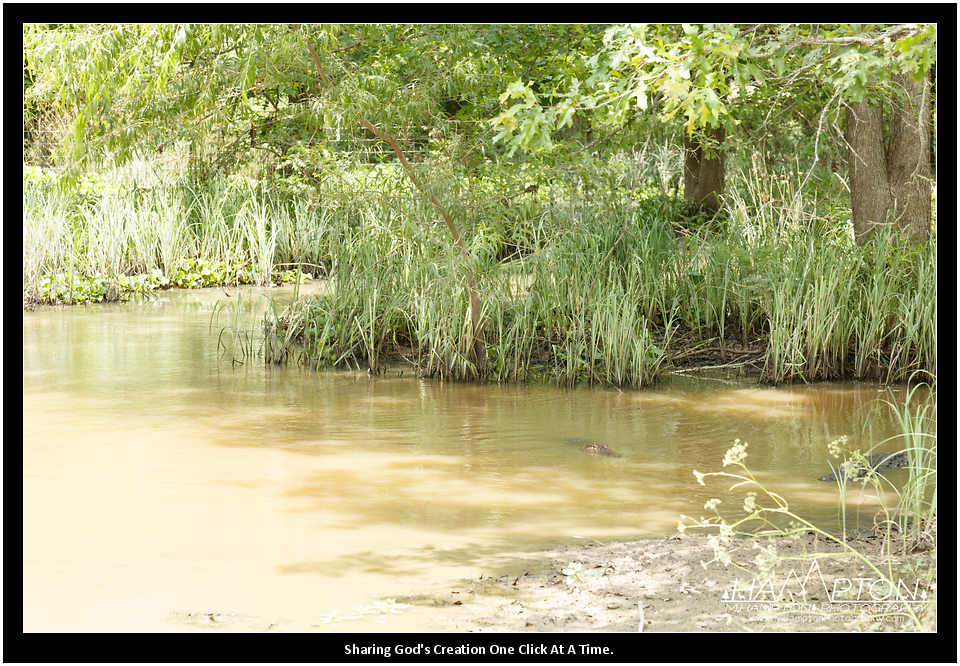 As I walked around, I soon began to realize that there were many more gators here than I first thought. Of course they are all behind fences for safety, but they are quite close. I would not be wise to be reaching over the fence to try and pet one. This one was practicing some form of gator yoga and it stretched it neck and soaked up some sun.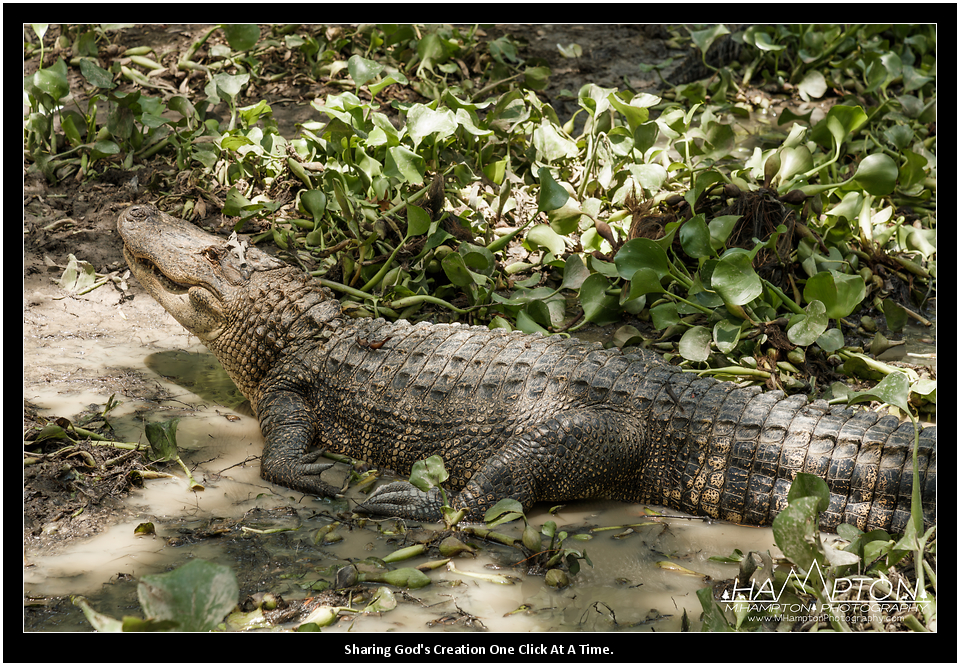 And while this one looks like it is snarling at me, I think it was just being lazy and waiting for something to land it its mouth for a quick snack.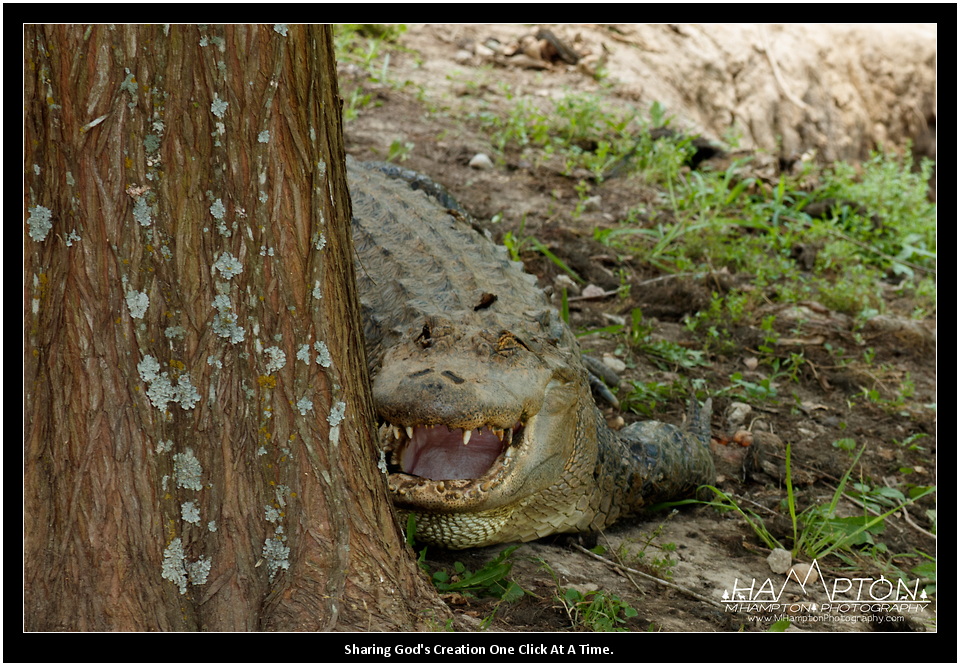 These are truly ferocious looking creatures and I understand they can bite a mans arm or leg off with a single bite! As I was leaving I asked how many gators they have and they have well over 40 in their ponds. When asked where they get them I was told that they are all local East Texas gators that people have found on their property. Rather than kill them, they have a trapper that can bring them here where they can be cared for.
After spending some time talking with the people here, in their air-conditioned building, I figured I would make one more stop since I was out this direction, and headed to lake Tawakoni. Yet another of Texas' great state parks where you can enjoy the great outdoors, no matter how how and humid it may be.
The first thing I saw was a squirrel, so like any good dog, I froze to watch it.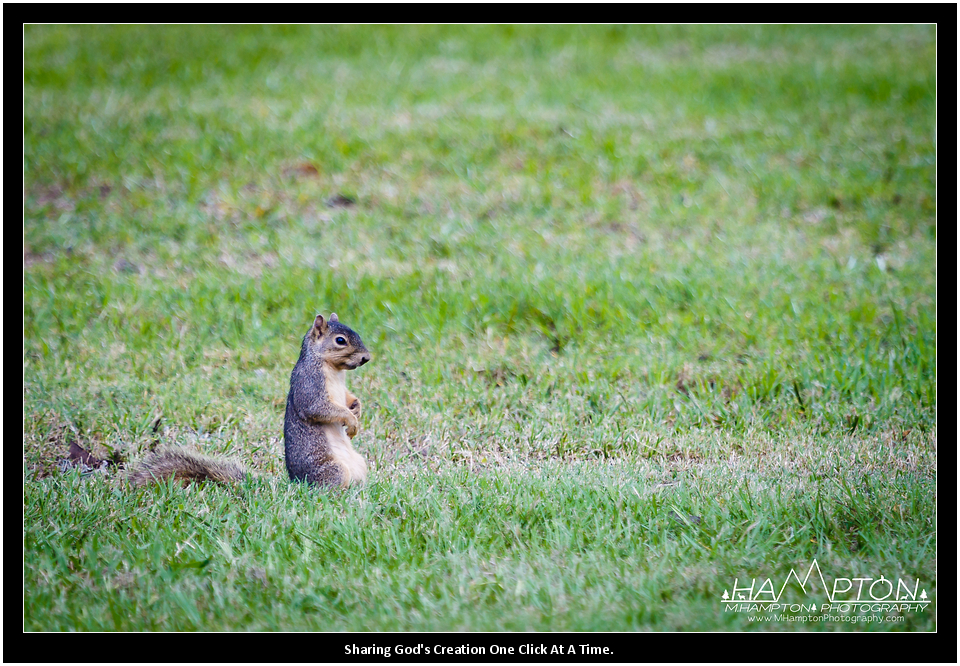 Not realizing just how tired I was at this point, I parked my car in the parking lot, and with the motor and AC running, ended up taking about an hour long nap while I was waiting for the sun to get a little lower in the sky. My hope was to stay here until sunset because the sky was full of big fat puffy clouds.
After my little nap, I gathered up my cameras and headed to the nature trail which the rangers at the gate had informed me were well known for birds. And while the trees were not exactly full of birds due to the heat, I did hear a familiar call in the trees and was able to catch this beautiful painted bunting. This is one of my favorite birds and one that I don't see to see nearly often enough. I occasionally hear their call at my place, but I have yet to actually see one there. Luckily, this male stuck around long enough for me to grab a few shots before heading back into the trees.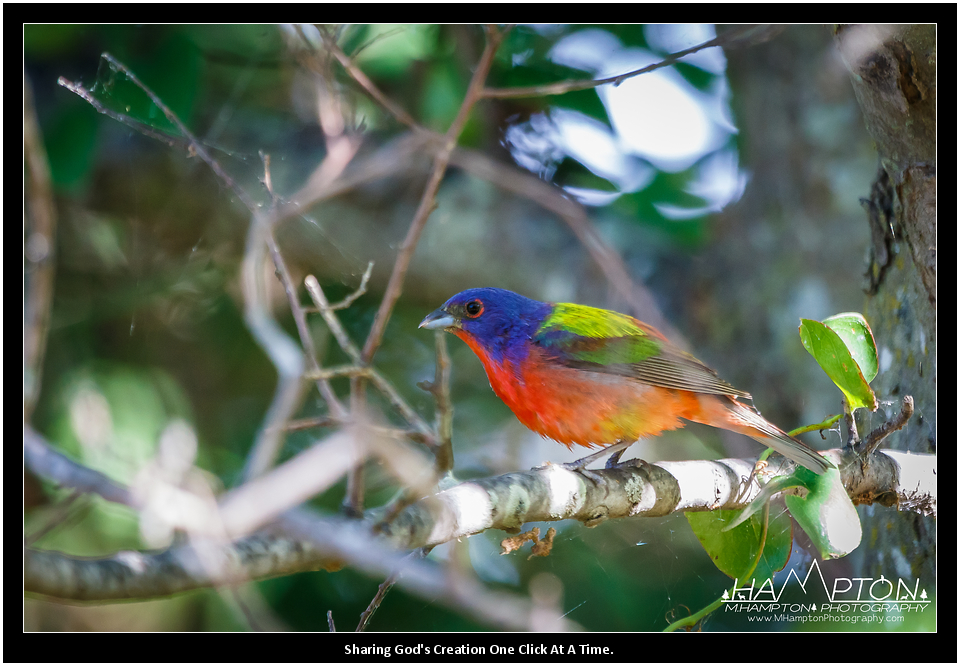 And speaking of trees, I also ran across this very interesting looking tree on the trail. With its branches twisting and twirling all around, I could imaging this tree in the middle of some Halloween scene and drunk teenagers are running through the woods being chased by some crazed person with a chainsaw and machete. I'll just keep walking for now.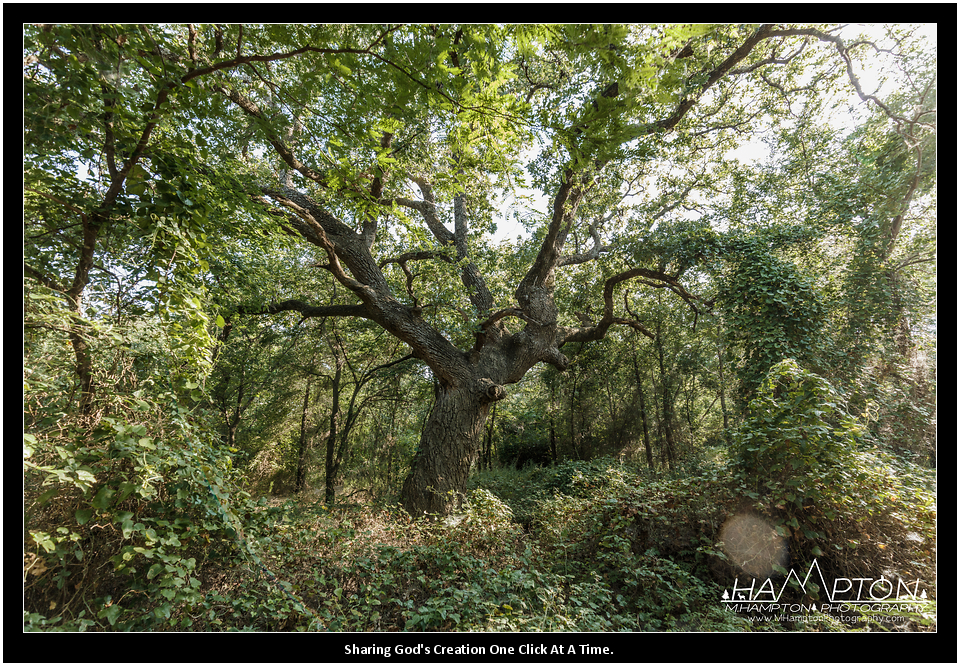 Sadly, as I picked out my spot to wait for the sunset over the lake, every last cloud in the sky began to dry up and disappear. At this point, hot, sweaty, and the beginnings of hunger beginning to set in, I decided to head for home. I was about a hour away at this point and I figured I could take a picture of a "bla" sunset anywhere. So I picked up my gear and headed back down the trail towards my car. Once there I loaded up, leaving the cameras in the front seat next to me, just in case.
And am I glad I did. Just as I was exiting the park, this greater roadrunner runs across the road directly in front of me. Seeing that no one else was on the road, I cut across the road to the oncoming side, pull over to the shoulder and grab for my camera. Apparently it was its dinner time as well because I watched as it bug up a rather large worm and then went after this cicada. Unfazed by my presence in my car, it continued on hunting as if I wasn't there.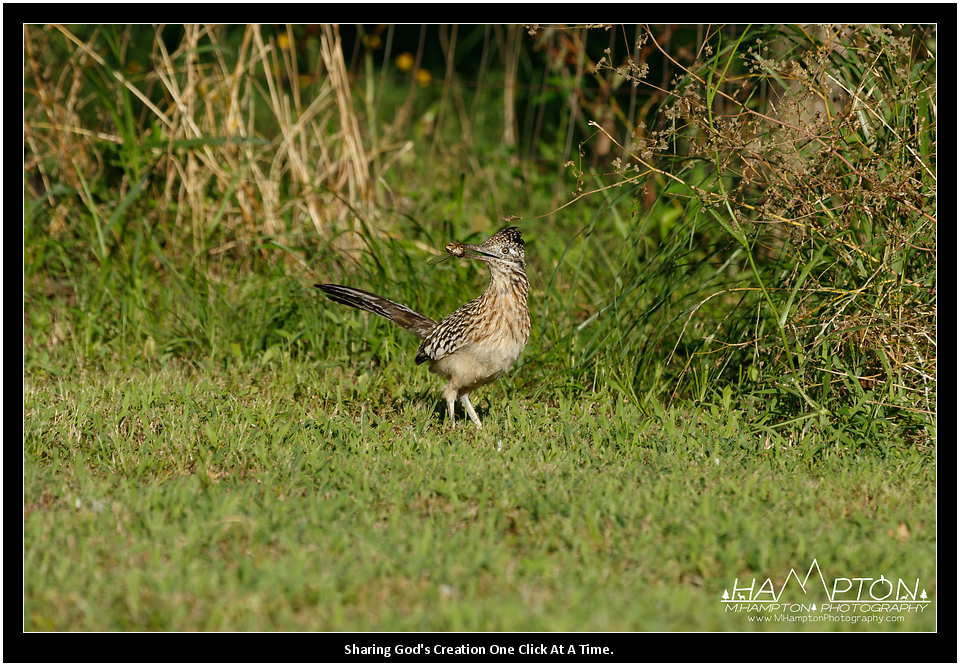 Then to my surprise, another roadrunner showed up. I don't know how to tell the male from the female, but I would guess this was one of each.  I thought maybe that red behind the eye of the second one may be a hint, but from what I've read, that is more an indicator of age with the young not having the red patch.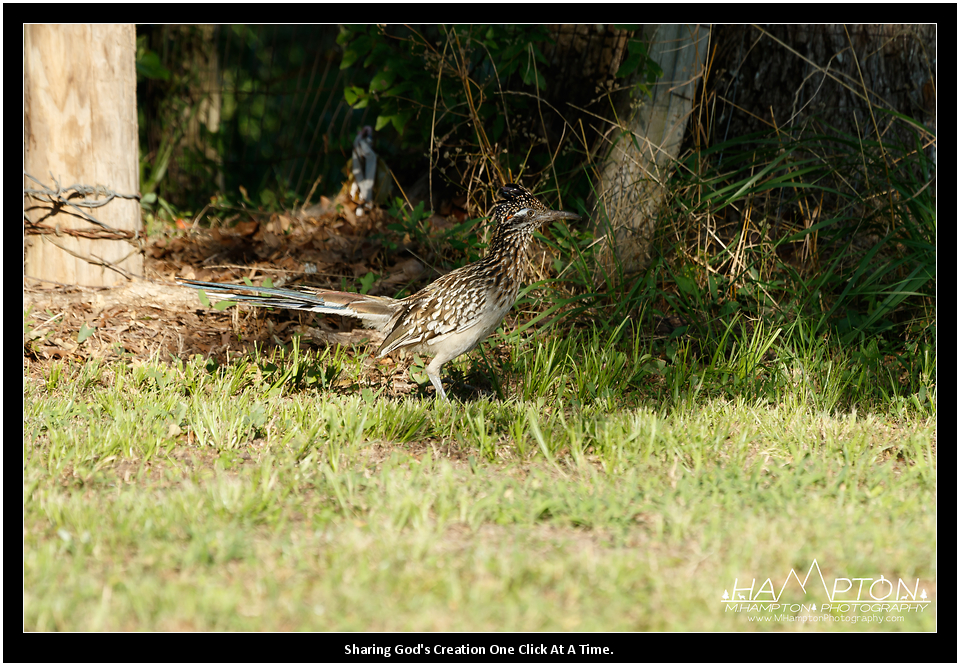 After spending some time with the roadrunners, I headed home to wind down my this four day adventure. and as I pulled into the driveway, I was greeted with this beautiful sunset, right in my own back yard. Now that is a great ending to my week of adventure.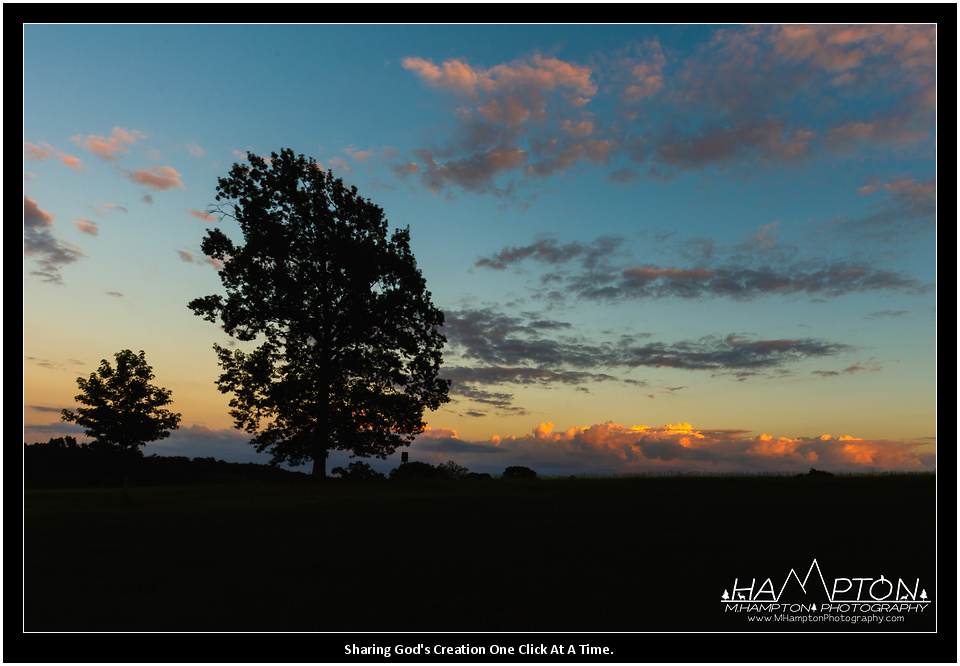 Was the week hot and sweaty? Yep. Was it full of adventure? Yep. And was it worth it? You bet! But next time I will try and schedule my time off at a time when it might not be quite so hot.  And I'll try to sneak in some shorter adventures in the mean time to keep this blog updated. I've had several comments from people who have enjoyed reading this and taking the adventure along with me, so I'll try not to disappoint.
Until next time,
Michael
All photos copyright of Michael Hampton 2016 and taken with the Canon 5DS-R or Canon 7D Mark II