It has finally come–our final day aboard ship. This will be a full day at sea with only minimal view of land. We take this opportunity to sleep in a bit and then get breakfast. When we return we see the last of our towel sculptures for the trip–a heart!  Our cabin stewardess was excellent on this trip. She saw to our every need promptly and completely. I should have gotten her photo, but I didn't think about it.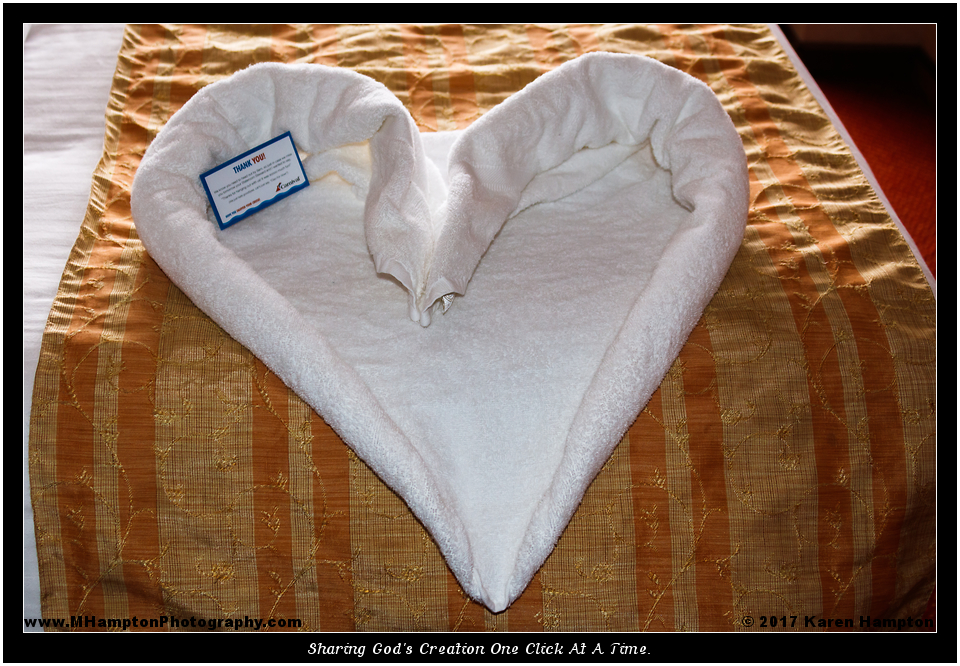 Ventures onto the deck provided this scene pretty much the entire day. There would be briefings about debarkation procedures and such to attend, and just general relaxing aboard the ship.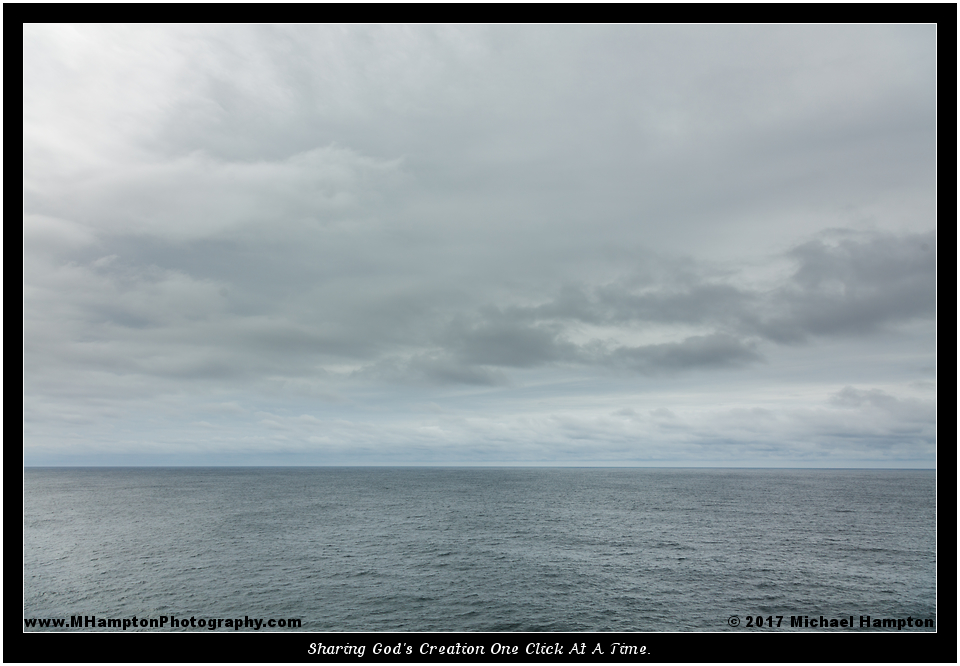 One event that we did attend was an ice carving demonstration. This guy was pretty amazing.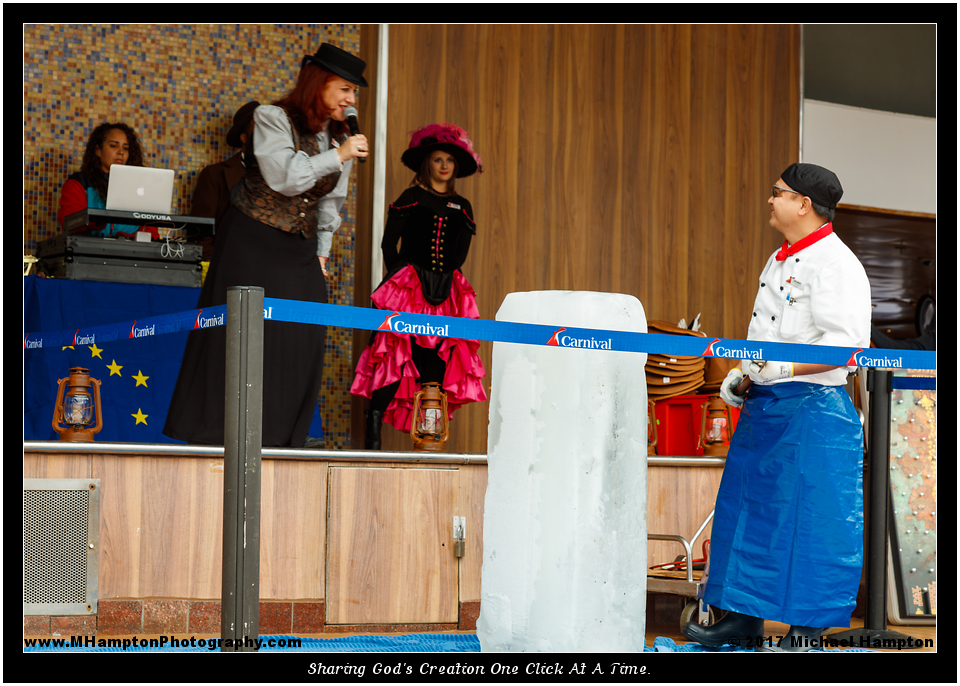 He started with a simple block of ice and just started chipping away.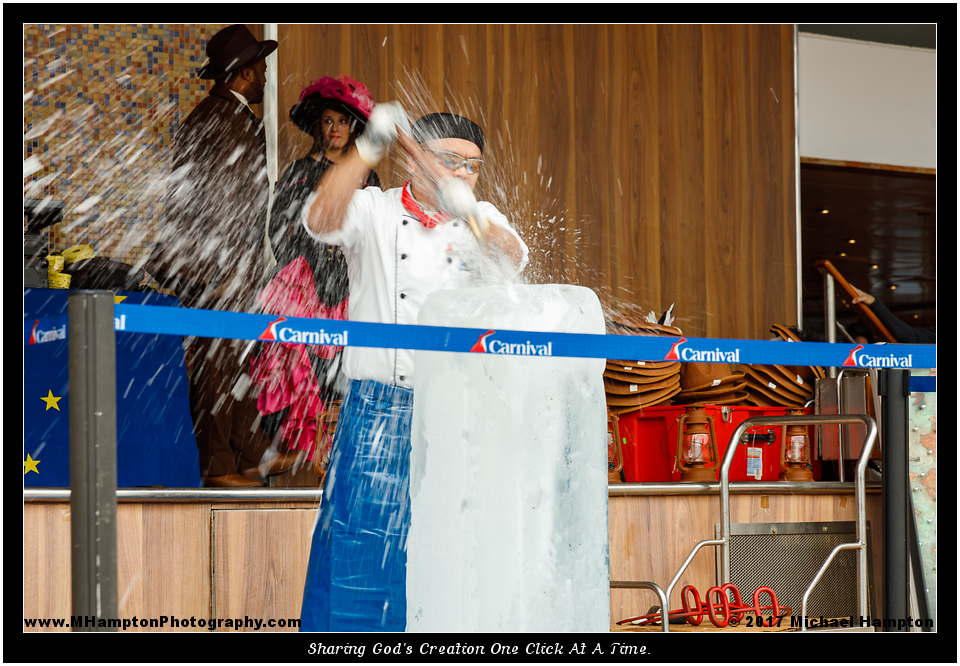 I know that by this point I would have shattered the entire block into nothingness, but he appears to know what he is doing.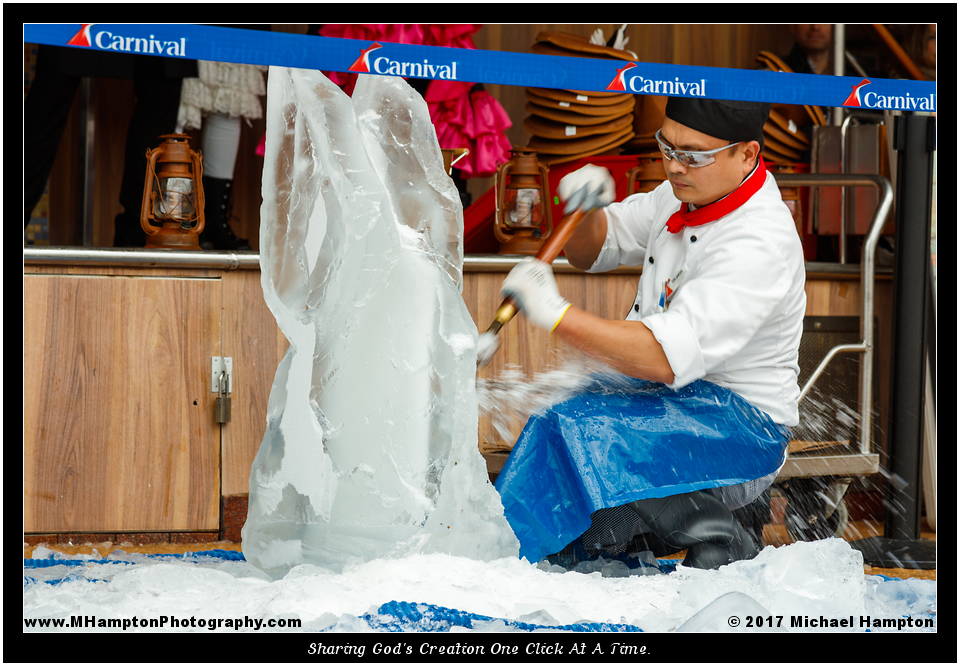 Looks like wings. Maybe an angel or a bird?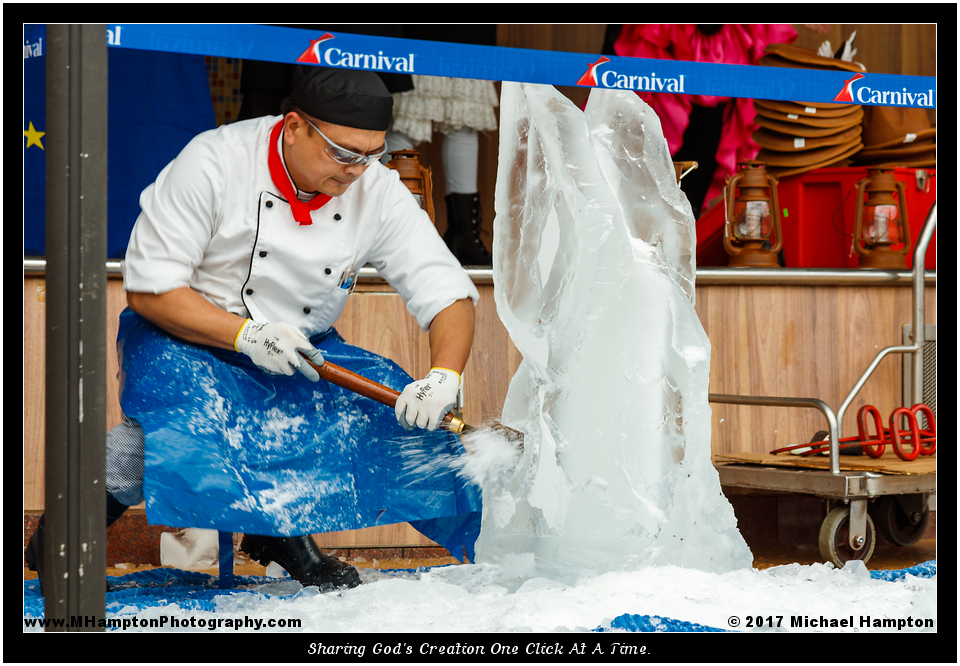 Jen, the cruise director, pumps up the crowd as he continues his work. The ice is starting to take shape.
Yep, it is starting to look more like an eagle at this point. Do you see the head and beak in the front?
Now the feathers of the wings are taking shape.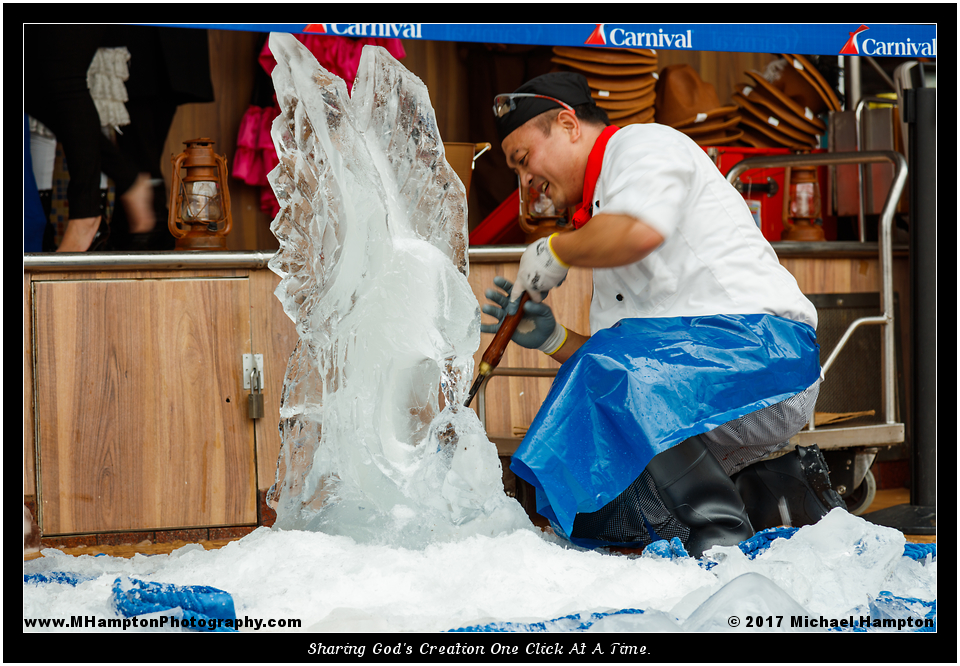 And the final product, done in just 23 minutes. Again, I would have a bag of shaved ice left! Incredible!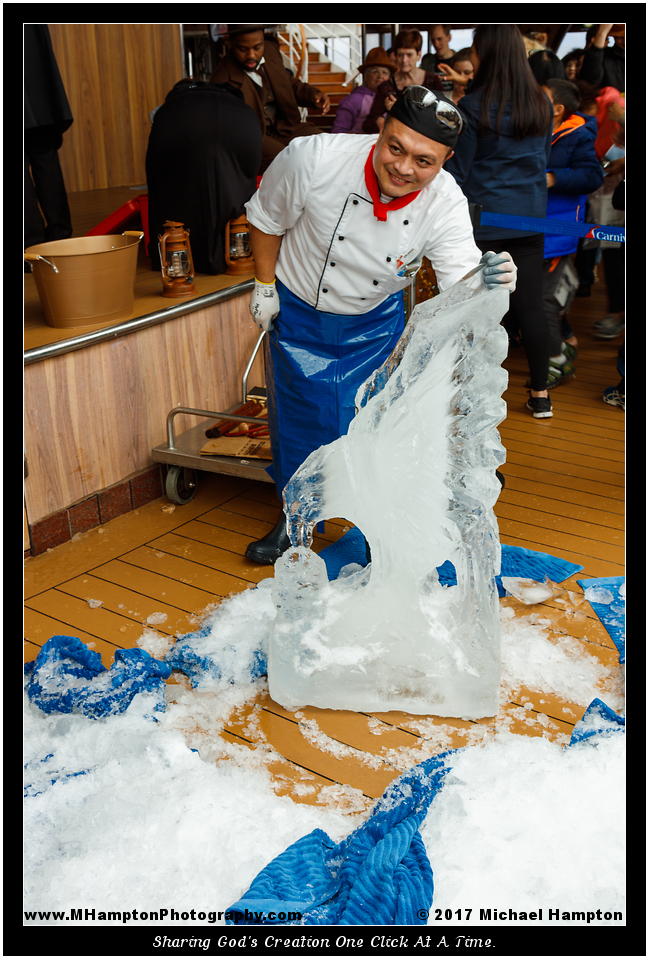 Checking the view, pretty much the same as before, lots of water, sky, and clouds. Still gorgeous though.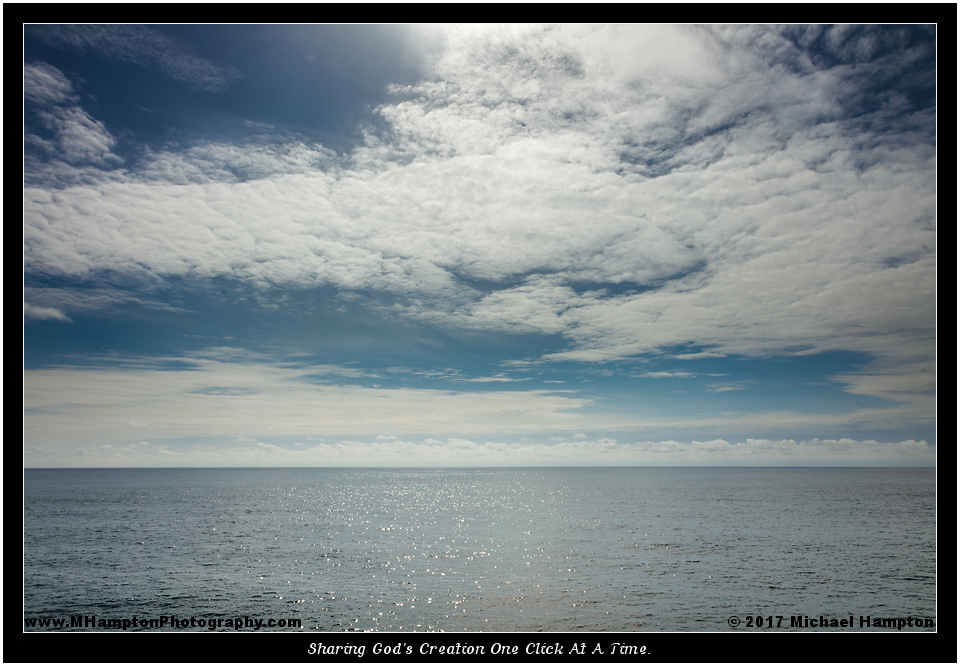 Land ho! Finally, off in the distance I see my beloved mountains! According to the GPS tag of the photo, we are still far enough north that those are Canadian mountains.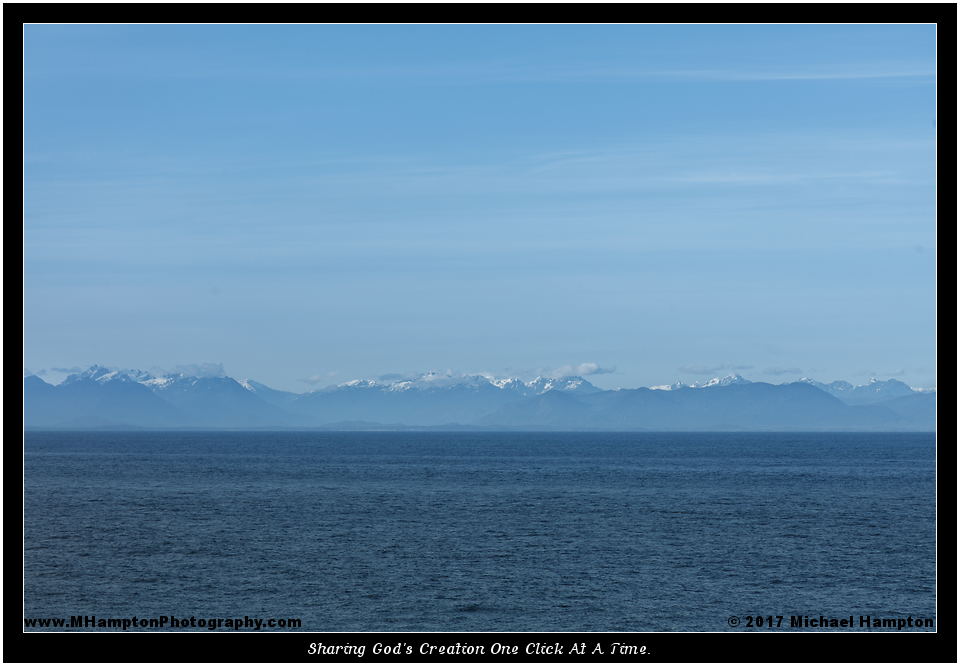 But the sun is setting and its time to make sure everything is packed for debarkation. The night is uneventful and when we wake up in the morning I get my first view of Seattle Washington. Yep, there's the Space Needle! I've always wanted to see that!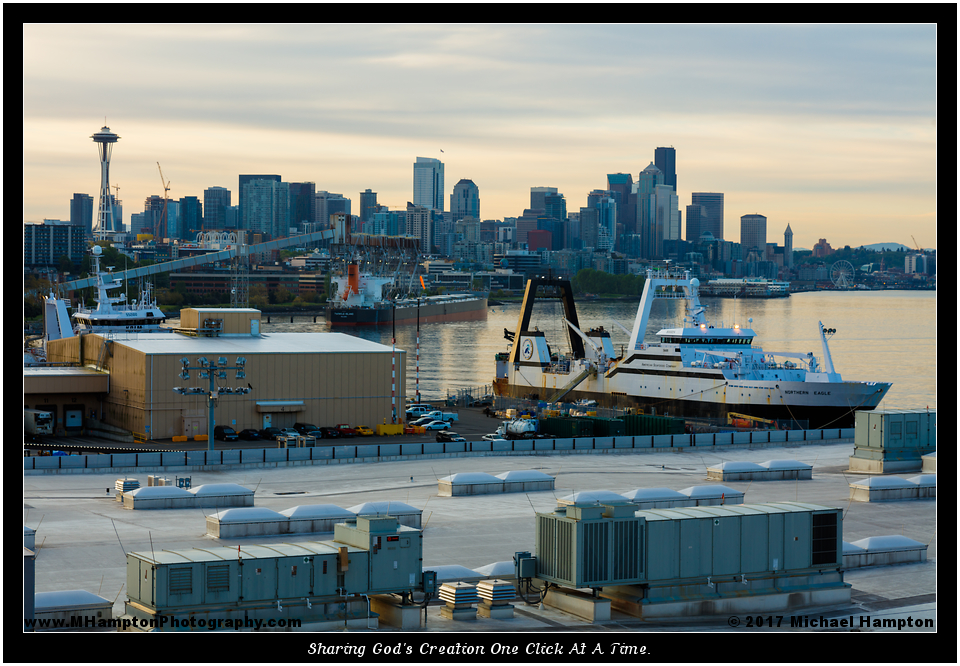 And there is Mount Rainier! I've always wanted to see that as well!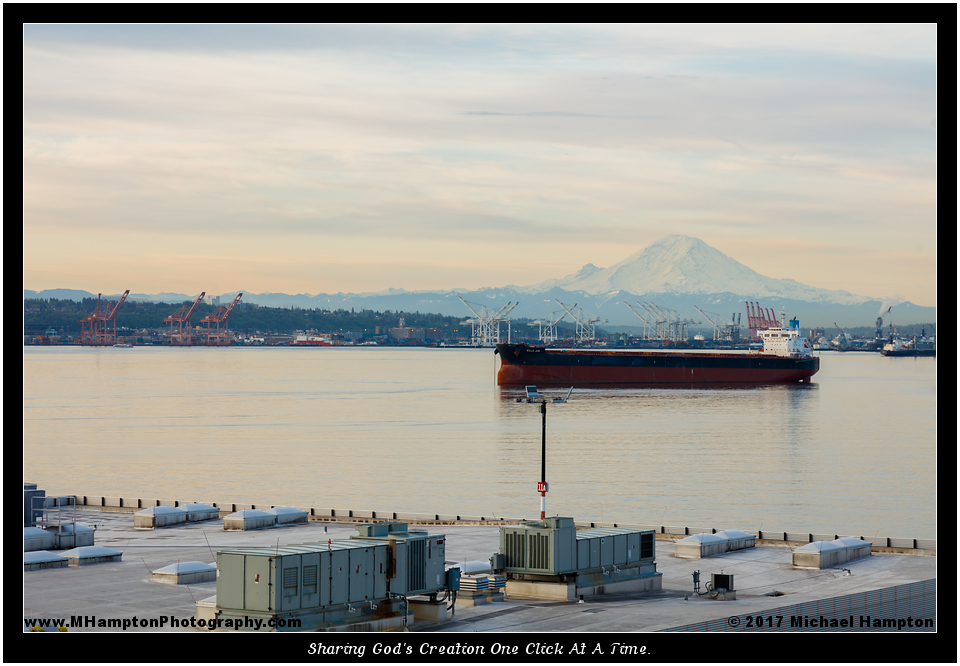 And here they both are together. This is one of those places that is on our list for a return trip where we can spend time. This is not that trip. Duty calls and we must return to our real lives as ordinary workers in the system.

So, with that, it was time to pack up the cameras and prepare for the customs, TSA adventure. It will be nowhere near as exciting as the last few days, but it must be done. By tonight we'll be back in our own bed in Overton, Texas. It will be many more days before the swaying sensation goes away but hopefully the memories made on this trip will never recede.
Thank you for coming along with us on our trip. I hope that you enjoyed the stories and photos. Watch this site in the future as many of the photos taken on the trip, some shown here and others not, will be made available for sale. Buy them and help pay for our next adventure. If you do, I'll be sure to share those memories with you as well!
Thank God for the beautiful places to see!
Until next time…
All words and photos copyright 2017 MHampton Photography
Equipment used: Canon 5DS-R, Canon 7DmII, Canon T6S, and various Canon lenses