It is hard to believe that here on day 4 of the cruise, it is already half over. As usually happens on a vacation, time seems to have sped up when all you really want it to do is slow down. That said, we are ready to make our first port of call in Juneau Alaska! We are looking forward to this stop because we booked a photography excursion with a local company that will lead us to the Mendenhall Glacier as well as taking us out on a smaller boat to look for whales!
We disembark the ship and head for land. First day on solid land in a few days does seem a little strange. Nothing is swaying anymore. And do you see that big water slide on the top deck of the ship? I don't remember ever seeing anyone use it this trip, though there were a few people in the hot tubs from time to time. But since this same ship is also used for Hawaii cruises as well, I'm sure it gets used plenty then.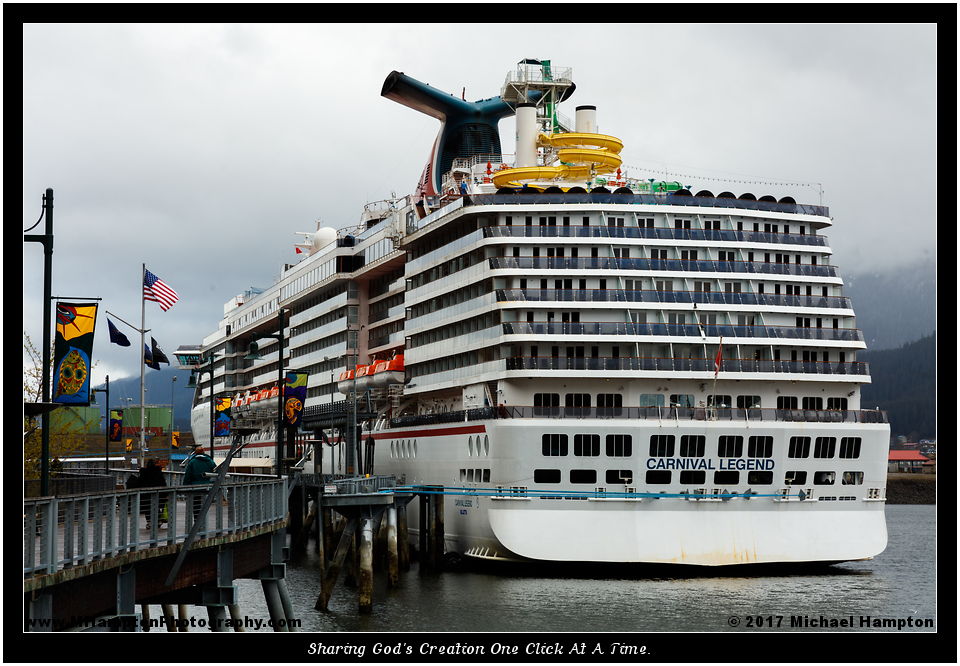 Our excursion was called "Whale Watching & Mendenhall Glacier Photo Safari" and was ran by Gastineau Guiding. Our tour guides were Andy and Tawny and both were very knowledgeable about the area, flora and fauna, as well as the photography aspects of the tour.
First, the led us through the "Trail of Time" which had very interesting flora. I don't remember all the names of the plants, but they were very interesting.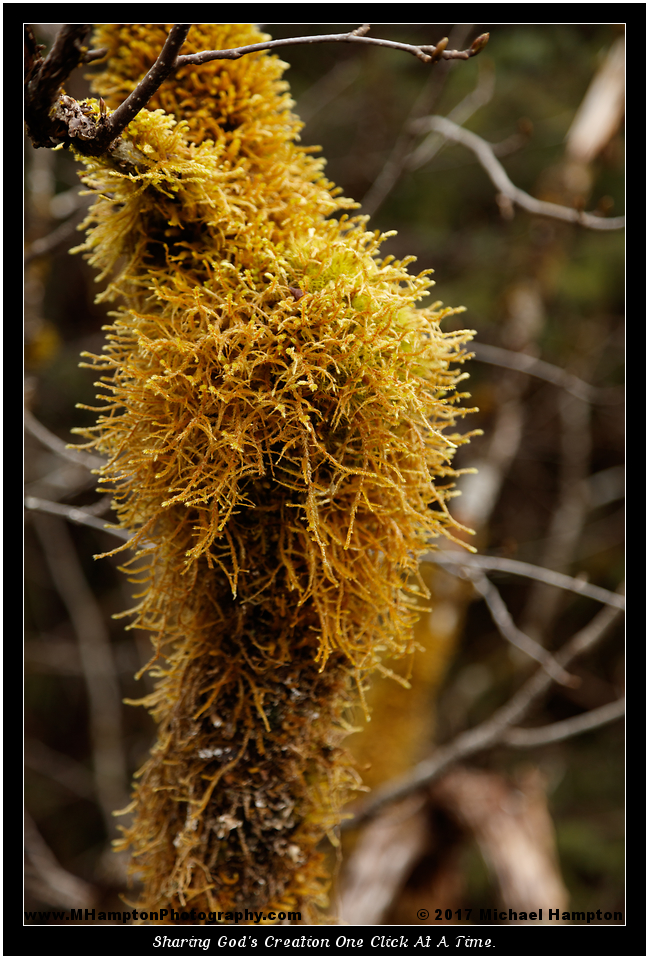 This one I do remember as being called "Old Man's Beard". This is a type of Spanish Moss like we have around here in east Texas. This is just a little sprig of it but it grows into large clumps that hang from the trees.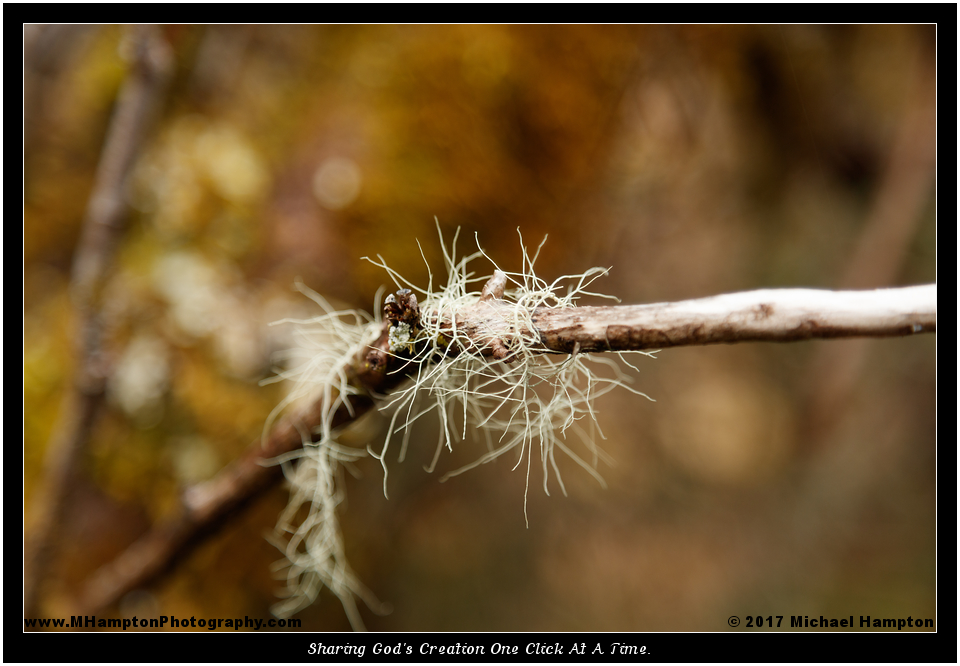 Karen reminded me that this one is called "Devil's Club". The guides told us to be careful and not grab it if you start to fall! Those little points are sharp!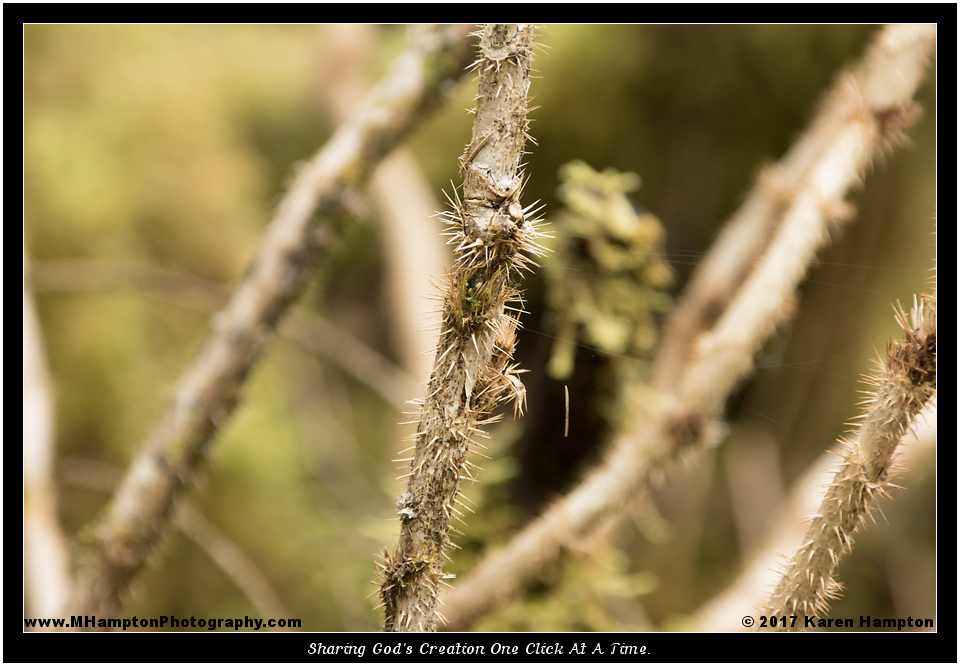 The area gets plenty of rain, as evidenced by all of the moss growing on everything.
And of course, there are plenty of small waterfalls coming down the sides of the mountains from all of the melting ice this time of year. Spring has arrived!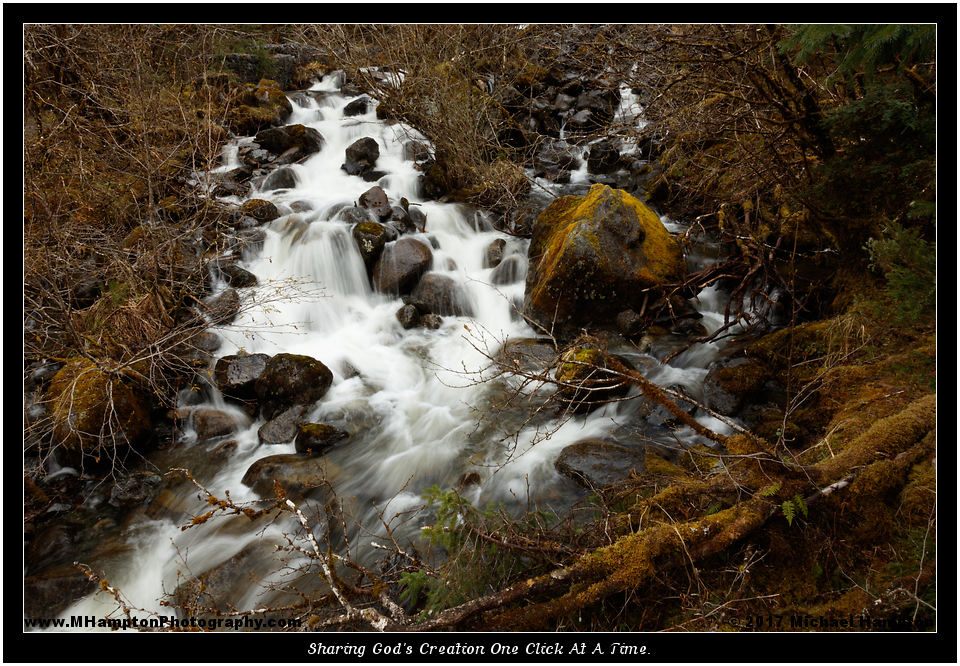 The trail is called the "Trail of Time". At several points along the way they have markers like this one with dates. These dates are showing where the glacier was on that particular year. In 1920 this rock was under ice. Now you can see that as the ice has receded, life has taken over thanks to all of the sediment that it left behind.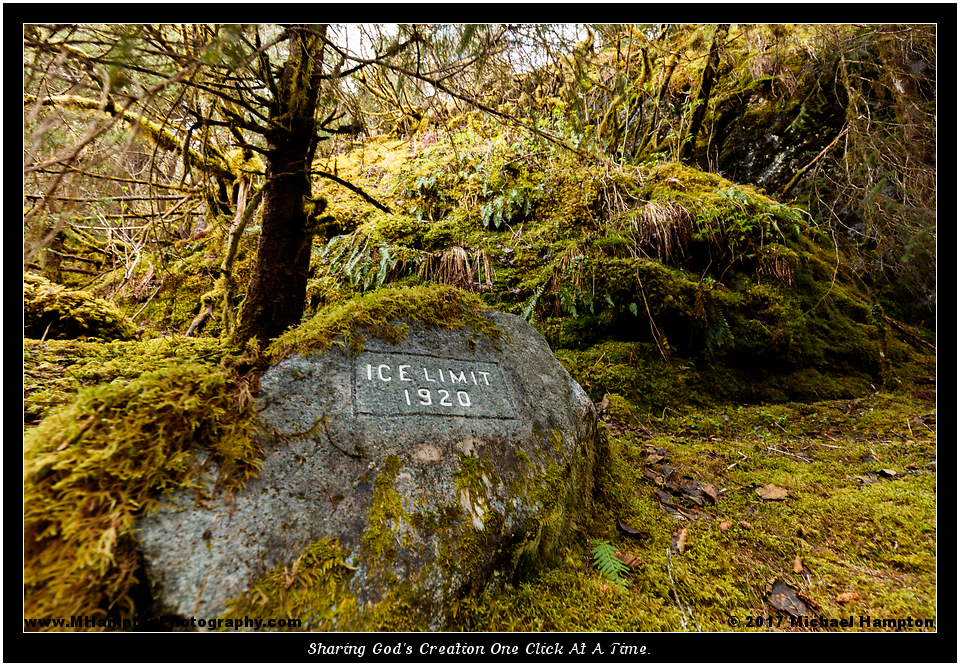 As we near the glacier (still a ways off) there is a large waterfall. This is "Nugget Falls". The water is coming from Nugget Glacier which is way up in the mountains to the east. Note the very small people at the bottom to get a feel for the size!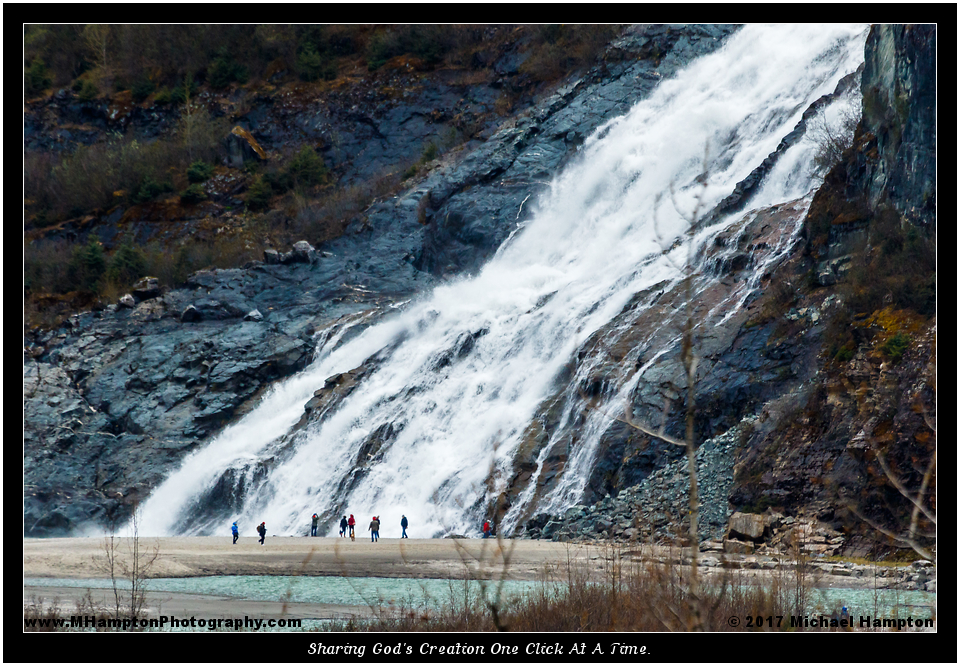 And finally, Mendenhall Glacier! Glaciers are created when the snow fall is faster than the snow melt. As the weight build, the snow and ice gets packed more and more dense and then it begins scrubbing its way down the mountain, grinding rocks into dirt and carving those "U" shaped valleys and fjords. The dark streaks you see are mineral deposits from that scrubbing which will be deposited downstream providing places for moss, grass, and then trees to grow.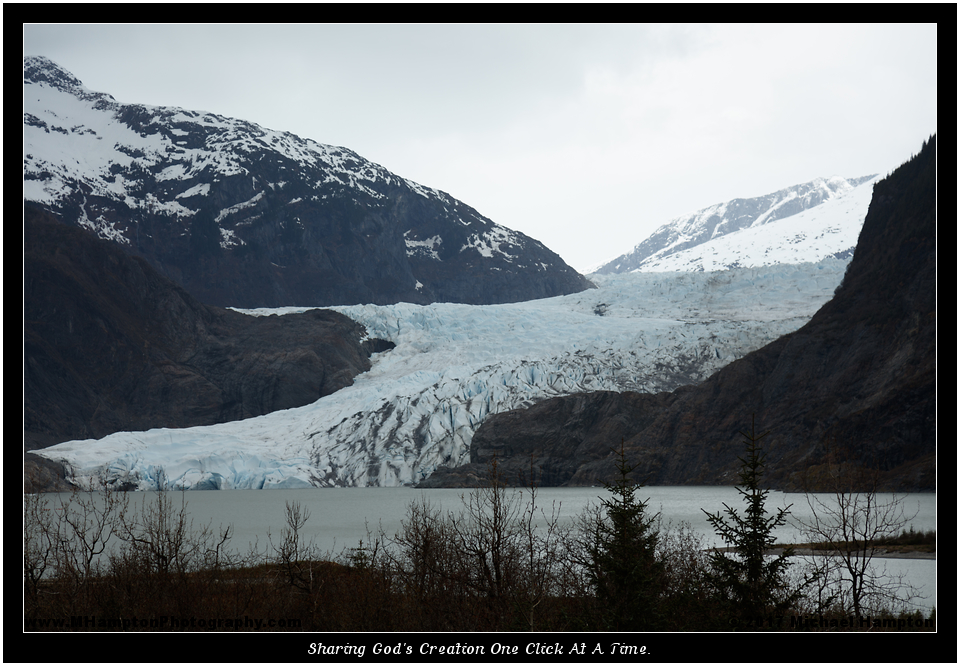 A close up view of the ice and sediment. Again, you can see that blue color showing how dense that ice has become from all of the weight.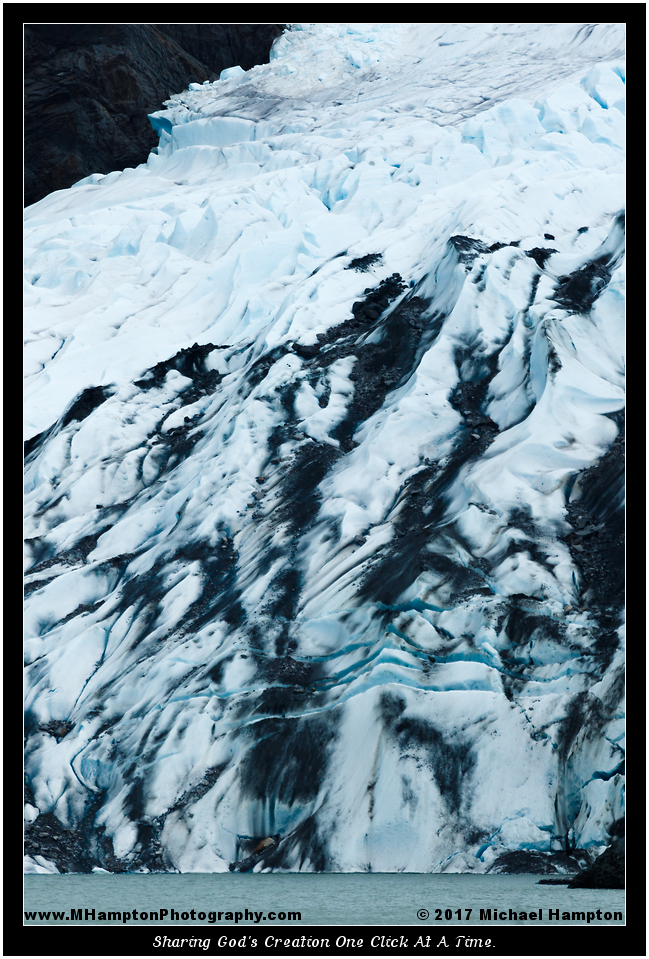 As with the other glacier, they are moving things and as they reach the terminus chunks break off and become icebergs. Here a small group is exploring the area giving you a sense of the size of some of these ice-chunks! Remember, only 10% is visible.
Here is another shot of Nugget Fallas. Again, those little dots at the bottom are people.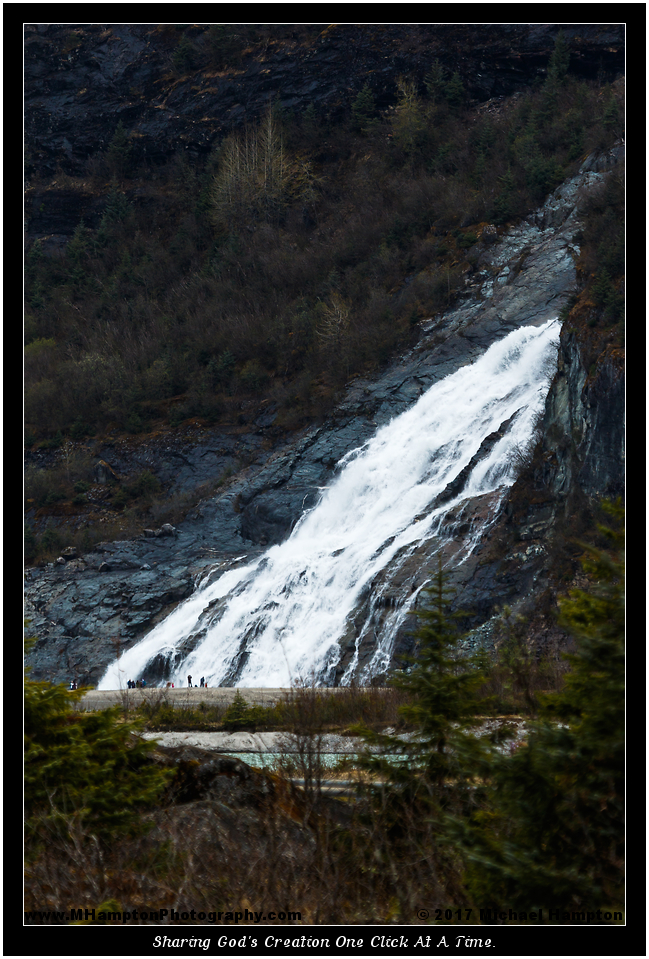 This is Andy, our guide. He was a great source of information while leading us on the entire tour. Being a photo tour, he not only had knowledge of the local area and the attractions, he was also there to answer any photo questions anyone might bring up. He had an analogy about a photography that I had never heard and thought was very helpful. He said that a photo is like a cheeseburger. The top bun is your background, the bottom bun is your foreground and the meat is your subject. The cheese? That's the light. I'm going to be using this in the future! Thanks Andy!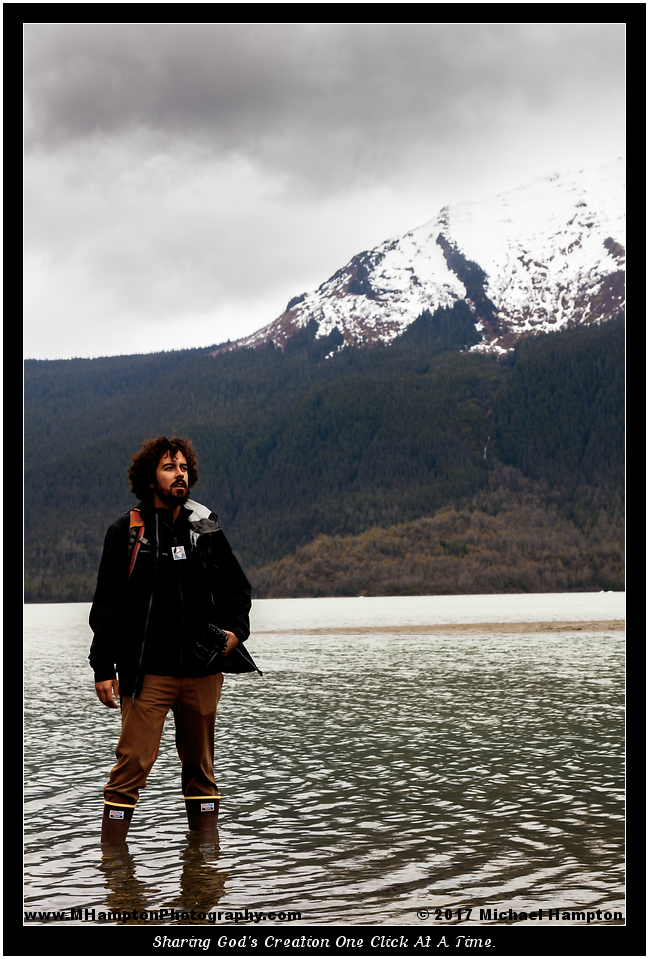 At over a mile away, the glacier is still huge! The people were maybe an eighth of a mile from us.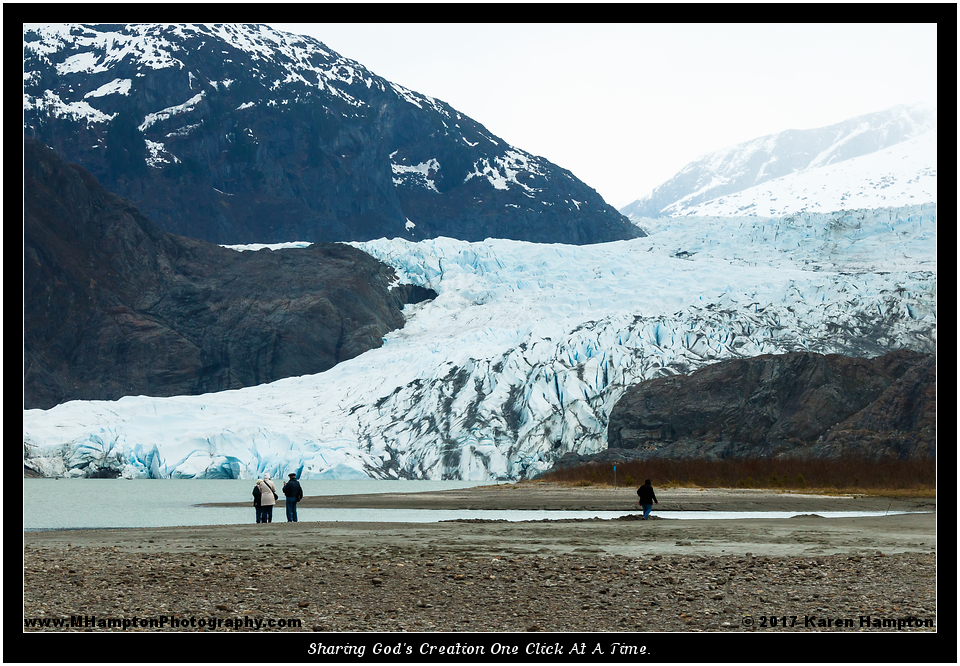 Andy was even nice enough to take our photo together.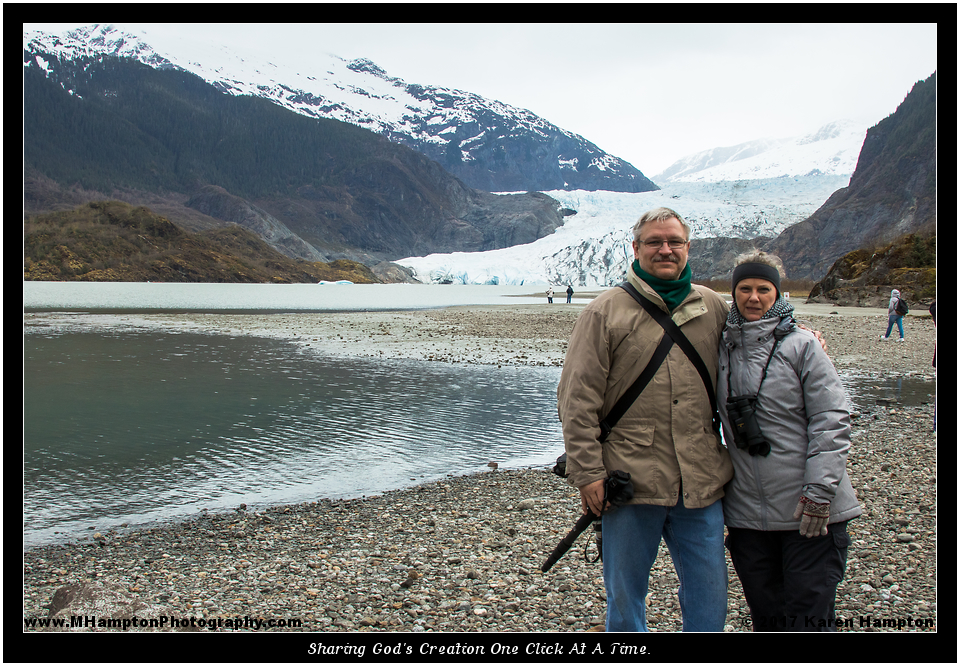 As we were leaving the area we spotted this quiet scene and reflection.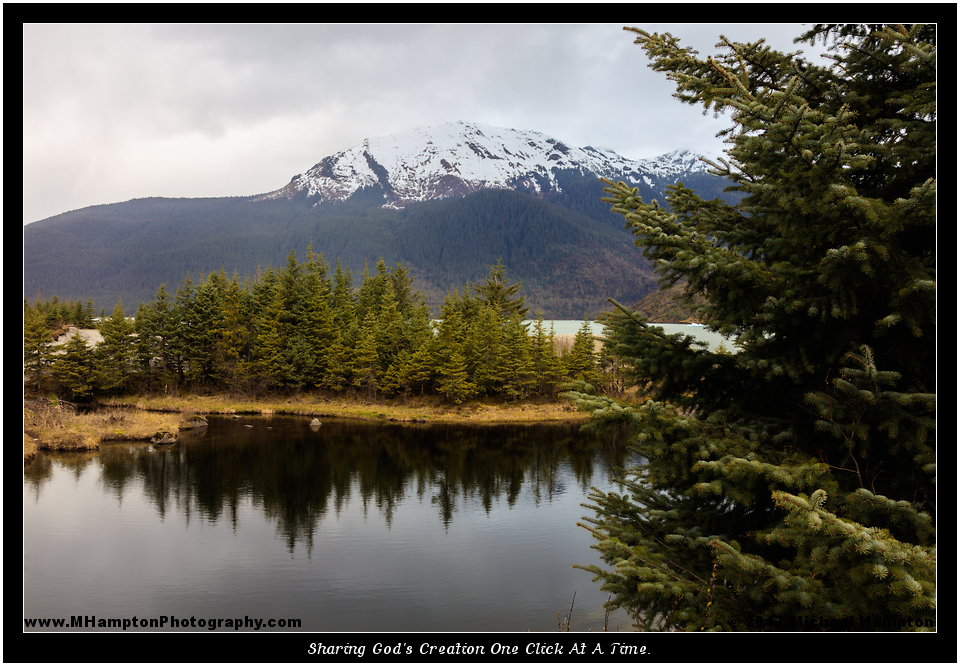 And yet another waterfall coming down the side of the mountain.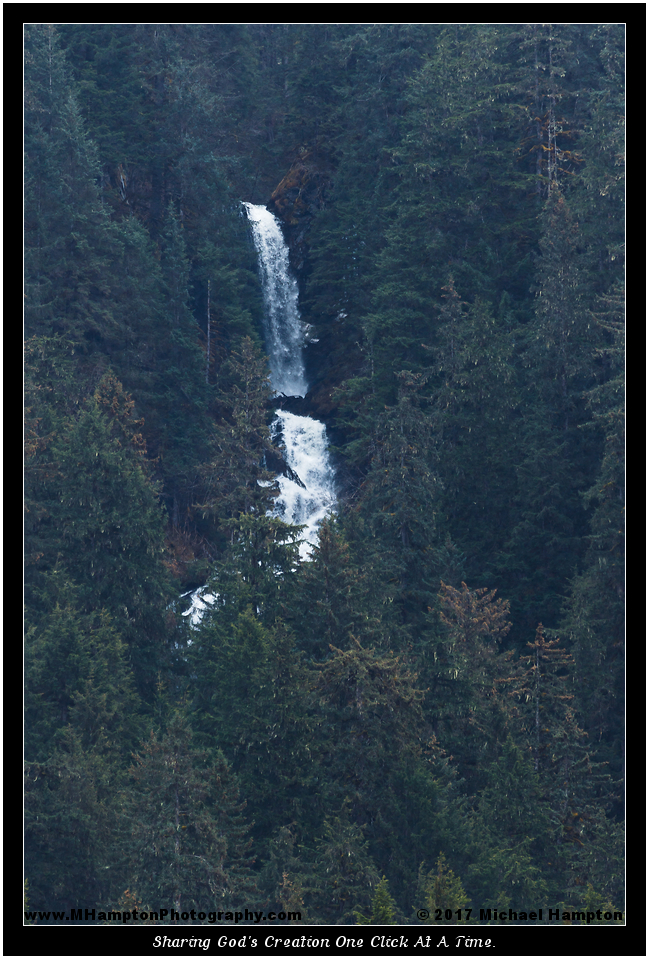 And as we were boarding the bus to head to the water portion of our tour, I spotted this young bald eagle fly over and land in a tree. I maneuvered to try and get a clear shot while the others were boarding the bus. When Andy asked about the missing person Karen mentioned, "That would be my husband. He's chasing a bald eagle. I'm used to it by now."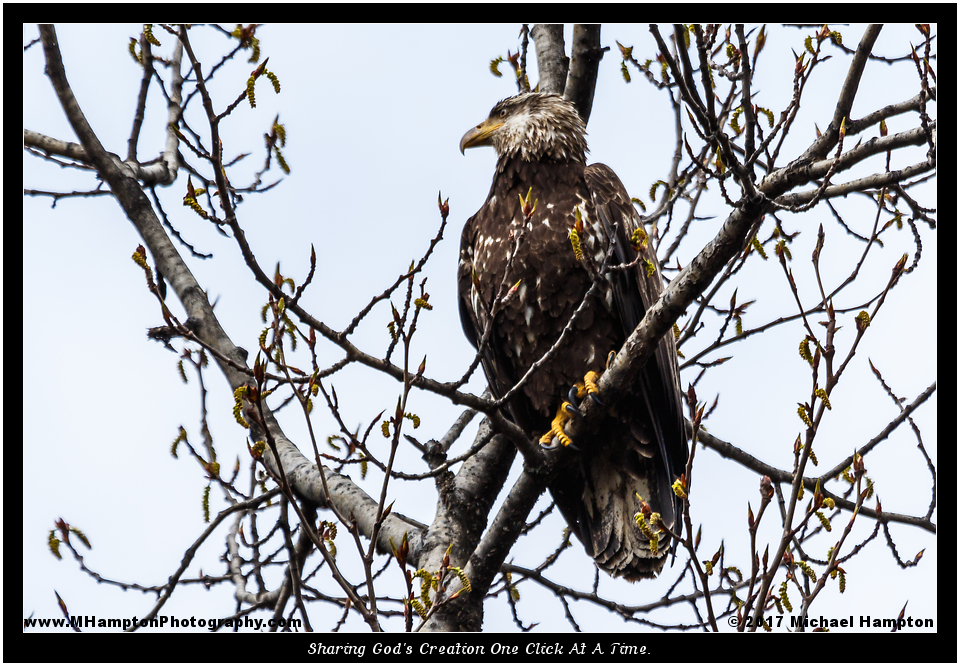 Once we boarded the boat and headed out into the bay, it didn't take too long before we saw signs of humpback whales. This one popped up pretty close to the boat, but then went for a deep dive not to be seen again. We were told up front that the whales would be spotty because they were just arriving in the area from their migration at this time of year. However, they would not be the only wildlife in the water today.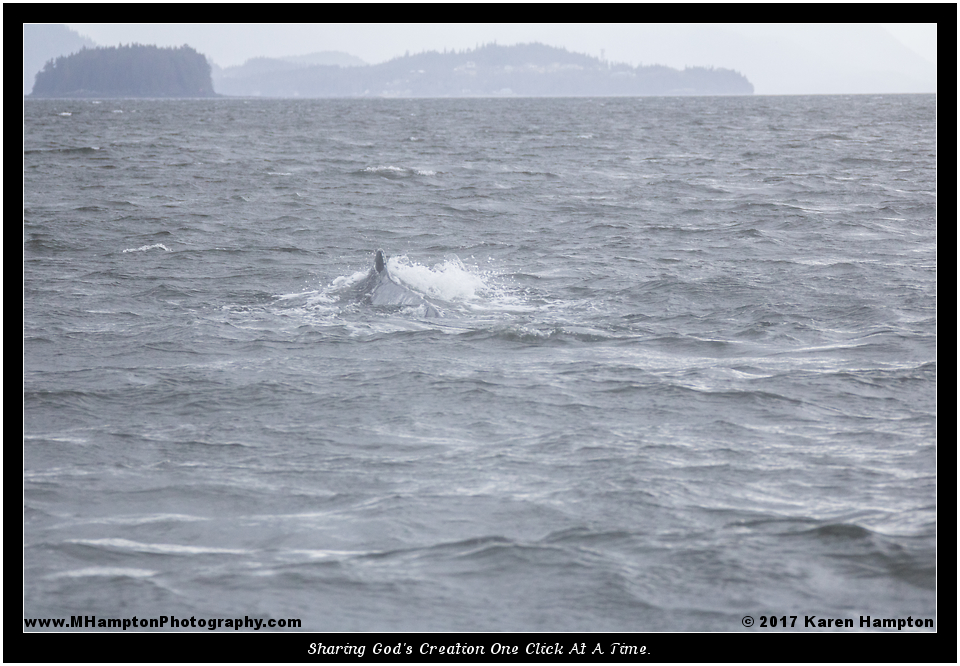 In the bay was this island and lighthouse. I thought it made for a picturesque scene, especially with the bald eagle flying in from the right. As you can tell, it was very cloudy for our day in Juneau. In fact it did rain off and on during the day while we were on the boat, but nothing bad. Still very thankful for the weather during this trip.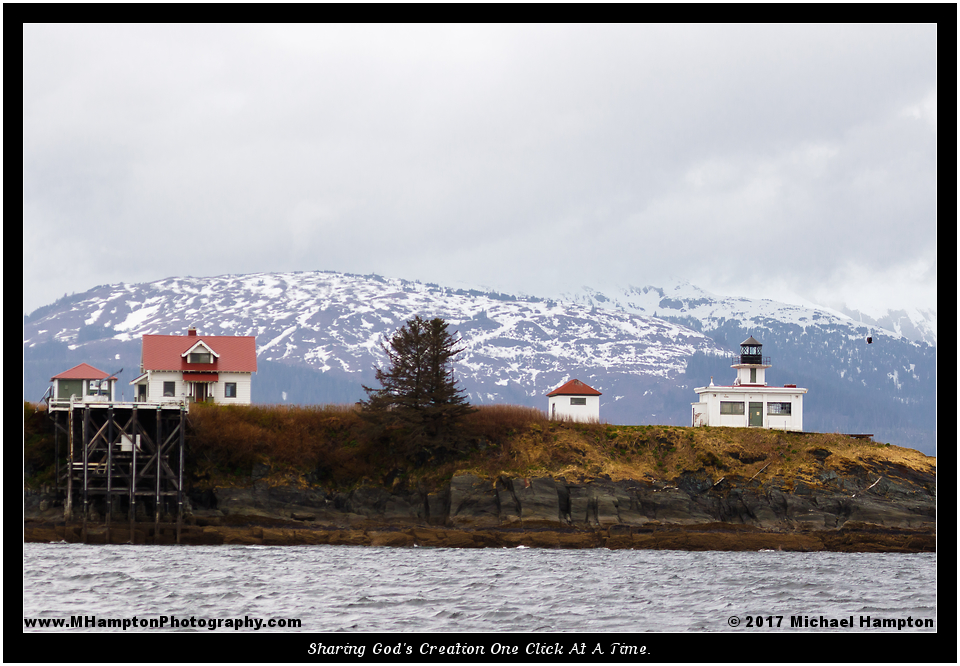 I was able to zoom in just in time for the bald eagle to touch down on the small island.
As we surveyed the area, suddenly the boat captain headed towards a new area. As we approached this buoy, it became clear what he was excited about. Soon, we were excited as well!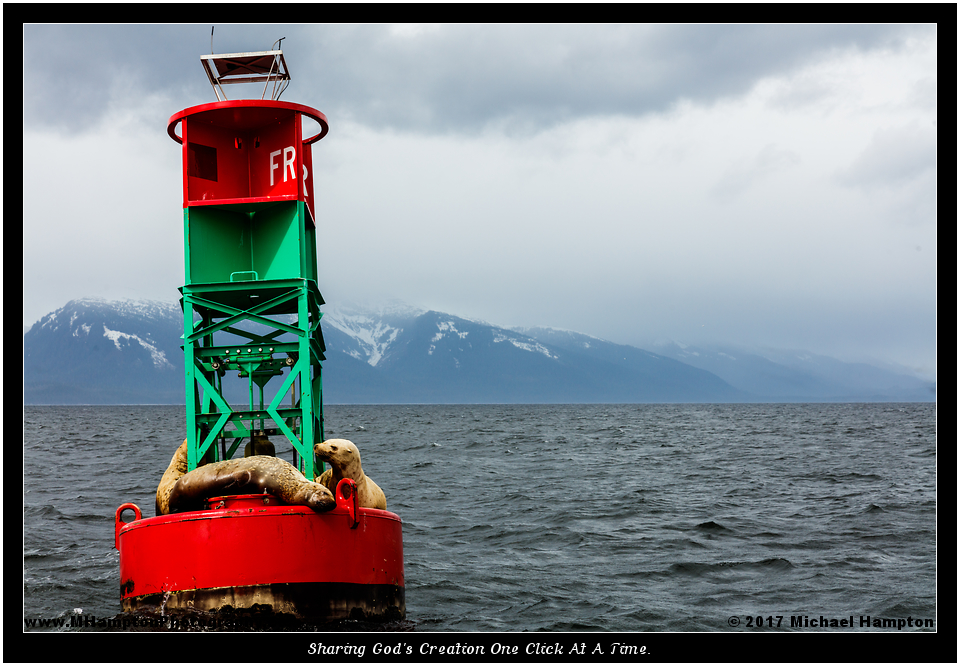 These are Stellar Sea Lions. The difference between sea lions and seals are small, but easy to recognize once you learn. Sea lions have small flaps over their ear holes whereas seals have none. Sea lions also have longer flippers which they can use to "walk" where seals have shorter flippers and do more sliding around. Here is a link that shows the difference <<here>>.  Most of these were asleep, but this one watched as we circled the buoy a few times.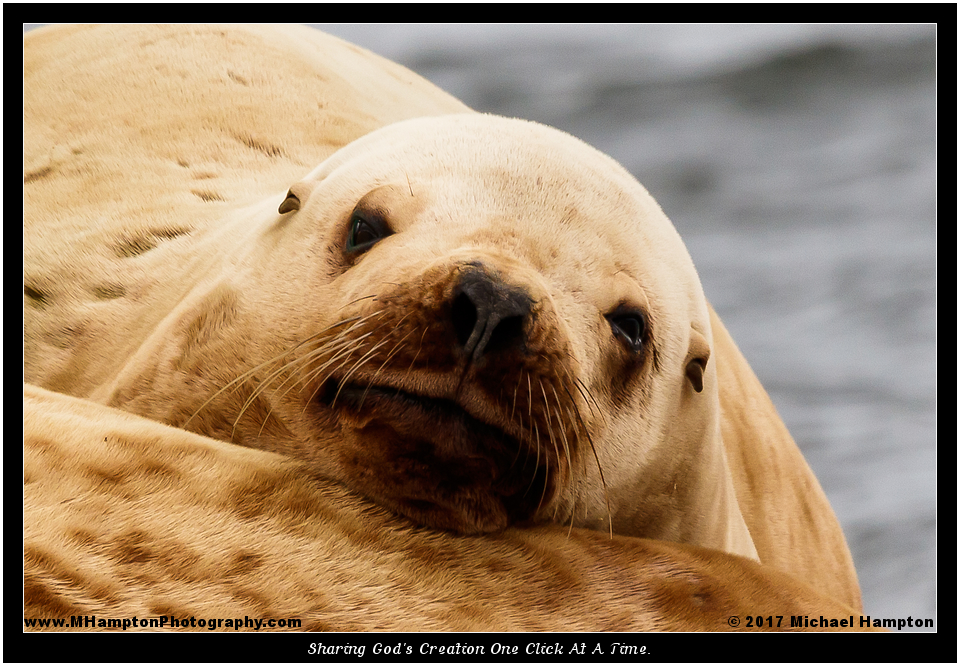 These guys were so cute. With both the subject and my platform (boat) were moving quite a bit, I was shooting in burst mode just to get a few clear shots. I learned that shooting from a boat on bumpy water is challenging!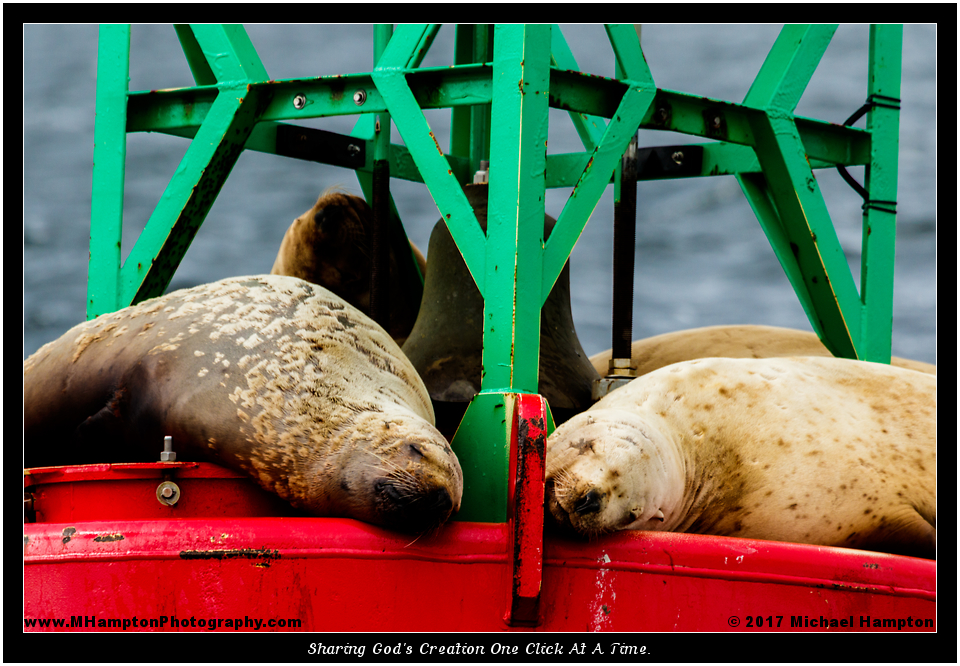 It must have been nap time because they didn't appear bothered by our presence at all.
Lots of interesting points about Juneau, too many to bore you with here, but as the capital of Alaska, the city is pretty remote. The most interesting fact I learned is that there are no roads that lead into town. You can't drive there! We found this sign in downtown showing how far we were from multiple places on the earth.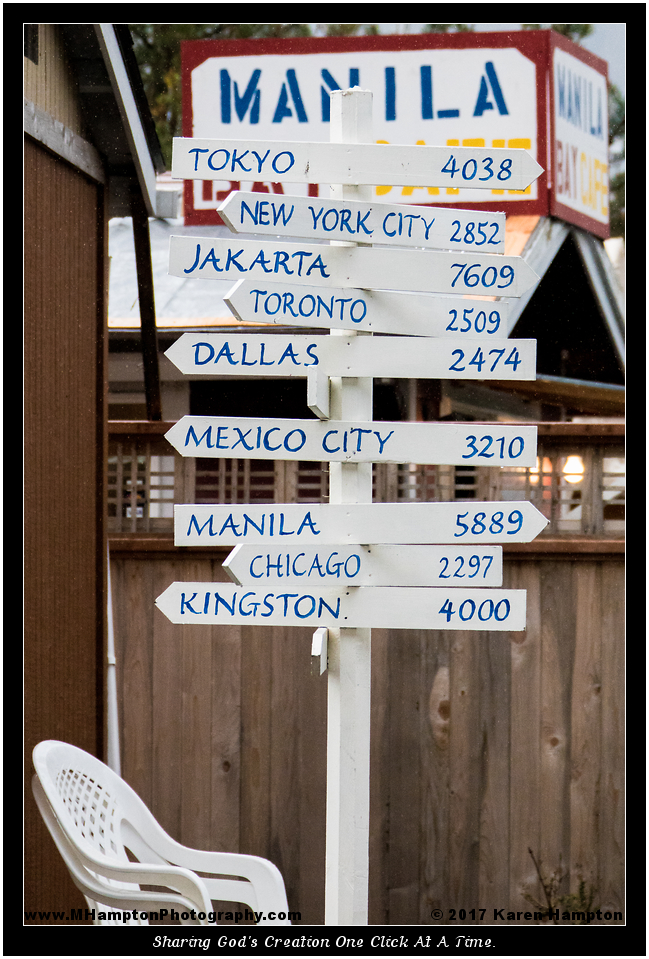 And Karen snagged this bald eagle while we were in town. They were around, but we weren't overwhelmed by eagles like people had told us. We had heard stories that eagles were as prevalent in Alaska as grackles were in Dallas. Not quite, but we were still excited to see them when we could. Perhaps again this had to do with the time or year.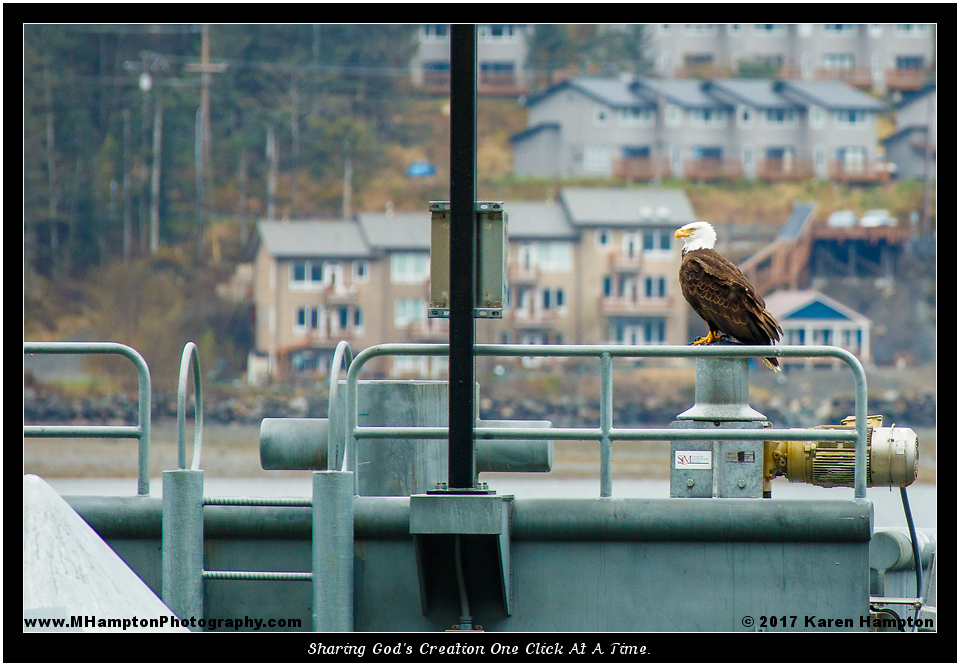 After a full day exploring Juneau, we made our way back to the ship for dinner and unloading the images to my laptop and backup hard drive. Once more we were greeted with another towel creature.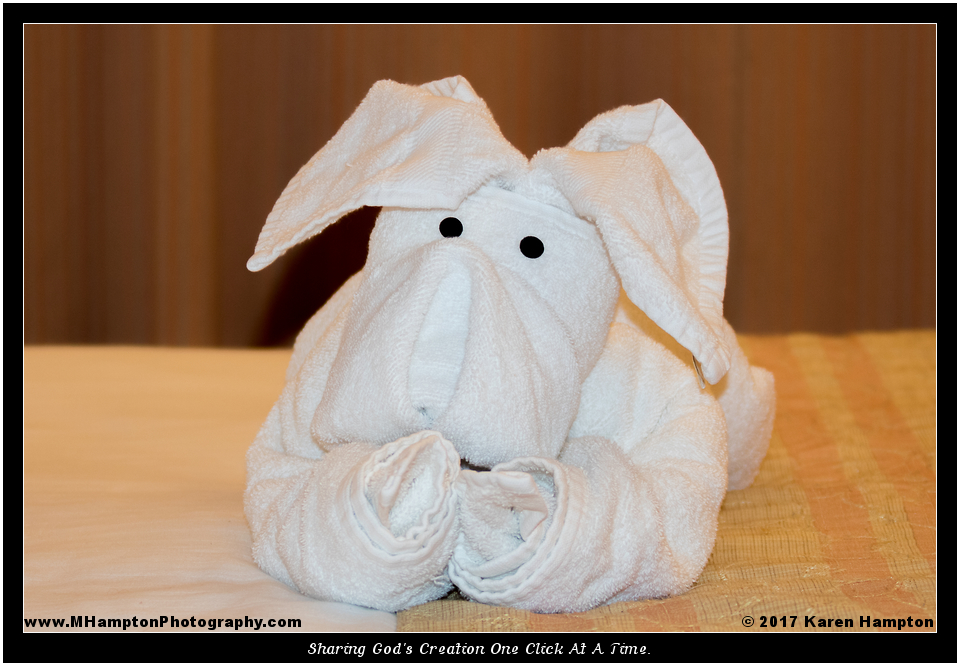 We were still getting accustomed to the three hour time shift but were getting there slowly. Day 5 would be another day on ground as we visit Skagway Alaska!
All words and photos copyright 2017 MHampton Photography
Equipment used: Canon 5DS-R, Canon 7DmII, Canon T6S, and various Canon lenses