So winter will officially be here in a little more than a week and it got me going back through a few of my autumn photos that I hadn't posted anywhere. The weekend before Thanksgiving, Karen's family got together in Broken Bow, OK and we went up to spend some time there.
Broken Bow is also home to the beautiful state park, Beavers Bend. Well, needless to say, we had to take a detour through the park on the way home to see the colors. As we came to the Mountain Fork River we stopped and observed two guys in a kayak and thought it made for a peaceful scene. I got out my camera and made this exposure to remember the moment.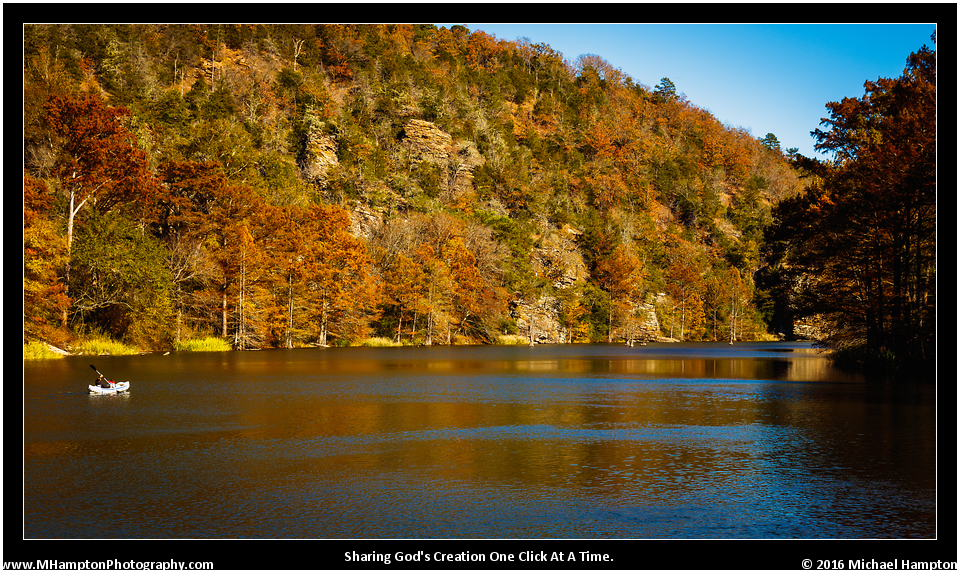 Now for the promised bargain. This shot along with many others, are available for sale at my Fine Art America site. And between now and December 26, 2016, you can use discount code "GTUFMA" at checkout and they will reduce my markup by %50.
So go to http://MHamptonPhoto.FineArtAmerica.com and check out all the cool things you can get with my photos printed on: cups, towels, duvet covers, shower curtains, iPhone cases, and yes, even  prints, framed and unframed, to hang on your wall.
Another reminder to always keep your camera handy.
Michael