Finally, after a long time of saying we were going to do it, we finally make a trip to Gautier, MS to visit our friends William and Claudette Owens.  We were so glad that we went.  They not only showed us a great time while we were there, but they also showed us a few new things.
For instance, they took us to the Gulf Coast Gator Ranch in Moss Point MS, where we not only got to see gators up close and personal in their facility, we also took an airboat ride and were able to see them in the wild as well.
Of course, its little mouth was banded to keep from customers losing any fingers, but something tells me that the little guy wouldn't have hurt a flea.  Just rub its neck and it just purred.  
Yes, they have bigger gators there, but you wouldn't want to pet them!
After looking around there, William thought it would be a great idea to take the airboat ride through the local swamp. 
I guess William forgot that he has a tendency to get a little motion sick, or perhaps he had never seen the videos that show just how much of a "ride" an airboat can be! But he was a trooper and stayed strong for the entire ride. No extra "feed" for the gators this trip!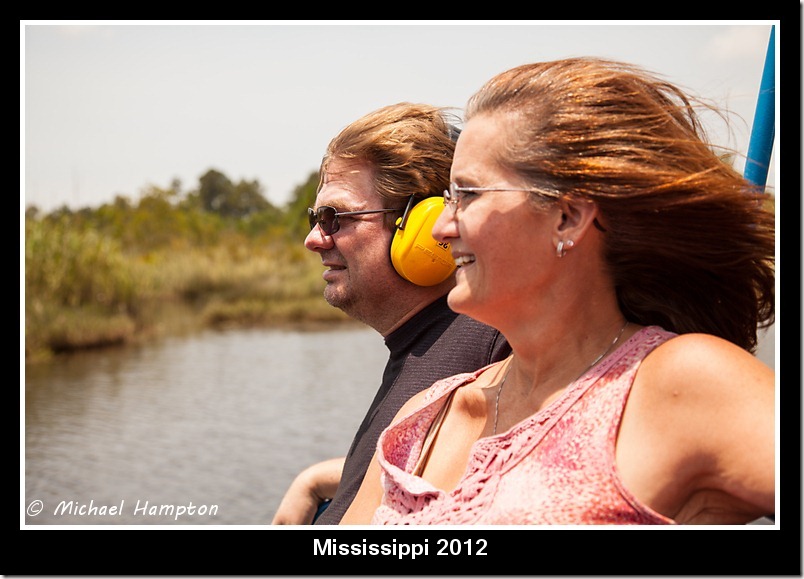 Yes, there were gators out in the wild as well as the ones at the "farm".  This is just one reason why they said to "keep your hands and arms inside the boat at all times during the ride!"
The swamp was very cool with all the overhanging trees.  Other than the gators we saw, I didn't see any snakes, so I was good with that!  For an example of just how "wild" the ride was, here is just a three minute clip of the ride!  Check out the 360 towards the end!
After the gator ranch, we had lunch and then headed for the beach in Ocean Springs, MS.  Karen wanted to at least stick her feet in the water while we were here, and I just wanted to see what I could take pictures of.
And no, I didn't wade in the water.  Not really sure why, just didn't.  But here are Karen, Claudette, and William while I shoot from the dry sand.
If course there were birds…
I was almost able to walk all the way up to this Heron that was perched on the pier.  Good thing too since all I had with me was my 24-105mm lens!
And shells, with someone at home…
And the requisite couples shots on the pier…
But Karen caught the best sunset picture when we drove over to Gulfport for dinner to the Back Bay Seafood Restaurant.  The food was as good as the sunset!
It was a great trip and one I'm glad we made.  Thanks again to our friends William and Claudette for making it an enjoyable trip that we will remember for a long time to come!