Welcome to day 6 of our adventure! Today we stay aboard ship but cruise around the Glacier Bay National Park. I'll warn you now, my words are inadequate to describe this to you so I'll rely on the photos, lots of them and fewer words.
We start our day before 5am Alaska time as the sun comes pouring into our stateroom window, alerting us to this beautiful sunrise! I watch it from the bed, Karen gets up and makes a photograph. Yes, it has come to this.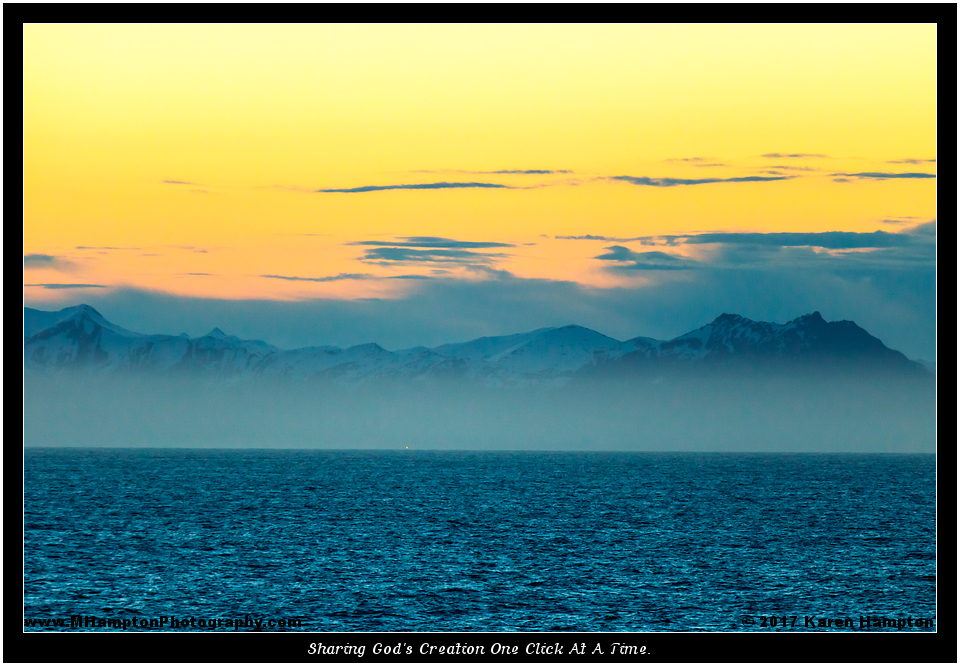 As we begin to enter the passages of the national park, we are greeted by the majestic mountains once again. I personally just can't get enough of them.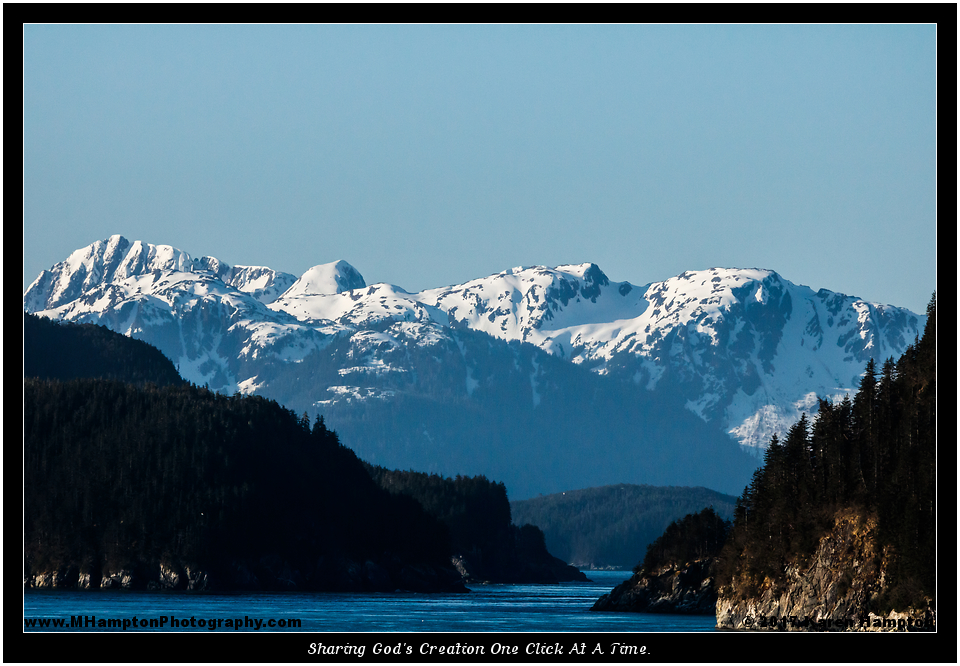 Early inside the park we are met by an otter playing around in the water near the ship as we cruise by.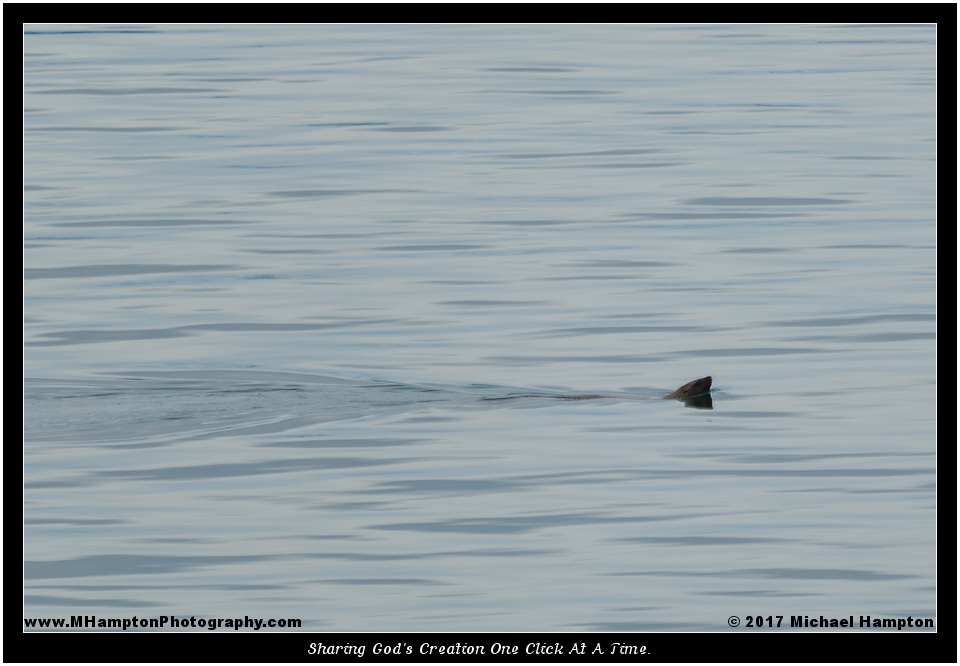 I am able to capture this 5 shot pano as we are passing the mountains.

Peaks…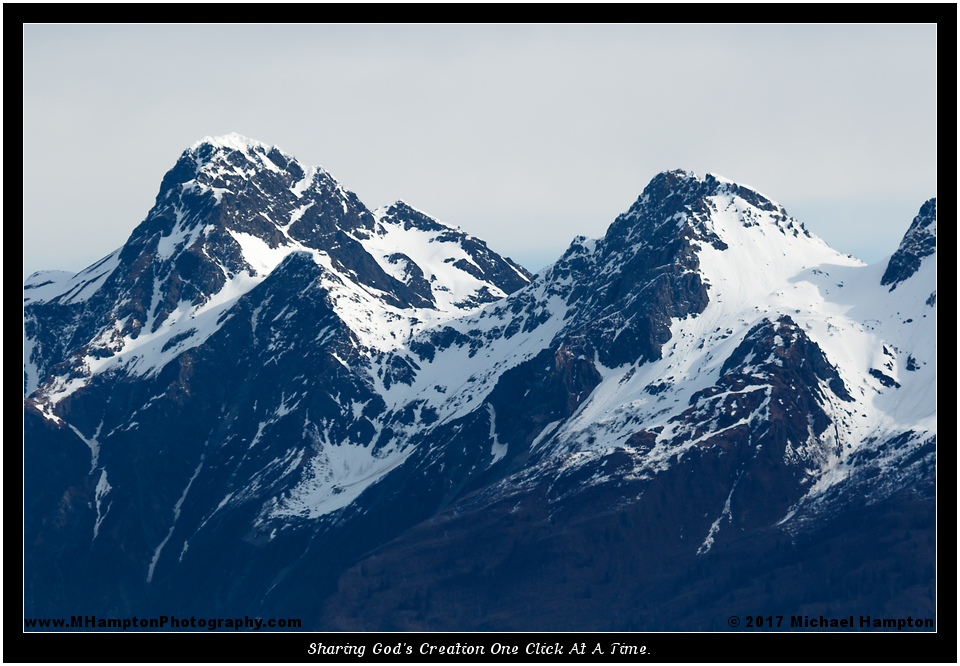 Once again I am thankful for the weather we are having. Blue skies with just the right amount of white clouds for dramatic effect.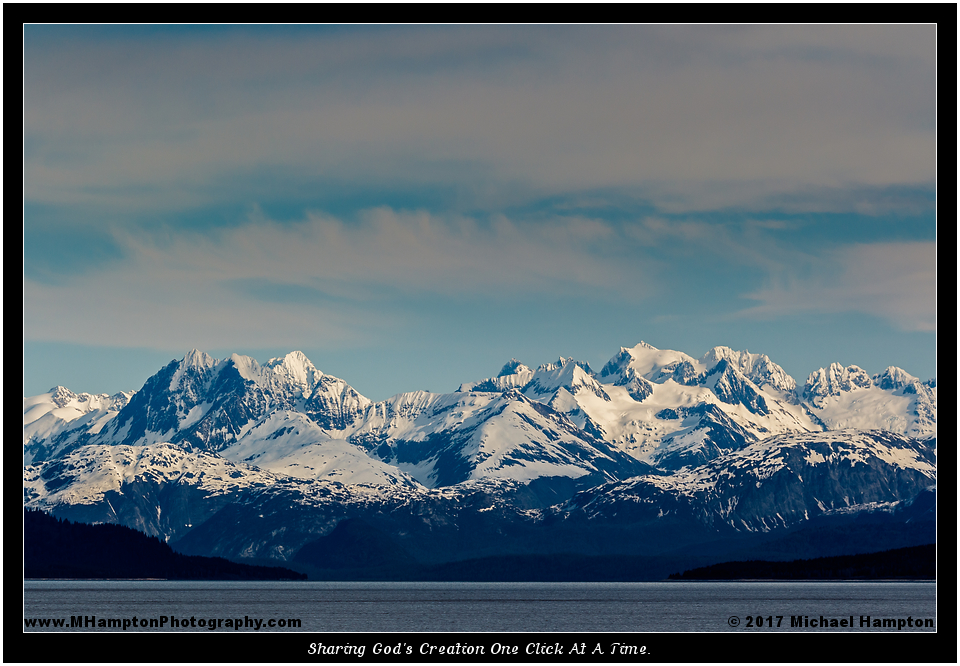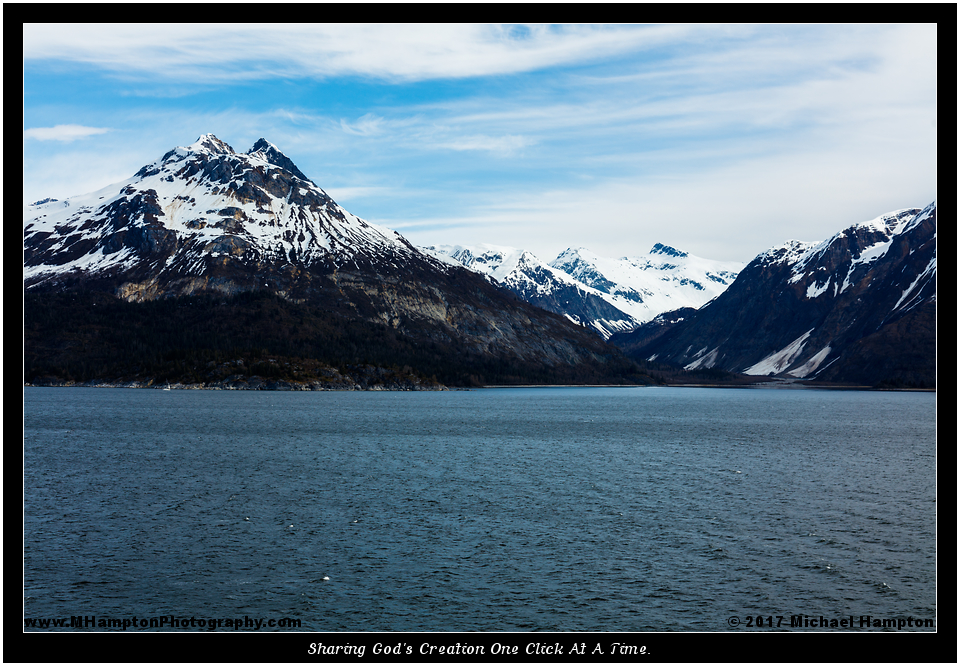 As we pass one mountain the ship's biologist informs us over the intercom that there are mountain goats visible. I learned that on a cruise ship, "visible" means grab your binoculars because you probably won't see it with your naked eyes. This is a pretty tight crop from a zoomed image but 4 of those white dots are cliff-dwelling mountain goats.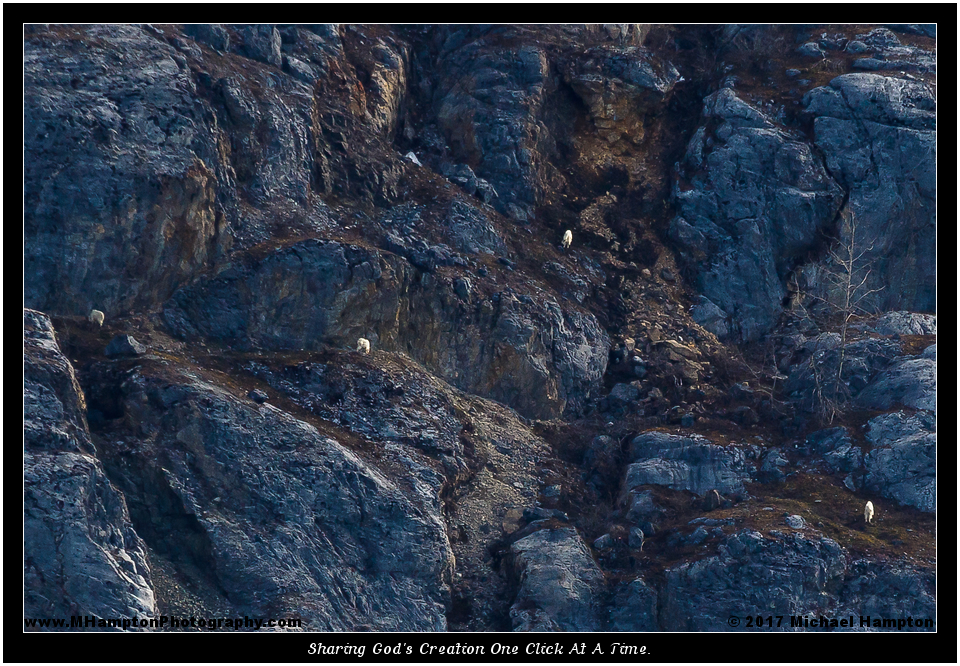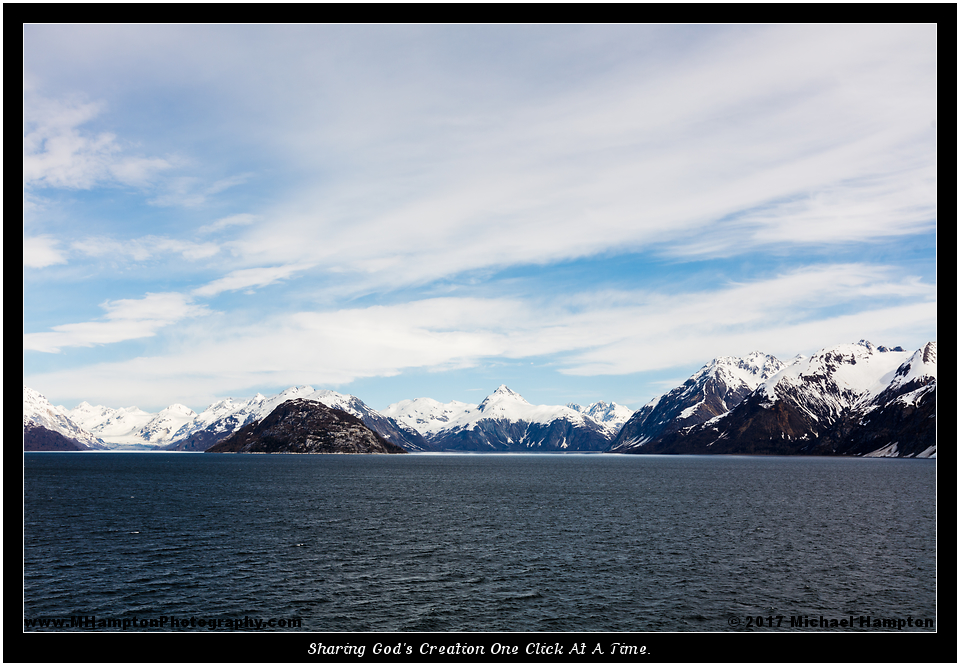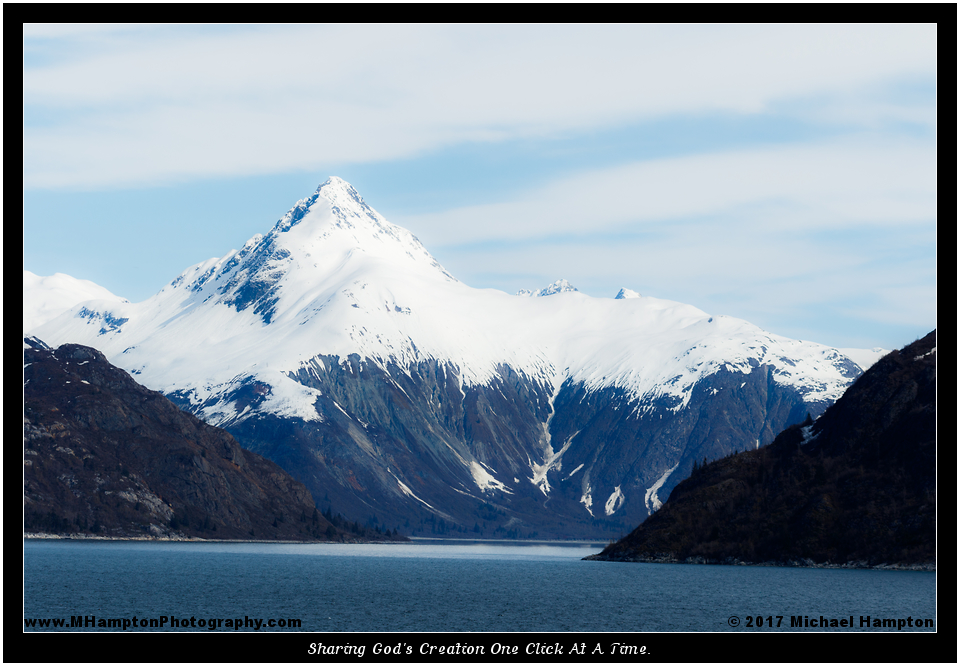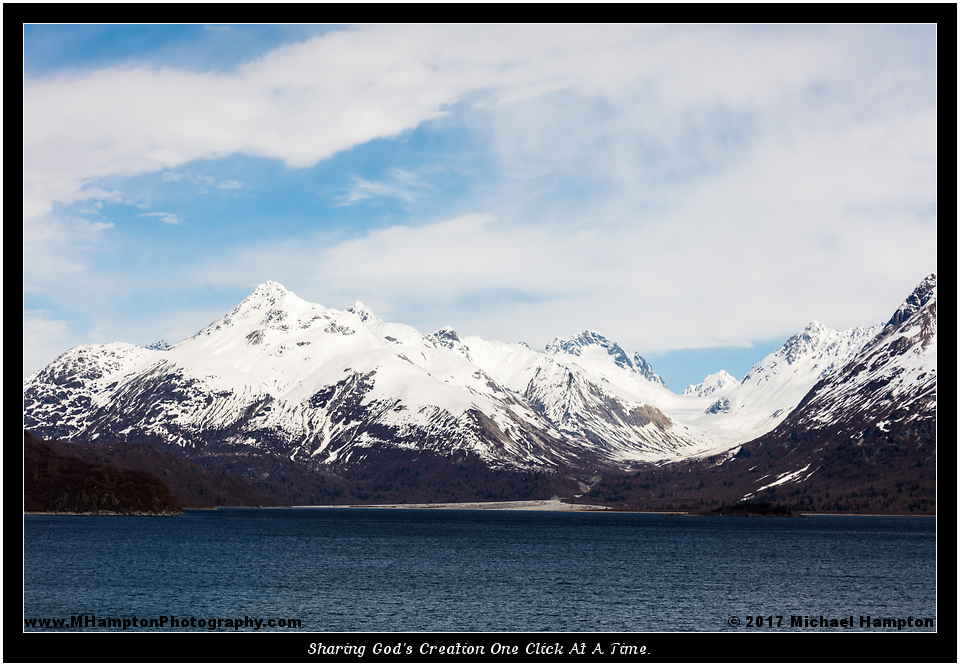 This is a small glacier in Reid Inlet. This is nothing compared to what is coming.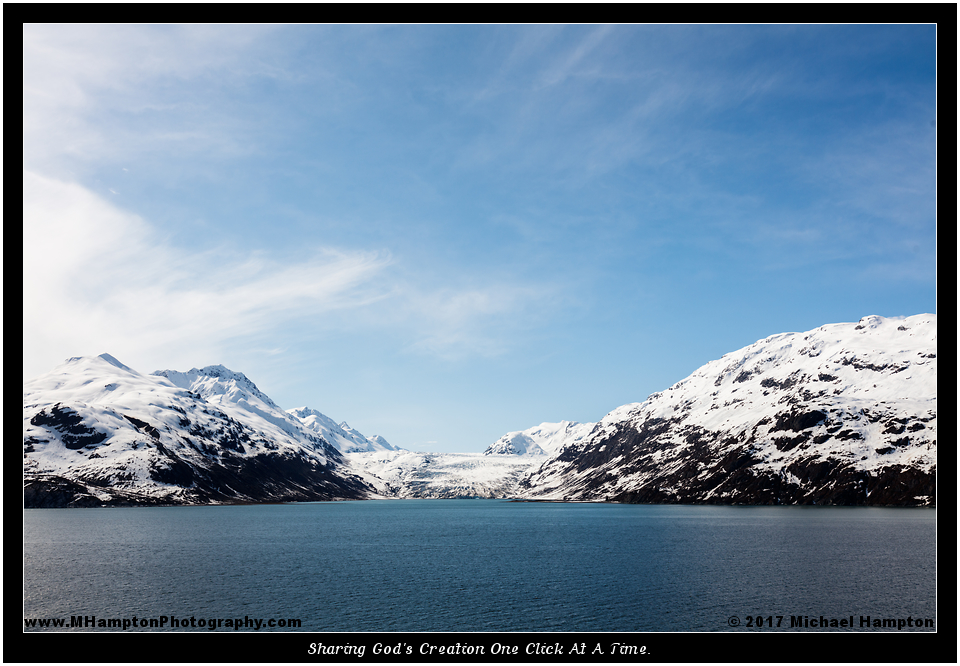 As we cruise through the passage, the peaks seem to go on forever.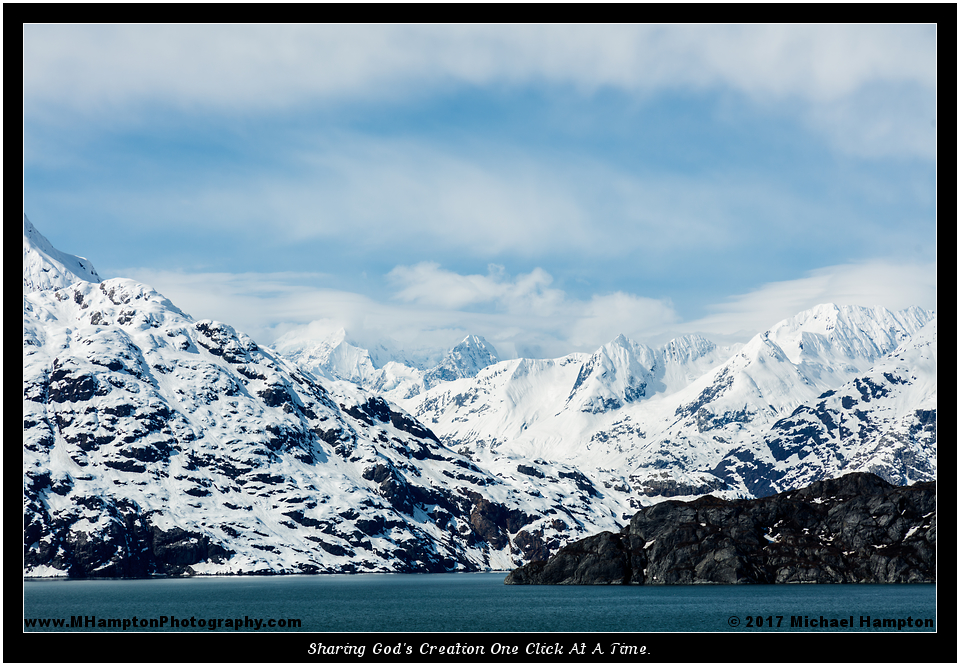 We are now in the Tarr Inlet, the main attraction is just ahead.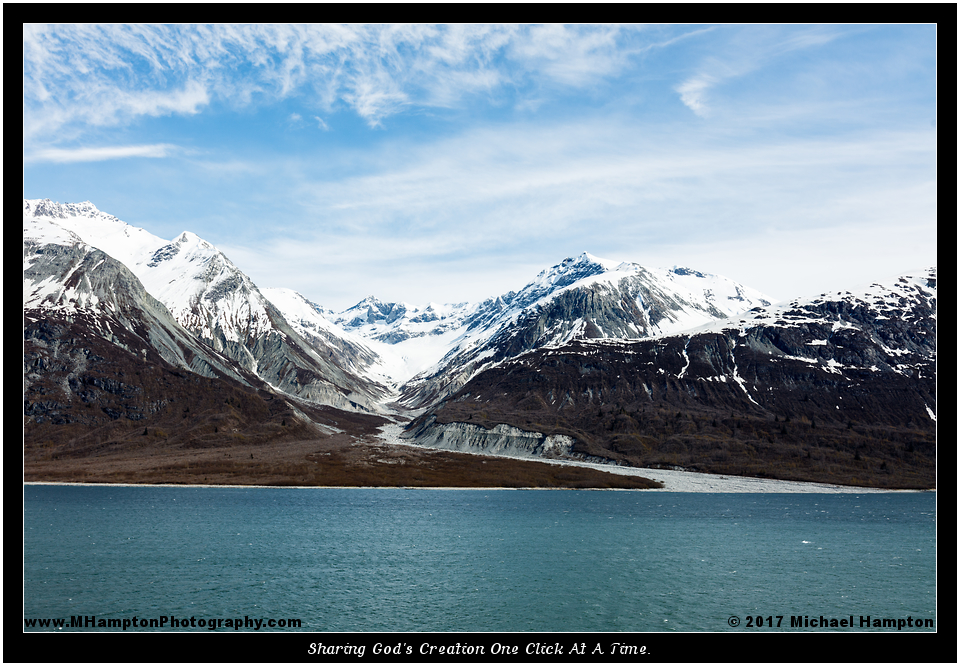 Finally we reach the end of the inlet. Oh wait, the glacier is on the other side of the ship.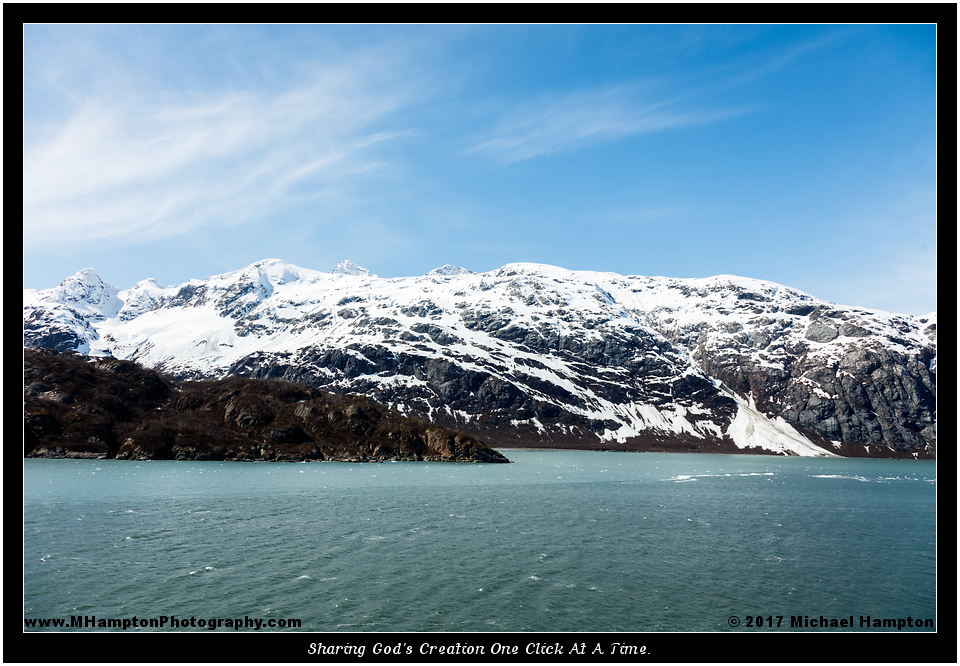 This is Margerie Glacier. It goes back into the mountains for 21 miles! This is just the terminus of the glacier.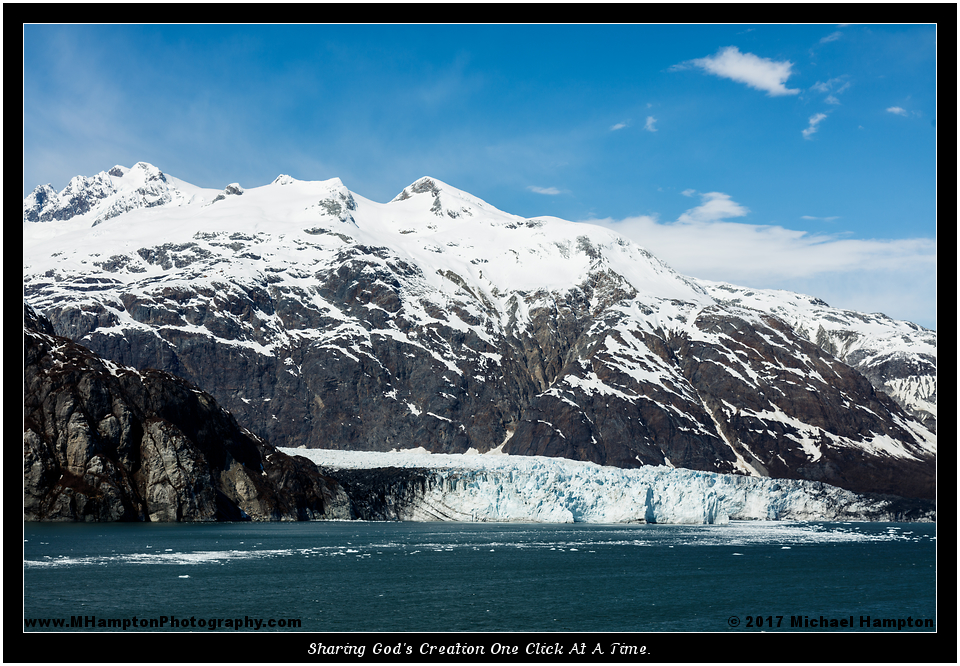 Gulls are numerous in this area. There must be plenty of food in these inlets to keep them fed.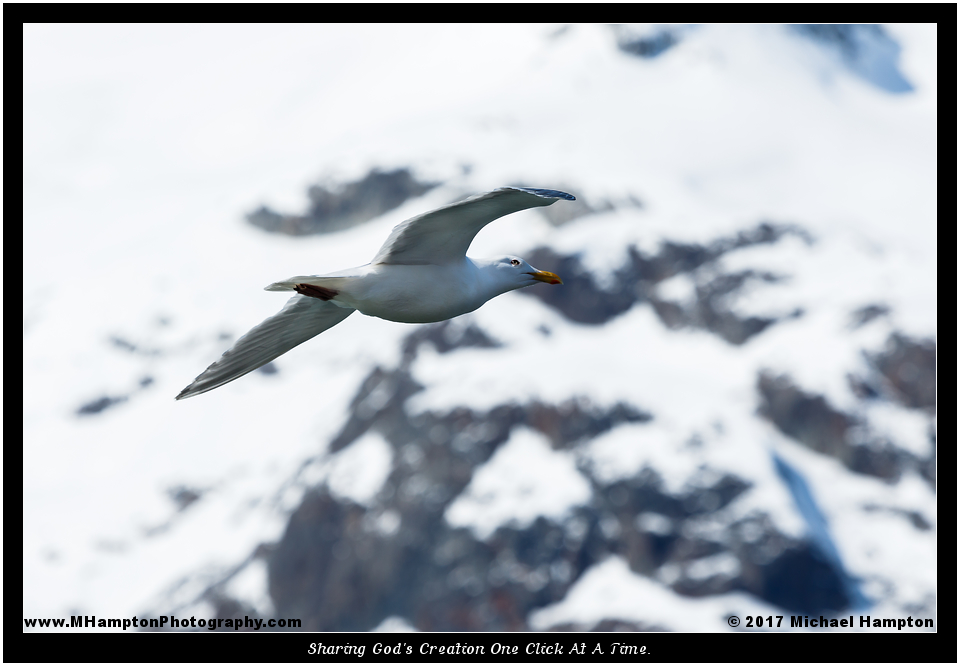 You can also notice a lot of ice in the water. These glaciers are actively calving. Maybe we'll get lucky and capture a photo of that happening.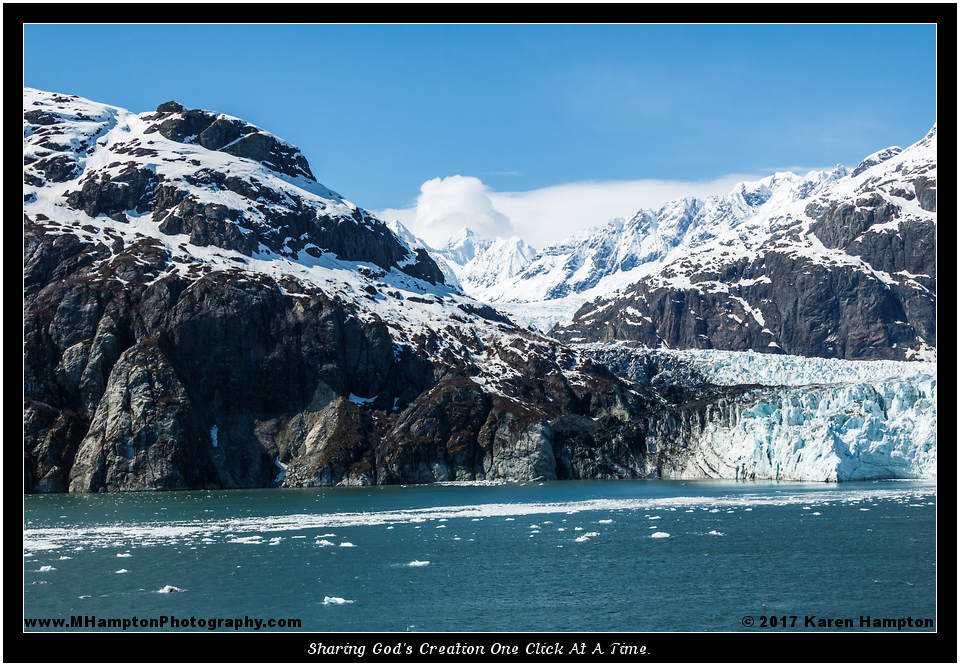 Did I mention that even though the sun was out, it was pretty cold here. Of course, it only makes sense. Look at all the ice!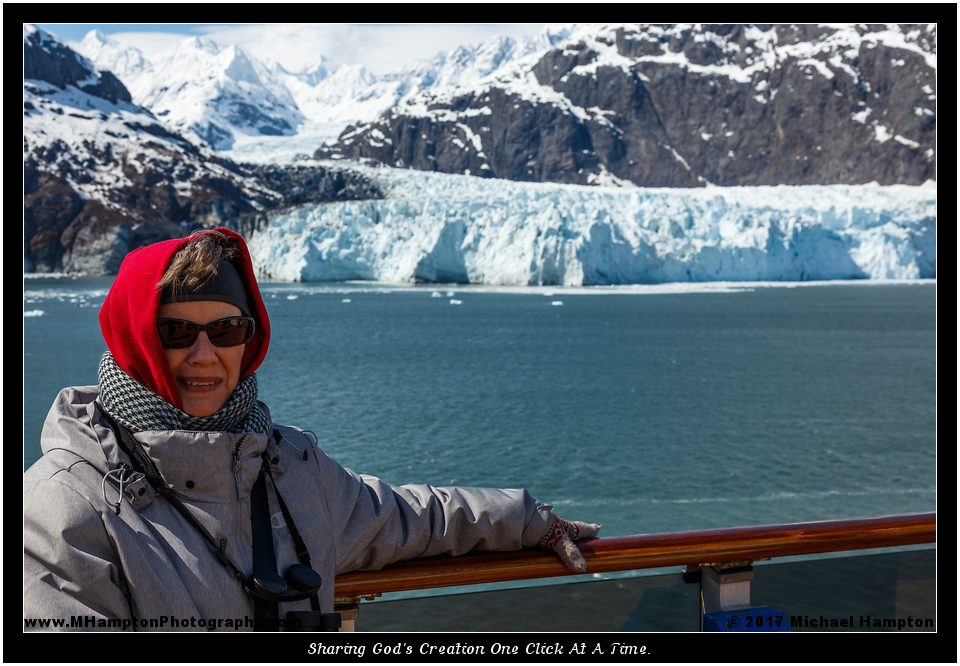 Looks can be deceiving. Remember, the glacial wall is several stories tall. This ship has 10+ decks and it still towered over us.
And there we go. A large chuck of the glacier let loose. Again, that splash is several stories tall!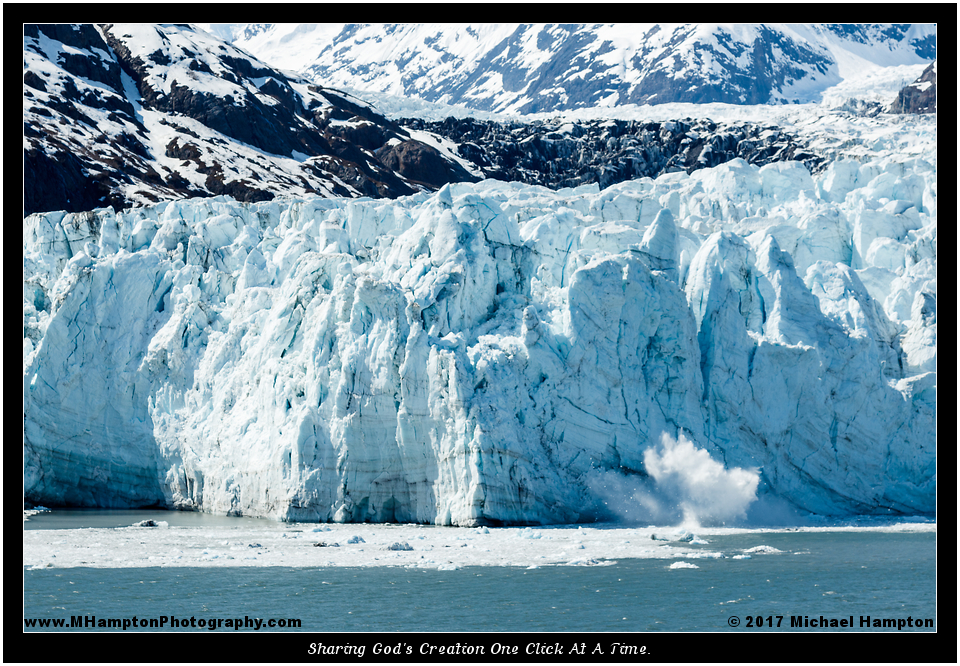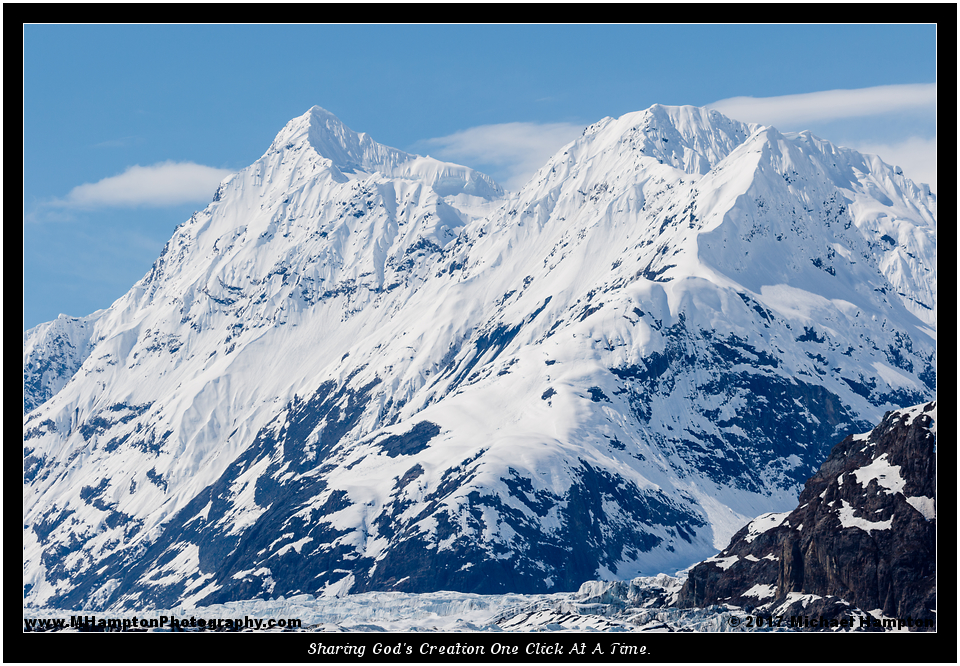 The other glacier at the end of this inlet is the Grand Pacific Glacier. This one is about 25 miles long and is right on the boarder of the US and Canada. That's Canada in the background. Here are a few facts from the National Park Service. This glacier is about 2 miles wide at the terminus, that's what this photo is showing. It is also about 150 feet tall in the center! <link> The dirty appearance of the glacier is ground-up mountain as it has made its way, scraping along the earth to this point.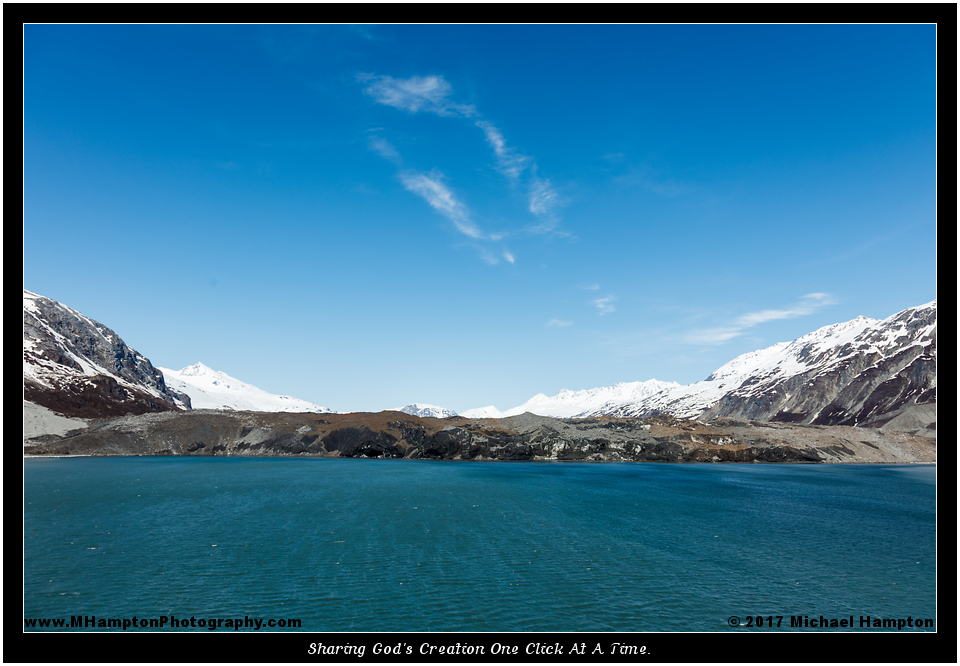 Another shot for perspective. That is Margerie Glacier and we're almost three quarters of a mile away.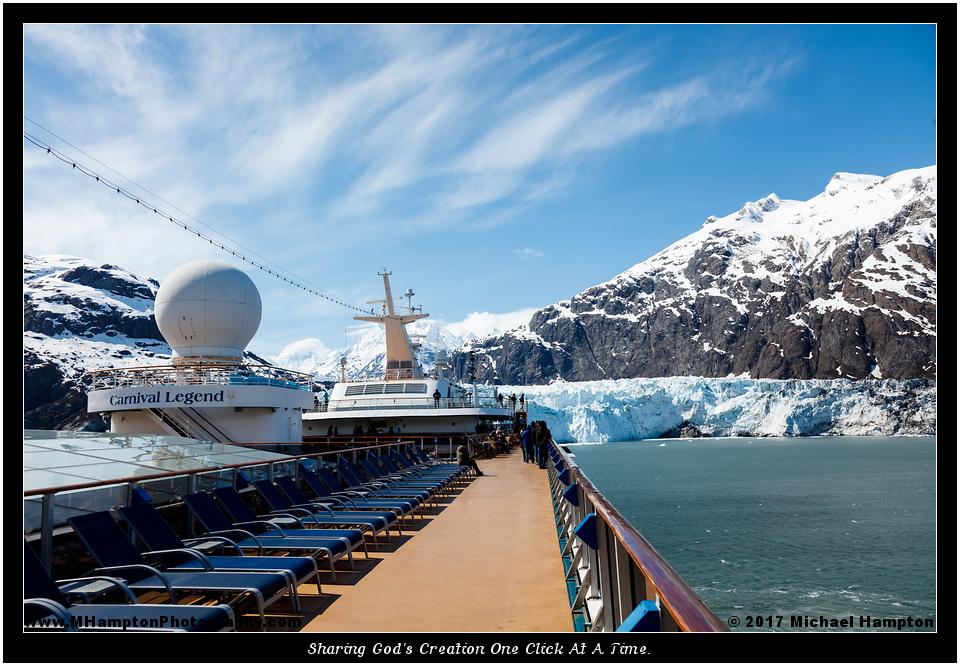 One last shot of Margerie before we go.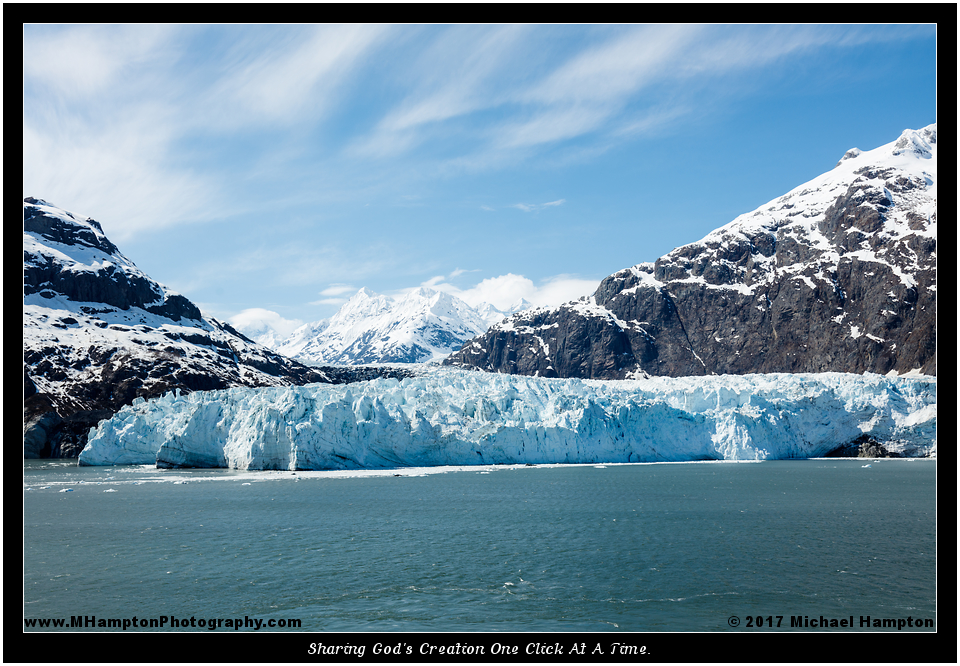 Now we are in for another treat. The captain makes a turn into the Johns Hopkins Inlet to where we are told is hit favorite location on this cruise. We won't be able to go all the way to the glacier because this inlet has been declared a critical seal habitat and cruise ships are not allowed in between 5/1 and 8/1 each year. We will get to just enter the inlet and look though.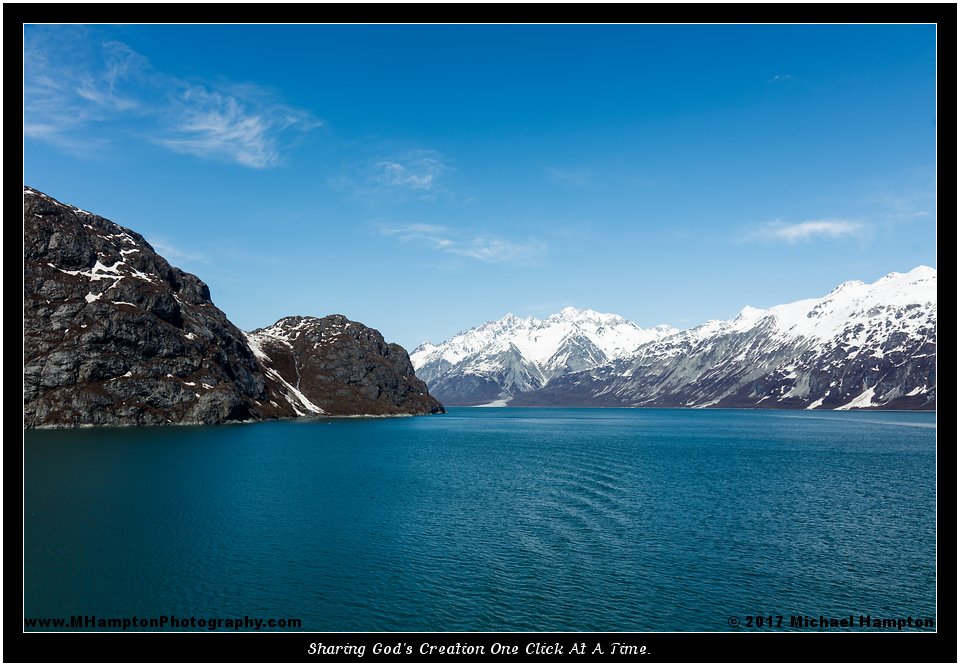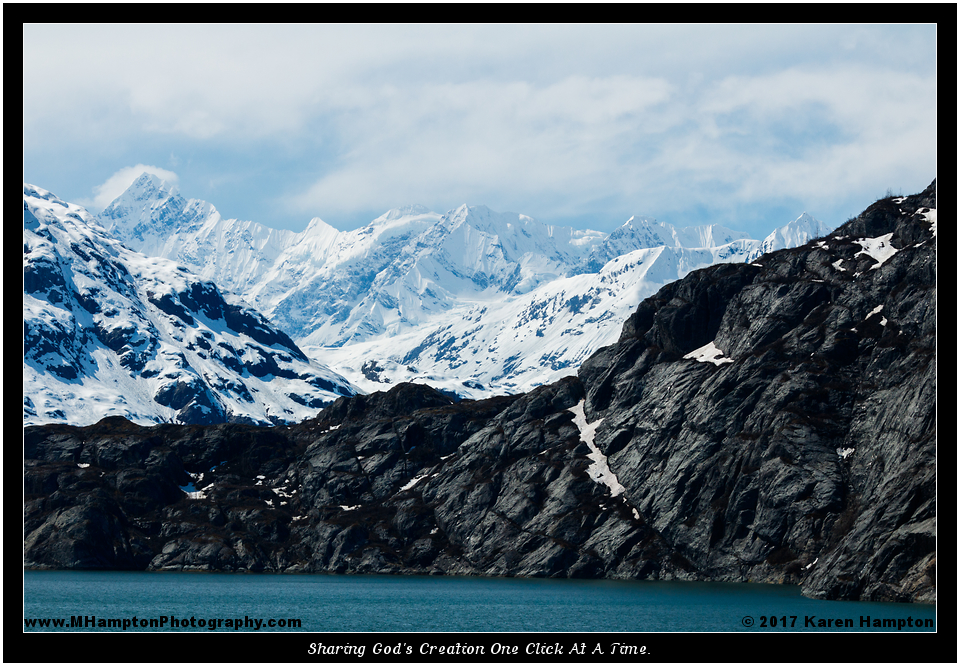 Nope, not there yet. This is Lamplugh Glacier. It's only 8 miles long. Small, but pretty.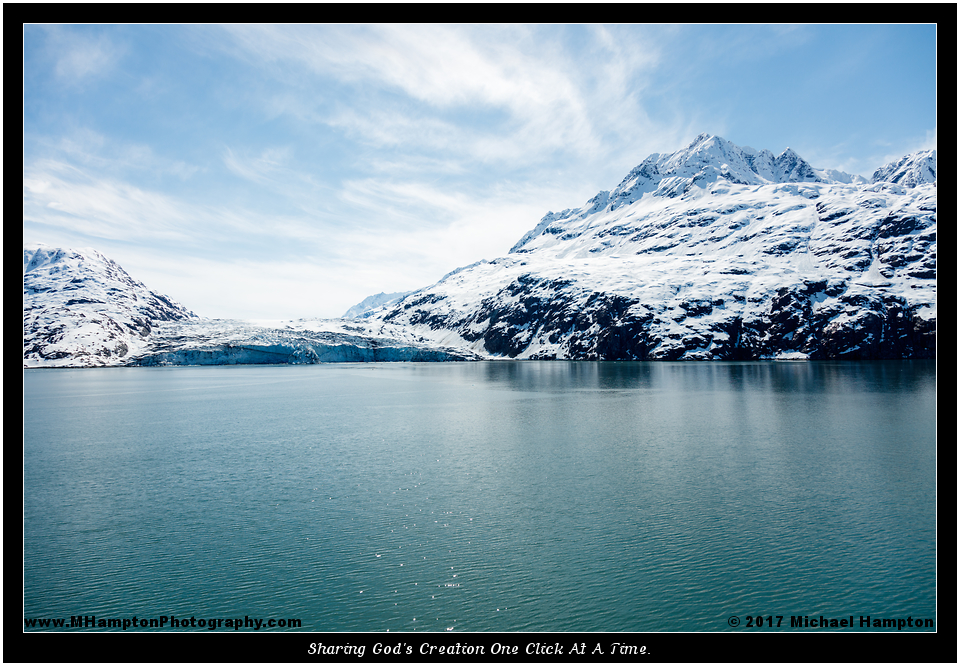 Karen spots this otter off the side of the ship, playing around on its back! He returns her glance and they both smile.  🙂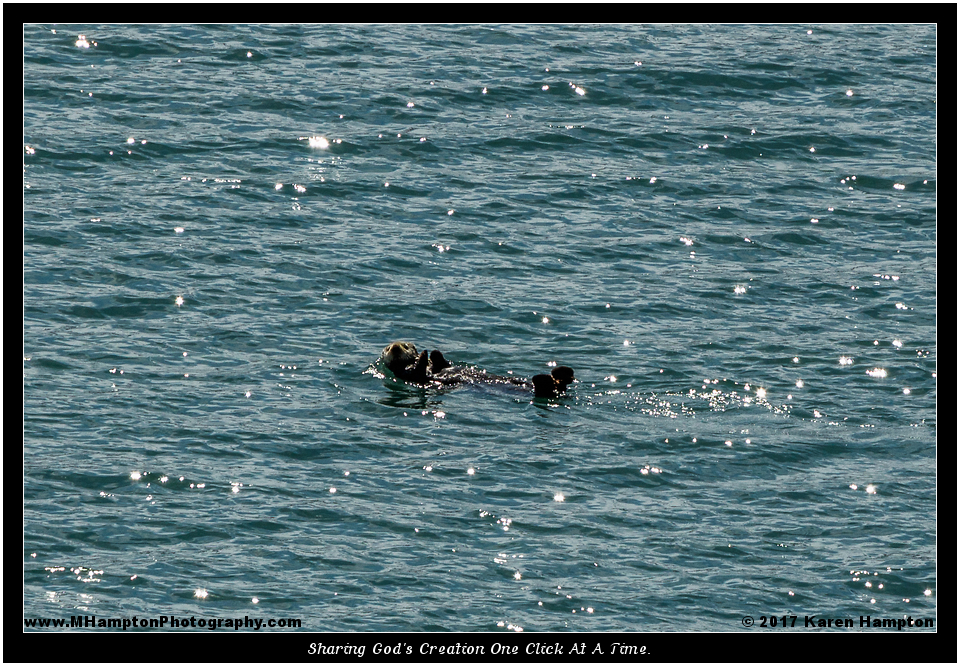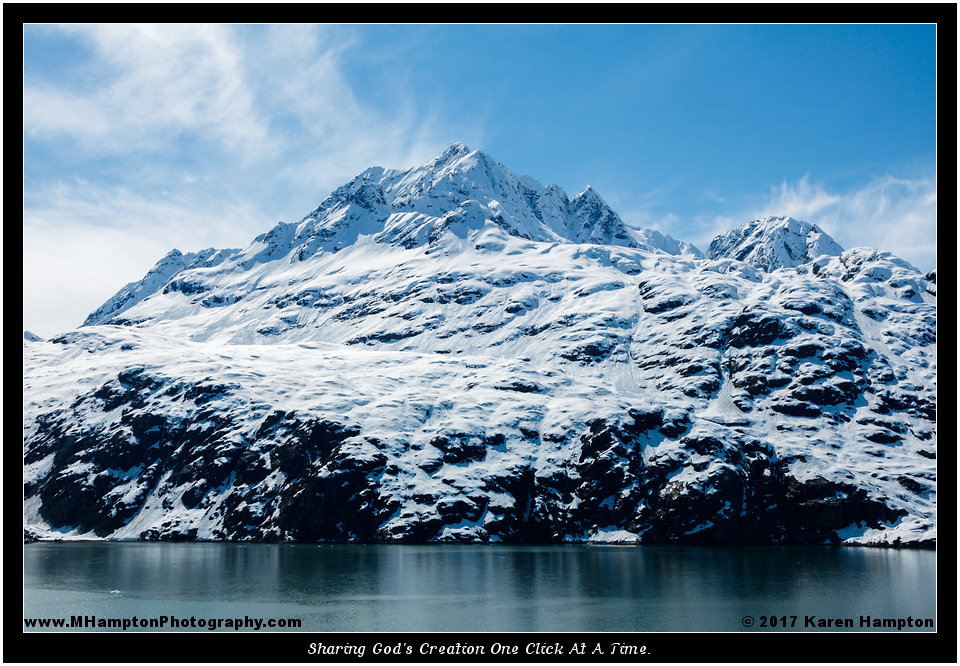 Yes, even I am smiling. Better be careful or I'll lose my rep as a grumpy old man.  🙂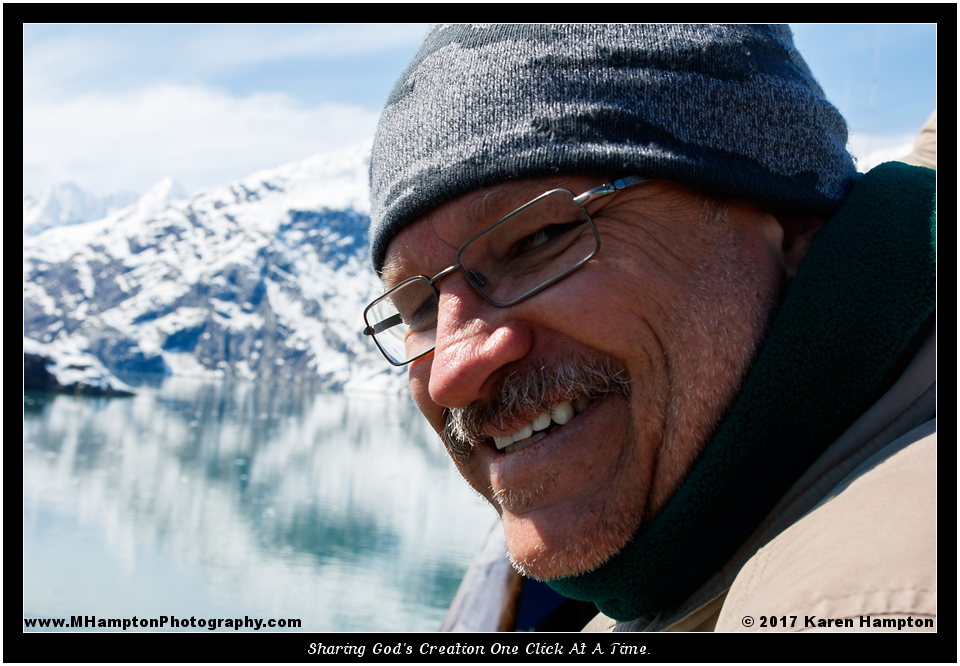 This turn is referred to as "jaw point". According to our cruise director it is because your jaw drops when you round the corner!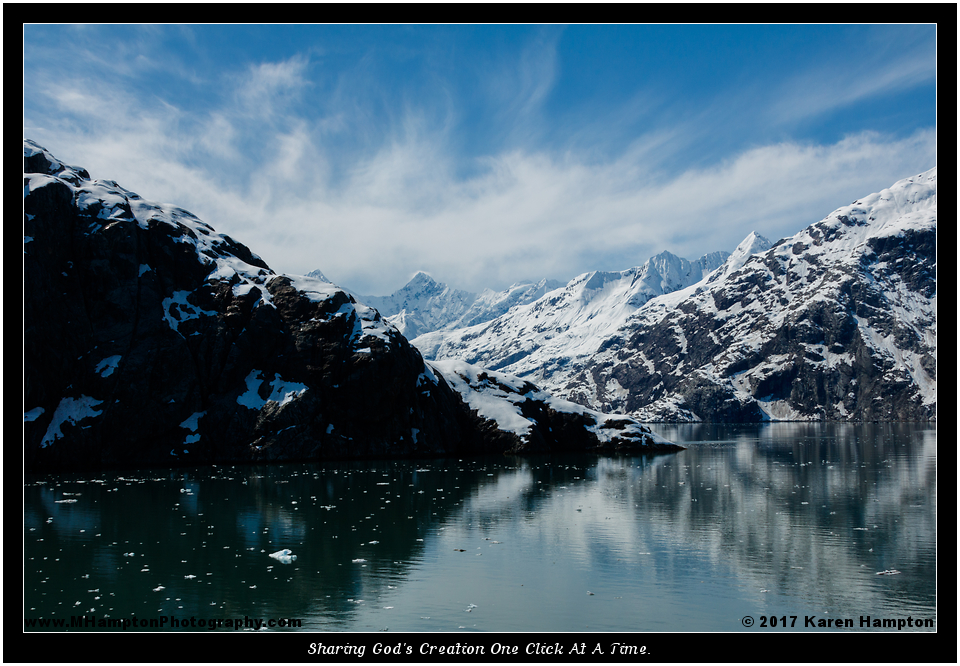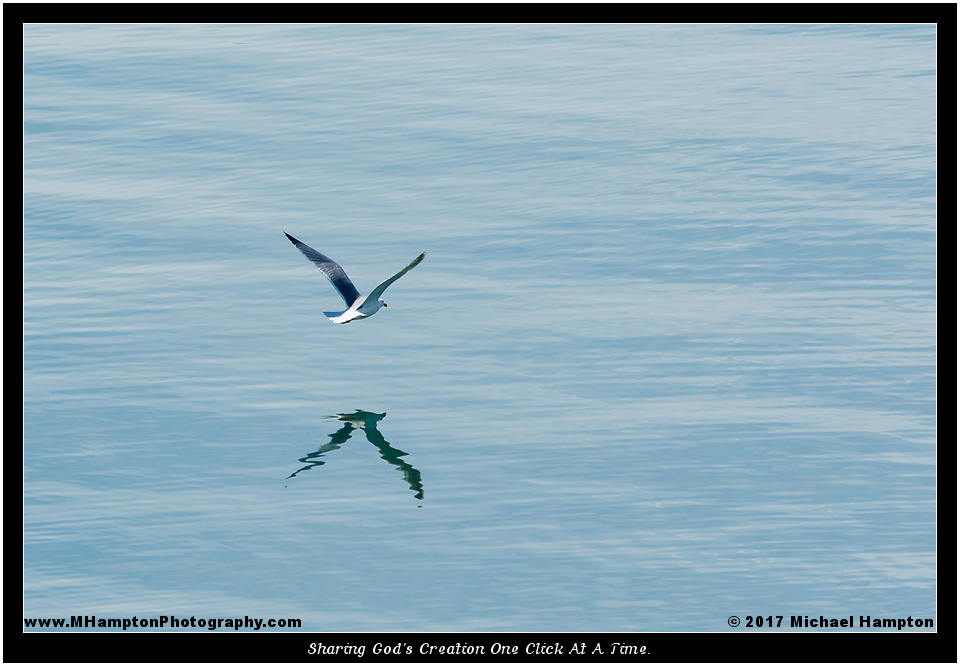 That is the Johns Hopkins Glacier at the end of the inlet! It's about 6 miles away from us, but the beauty is evident! Wow! Jaw has officially dropped!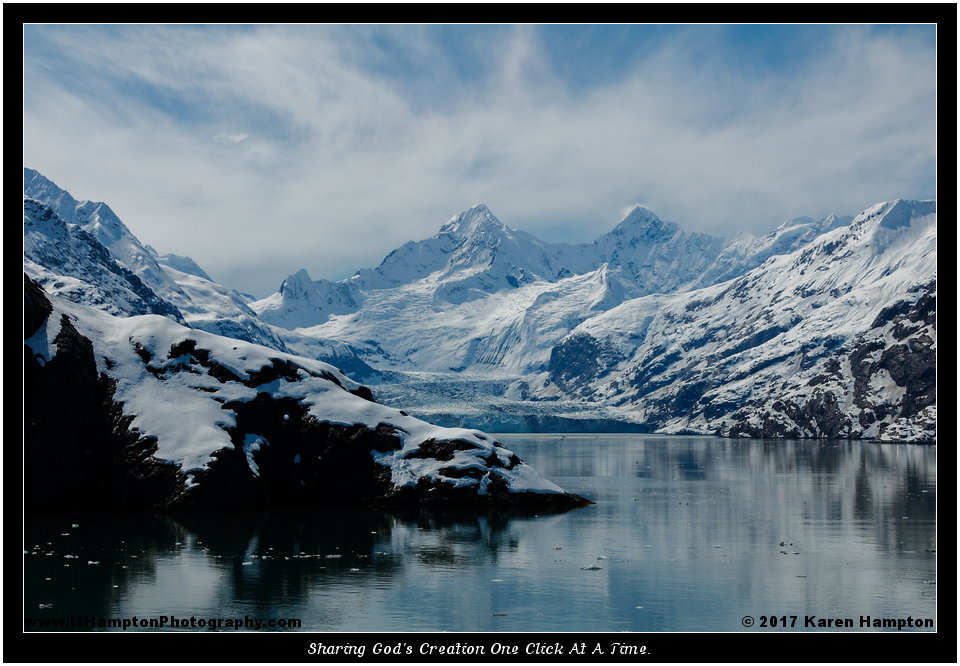 Again for scale. That mast is pretty tall but nothing compared to the glacier.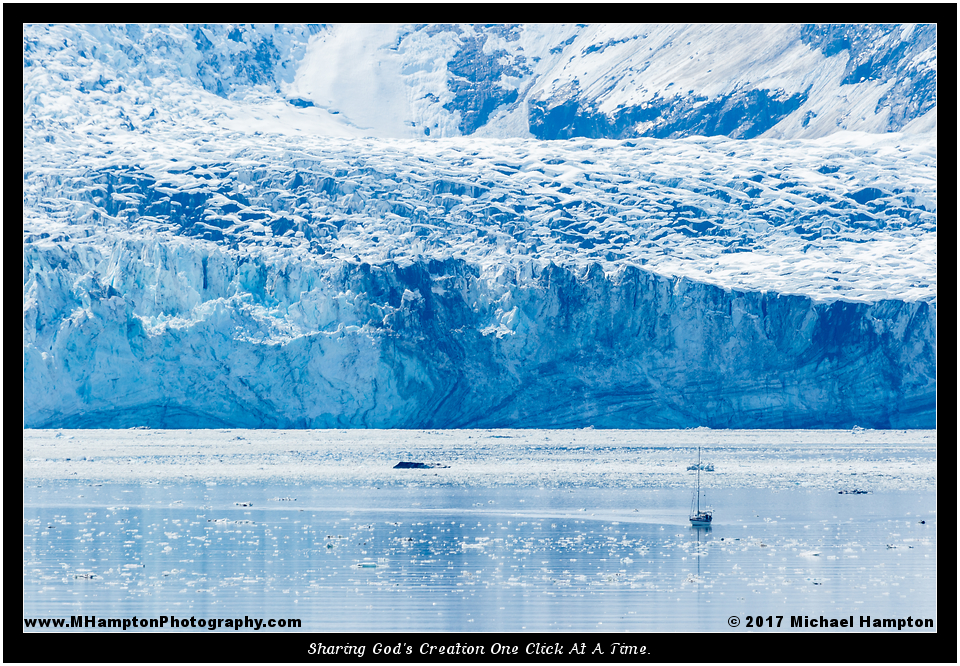 Wow!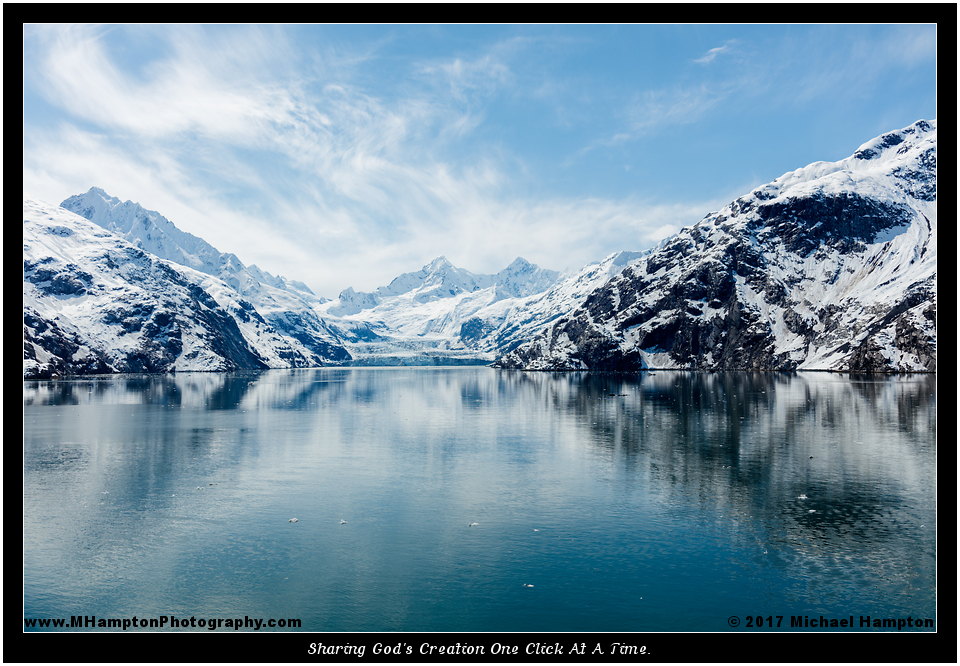 After spending time enjoying the sight of Johns Hopkins, it was time to turn the ship around and leave. The trip out of the park was just as amazing as the trip in.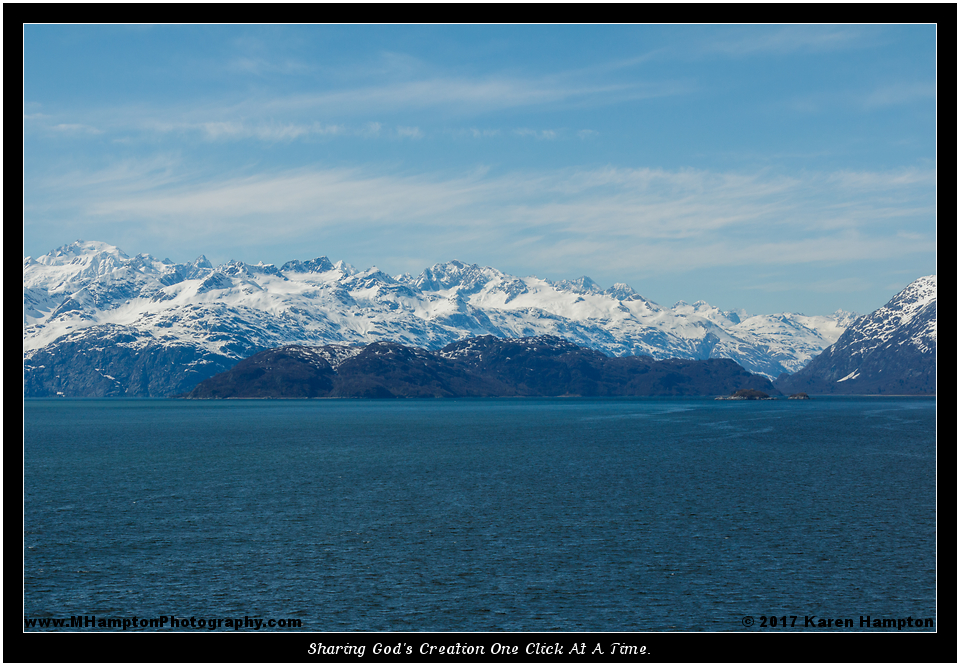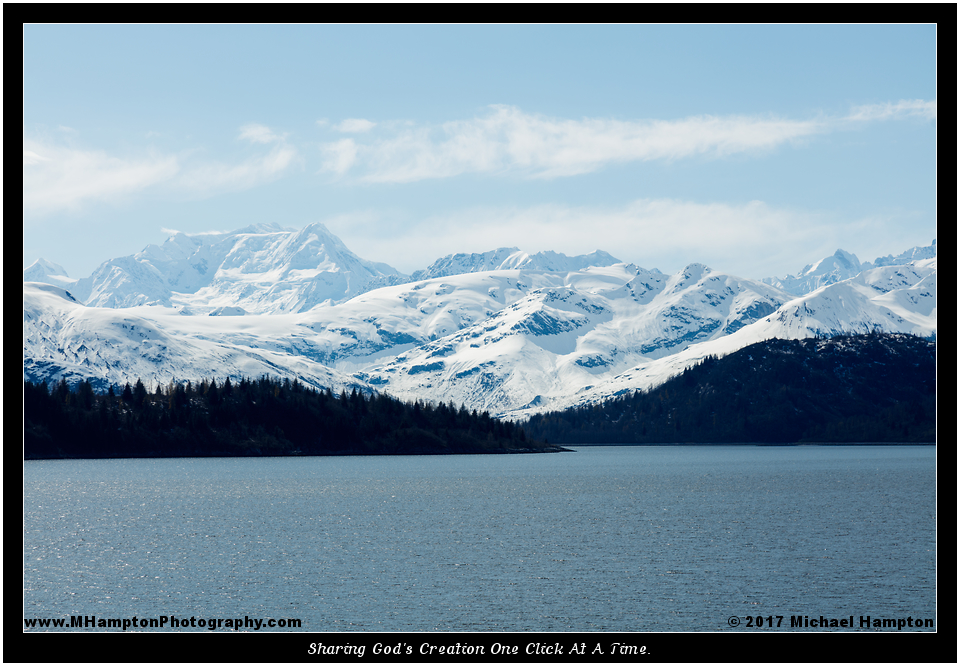 After dinner we are still enjoying the long days here. Finally, as the sun begins to set an amazing thing happens. We get just enough cloud cover for a very cool sky and a "sun dog". Not quite the Northern Lights, but we'll take it.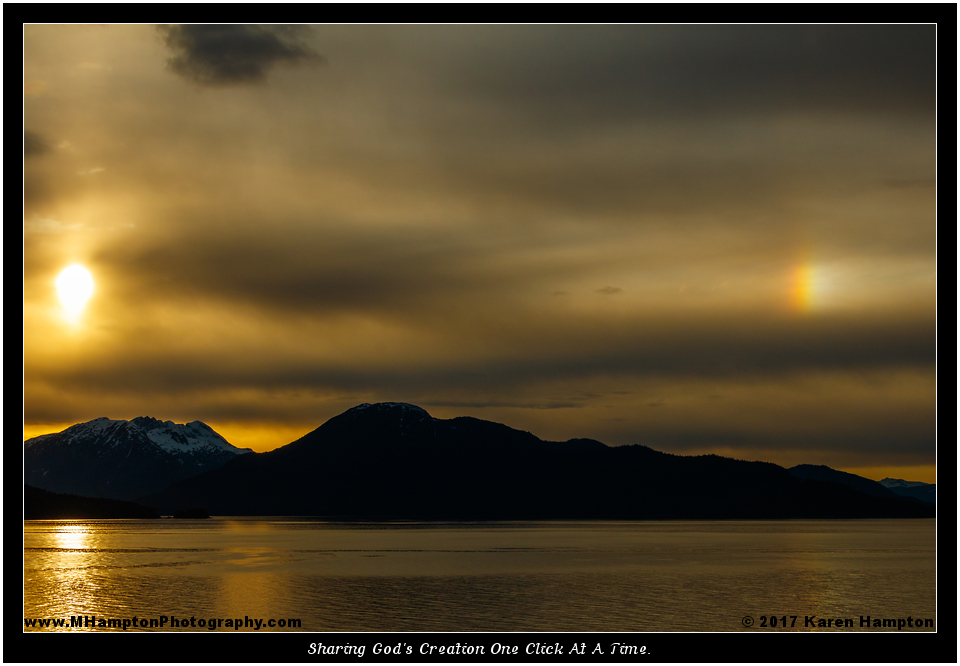 And for some reason, sunset seemed to take forever this evening. We spent time on the balcony, went inside, saw more amazing light, spent time on the balcony, went inside, repeat several times.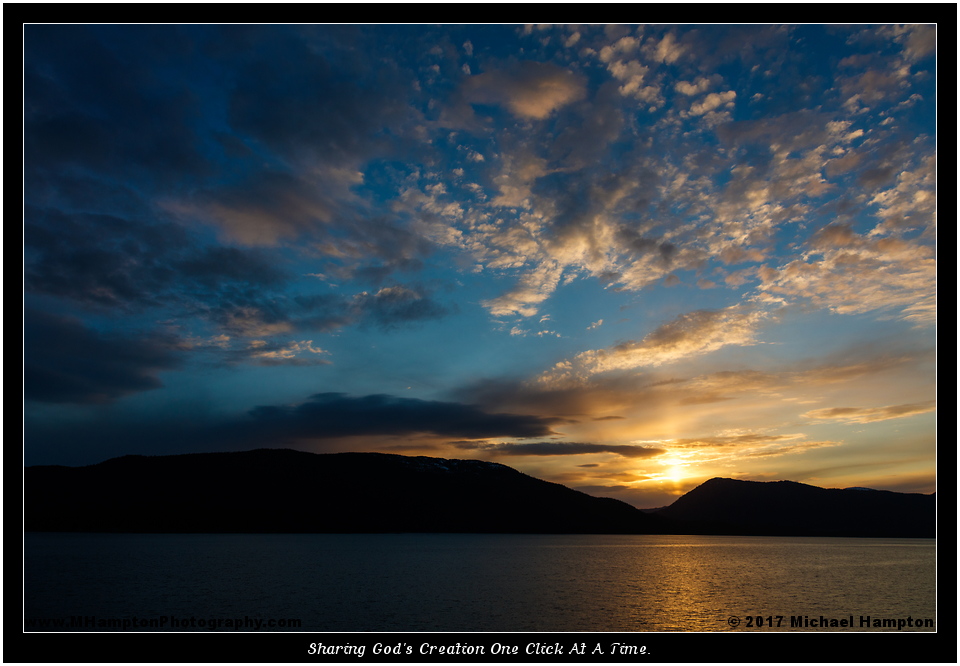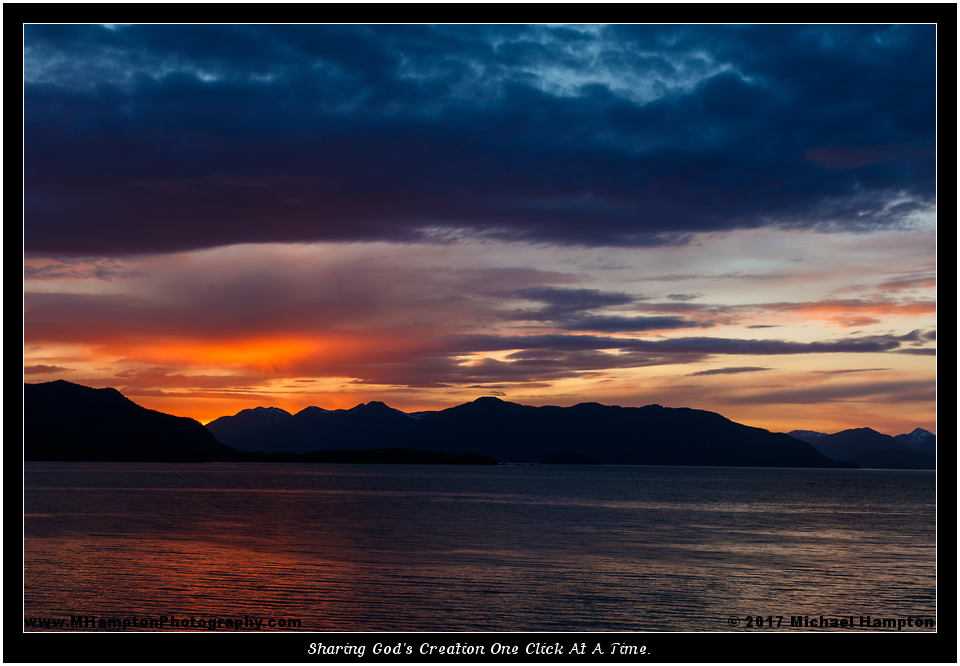 Until finally, the sun set behind the mountains, leaving us with the beautiful orange/red/yellow sky once more.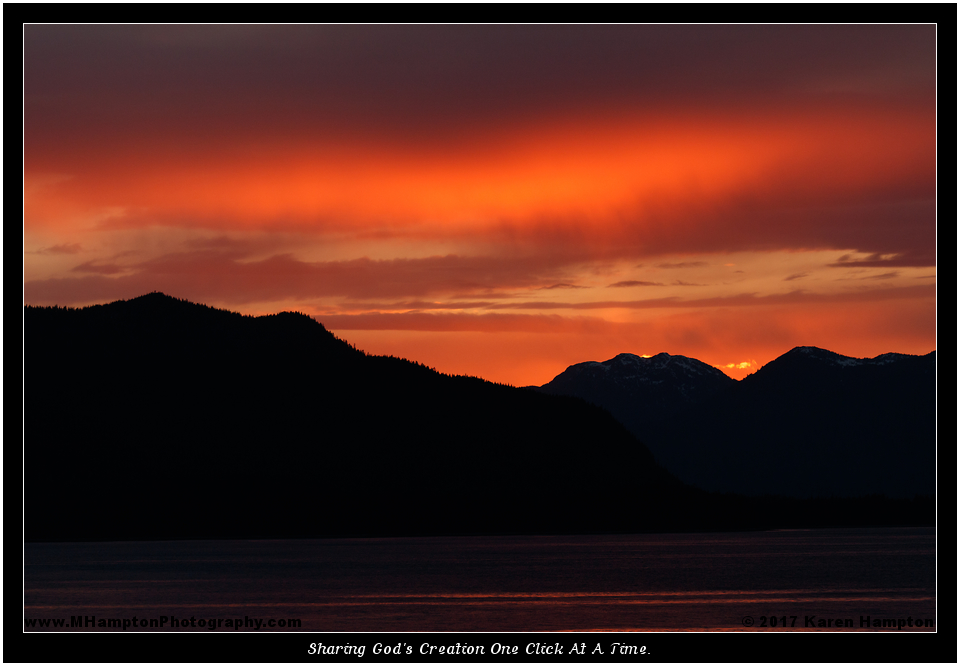 Tonight it looks like our friend is a towel frog. Who comes up with these things?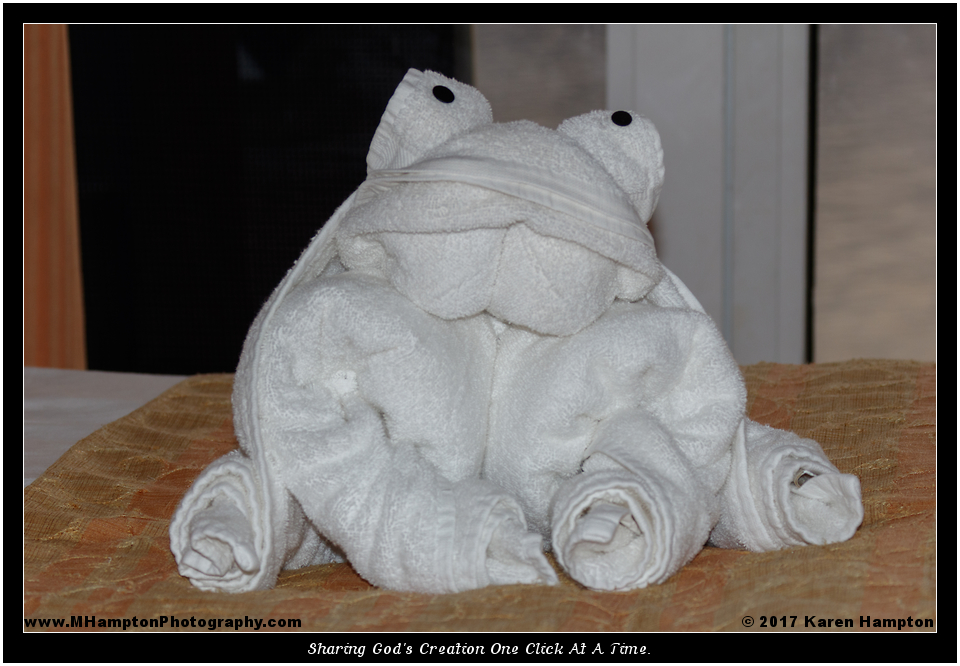 So, another day exploring God's beautiful creation. Looking forward to what He shows us tomorrow! Tomorrow brings us to our last port-of-call, Ketchikan Alaska.
All words and photos copyright 2017 MHampton Photography
Equipment used: Canon 5DS-R, Canon 7DmII, Canon T6S, and various Canon lenses