I began the year with a drive over to the Lewisville Lake Environmental Learning Area (LLELA).  Karen planned on some hiking, but I planned on shooting something while I walked, so I brought my big gun with me!
For the most part, the walk was void of any photographable wildlife.  We walked the Redbud trail, hoping to catch a look at some hawks hunting in the open field area, but all we saw were some vultures flying high and far away from us.  So, we diverted over to the Cicada trail which is more wooded.
On the Cicada trail, there were plenty of birds, mostly Cardinals, but they were very flighty and just were not sitting still long enough for me to focus on them.  By the time I spotted them, they were flying into the woods.  At one point we heard a woodpecker but it remained hidden from our view.  But from the sounds of the hammering, I'm betting it was the last of the Ivory-billed Woodpeckers!  At least that's my story until I actually see it.  That $10,000 reward will buy some nice new photo equipment someday! 

After shooting a few sparrows and a robin, we continued hiking and finished the trail.  We were considering aborting the rest of the day and heading home.  I was beginning to regret bringing the heavy lens when we we saw what appeared to be a raptor making lazy circles over the grass of the Lewisville Lake dam.  As we waited in the parking lot, it got closer, and I exit the vehicle and the 600mm lens comes back out as this beautiful Northern Harrier  begins hunting in the grass right in front of us.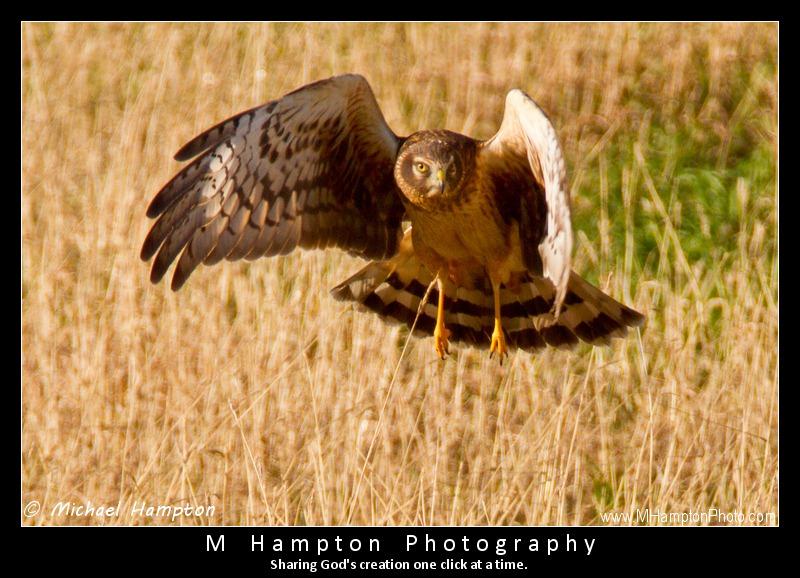 As we watch, this beautiful creature goes up and down the dam getting close and going far.  I take the opportunity to practice using the big lens, firing away trying to hone in on the proper technique for capturing birds in flight.  Normally it doesn't seem that hard, but when you are shooting with a lens then big, and the bird is actually this close to you, following the action is harder than it looks.  Finally, when all was said and done, I did end up with a few keepers.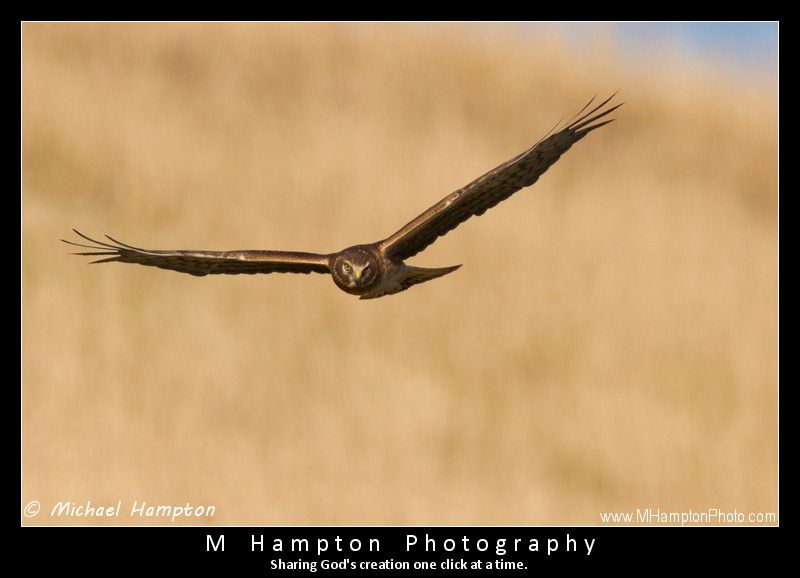 So, never think the day is over until the day is over.  Had we just gotten in the vehicle and drove off, we would have missed this beautiful sight.  You just never know what God is going to place right in front of your eyes.  Don't blink and miss it.
All photographs taken with the Canon 7D and Canon EF 600mm f/4 IS USM, and Canon Extender 1.4X II, mounted on a Manfrotto 055XPROB tripod and Jobu BWG-HD gimbal head with Really Right Stuff long-lens support package.