I was fortunate to spend several days in the Wichita Mountains Wildlife Refuge a couple of weeks ago and thought I would share what I saw.  Since I saw so many diverse varieties of flora and fauna I'll break them into separate posts.  This post will focus on the little furry creature known as the River Otter.
My first morning there I decided to head out to French Lake and capture the sunrise.  I was hoping for some clouds and a dynamic sky, but as the sun began rising, I realized that wasn't going to happen.  Still though, the sunrise was magnificent and it did my soul good to see it.  And then I spotted something special.  In the reflection of the sun before me, there was something in the water.  I had read that there were otter in these waters, but I had no idea where on the lake or at what time to expect them to be out.  Sure enough, there were actually two of them swimming around and diving for their breakfast.  I sat in amazement of their swimming ability and agility for a few minutes, and then realized that I came equipped for a sunrise.  My big lens was still in the car!  So I jumped up and ran back to grab the other camera with the 600mm attached, praying that they would still be around and active when I returned.
I get back to my spot and slap the 7D with the 600mm f/4 attached onto my Acratech GP ball-head, hoping that it would live up to its reputation of being able to withstand the extra weight, and I must say that it performed beautifully.  I aimed and fired several frames in the direction of the otters and caught them both in the highlight of the sun's watery reflection.  Step one accomplished.  I now have shots of river otters for my collection.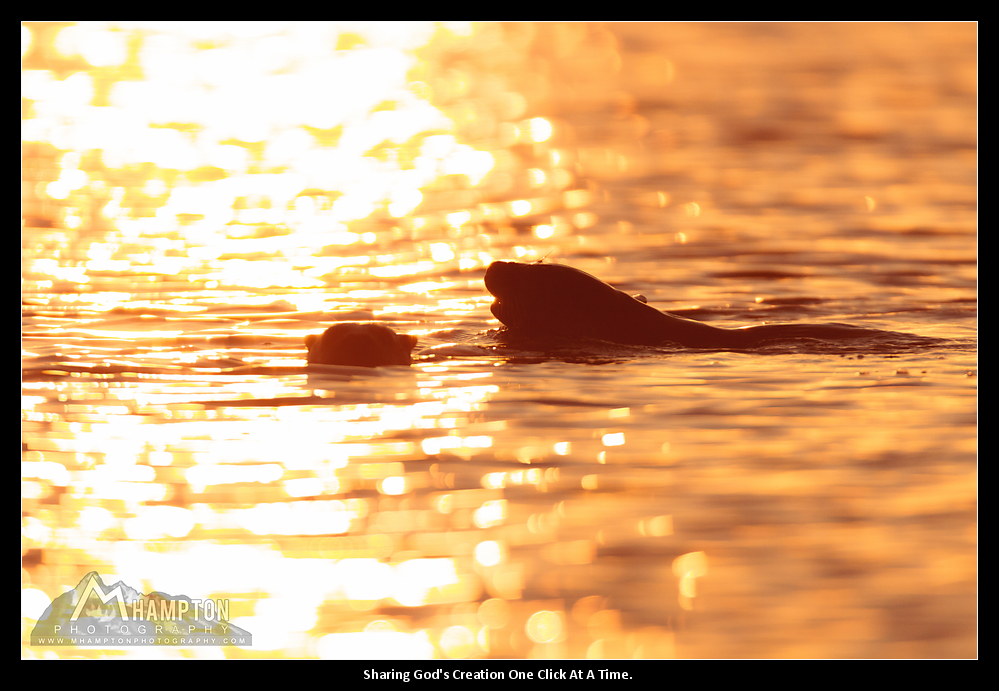 I watch in amazement for a while longer, just watching them diving, coming to the surface to eat, and then diving again.  I keep firing as the opportunity presents itself.  Then I notice that one of them is making its way toward the shore not far from me.  Could it be that it would be gracious enough to climb out of the water onto that rock sticking out of the shore?  Sure enough, it pops up and stretches a few times, resting on a rock that is just under the surface of the water.  Long enough for me to capture a few more frames.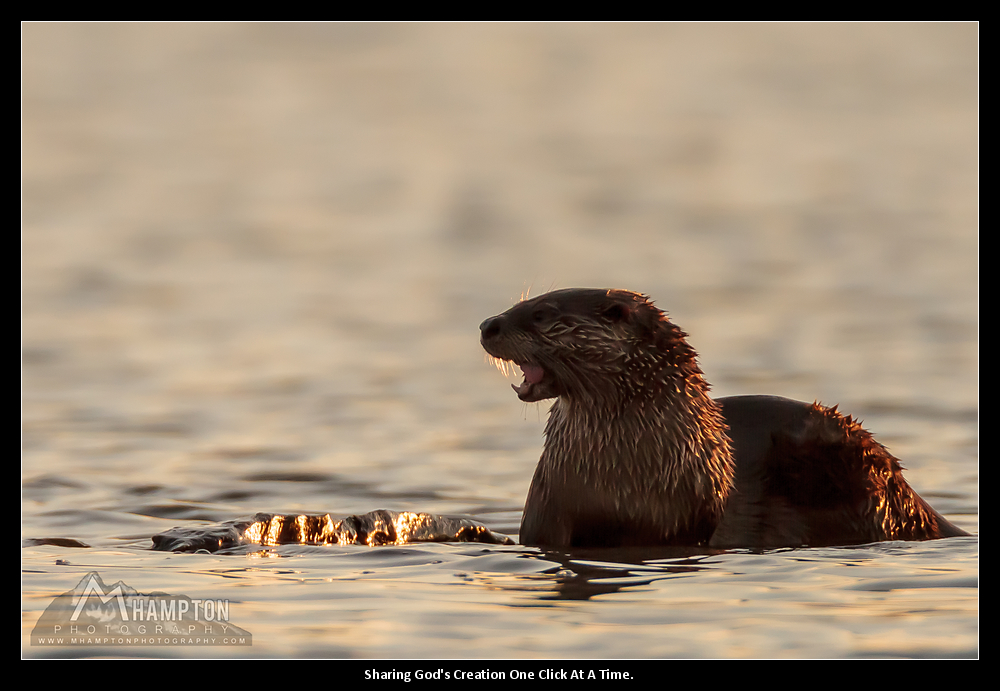 From here, the otters returned to the water and swam away, leaving me with a few frames and some great memories to carry with me.
The next time I saw an otter was on my last morning in the refuge.  This time I was at Buford Lake.  It was already past sunrise and I was going prepared for birds since this lake was surrounded by a forested area.  I had already spotted some red-headed ducks when sure enough, there was the otter, swimming across the surface of the small lake.  Still in the "golden hour", the warm hues of the sun made for a nice capture.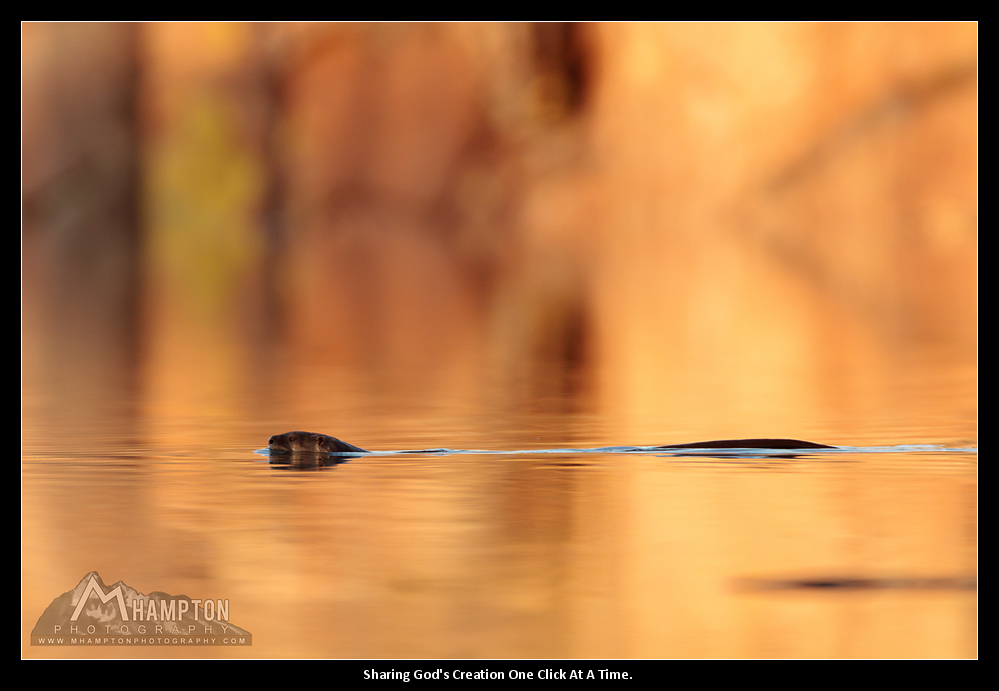 At one point, the otter climbed up on the bank directly across from me and rolled around in the dead grass, as if using it for a towel to dry off.  It popped up on its front legs and looked at me as if to try and figure out what the big piece of glass was in front of my face.  I was able to make eye contact and –captured!  After drying off, the little otter walked into the tall grass and I thought I had seen the last of it.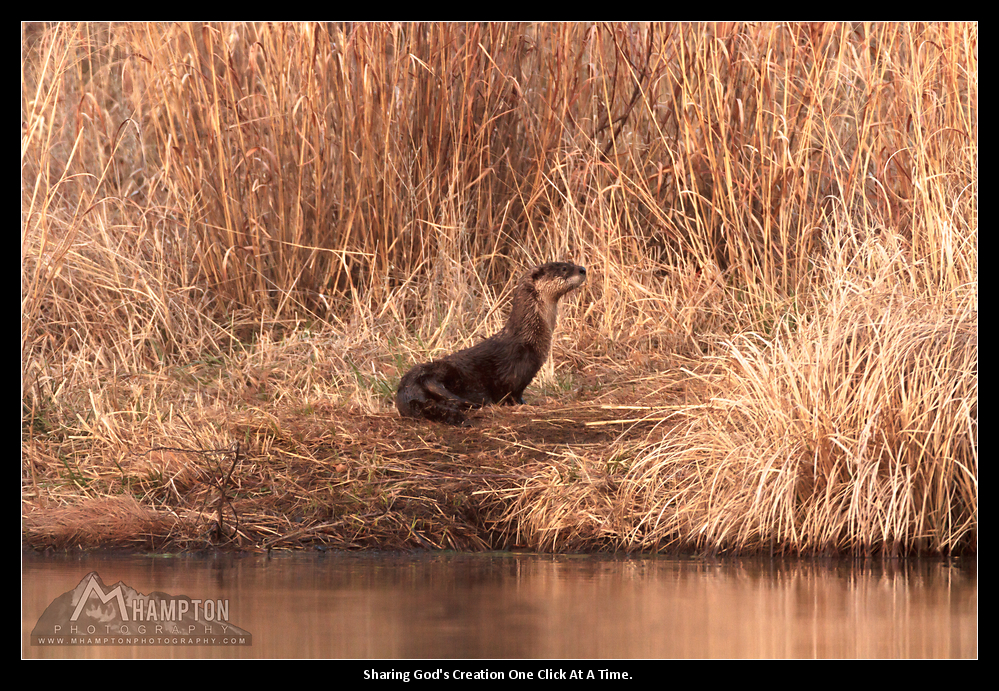 But a few minutes later, it came out, slipped back into the water and began swimming directly at me.  Between my excitement and the limited minimum focus distance of the 600 f/4, I only have this blurry, very closeup look at its face, as it swam to within a few feet of me, probably checking out the reflection of the glass, before turning to resume its hunting.  I share this photo only because of the excitement it generated in me while I was simultaneously trying to focus both mentally, and manually with the lens while the otter was advancing directly towards me!  Add this one to my collection of "if only" shots.  So close and yet fail.
Finally, as the otter continued its morning ritual of hunting and feeding, the thought went through my head that "sometimes you're the otter, and sometimes you're the fish".  This day, I was the otter!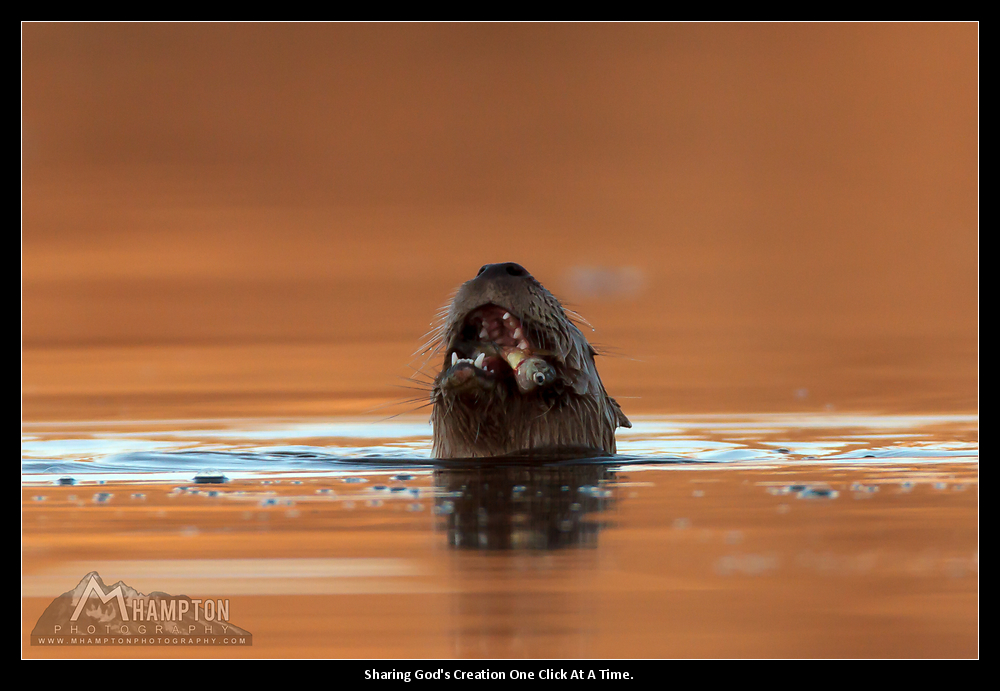 If you have the chance, stop by and check out the Wichita Mountains Wildlife Refuge.  It is in southwestern Oklahoma, right outside of Lawton.  It is only about a 3 hour drive from the Dallas/Ft Worth metroplex (depending on which side you begin from), and it is well worth the drive.  In the coming days, as time permits, I'll update with some of the other creatures I was lucky enough to spend time with in this wonderful place!
If you enjoyed this post, share it with friends.  After all, it's free.  And that's a pretty good deal!
All photographs captured with the Canon 7D and the Canon 600mm F/4IS lens.