Today, Karen and I woke up early and headed over to the Ft Worth Nature Center to be there when they opened the gates at 8am.  I had been told that a bald eagle had been spotted down around the river area and I thought we'd try our luck at finding it.
When we got to the gates, there were a few other vehicles waiting for them to open, and a few guys in camo standing around talking.  The sky was completely overcast and it was still in the 40s, but I got out and tried to strike up a conversation.  I could tell by the beanbag mounts on their doors that these guys were photographers, and the way they were dressed, they appeared to be looking for wildlife.  I tried to ask them about the best locations to shoot here, but they didn't appear willing to share any of their "secret" places with me.  That was a first for me.  Ever other time I have met photographers out and about, they were more than willing to share whatever they knew.  These guys must be a different breed of photographer.  When I asked if they were with a specific group of anything one of them looked at me and said, "a photography group" as if to say "well duh!"  I got the hint.
About that time the lady came to open the gate and we entered the area.  We drove along the river and our first stop was the boardwalk at the marsh area.  As we were approaching the bird blind on the boardwalk, I looked over to notice a deer crossing the river.  I hurriedly set up my tripod and was able to capture a few frames before it was all the way across!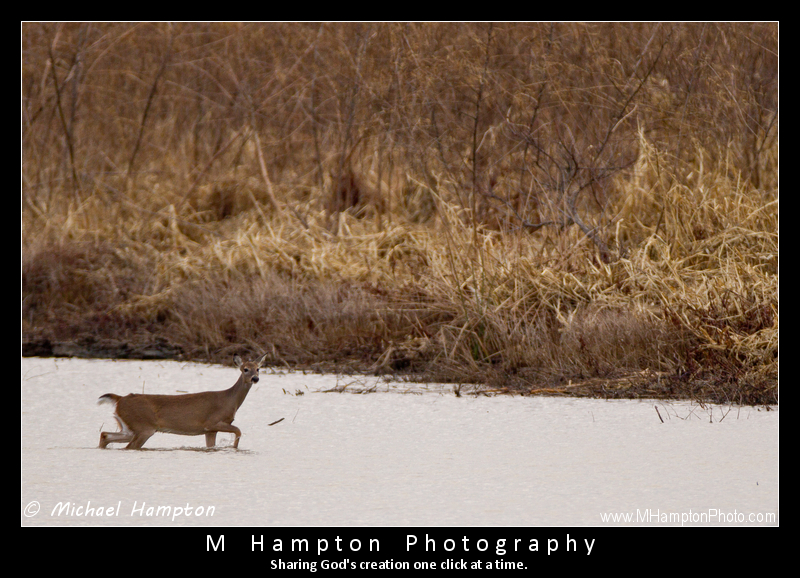 While still at the marsh boardwalk, I spotted a red-shouldered hawk on a tree near the bank of the river.  His feathers were being blown by the wind and even he looked a little chilled.  He stuck around for quite a while before finally flying away.  Gave us plenty of opportunities to capture his image.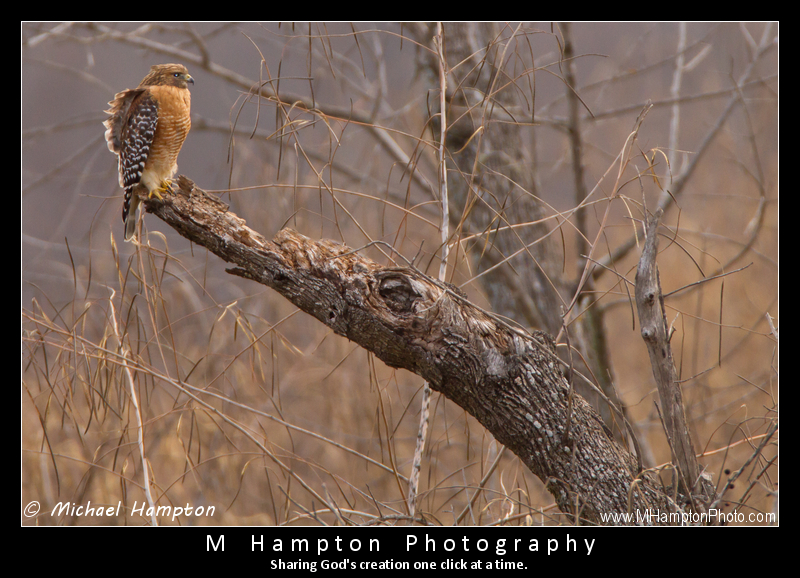 As we began to leave the boardwalk, Karen pointed out a large white bird that was flying right at us.  I looked through the 600 and wasn't really sure, but it looked like a pelican.  I wasn't sure because I've never captured one before, but as it got closer, (and as I found later when I looked it up), it is indeed an American Pelican.  These guys can get large with a wing span of up to 9 feet!  This one flew right at me and at one point was so large in the viewfinder he no longer fit!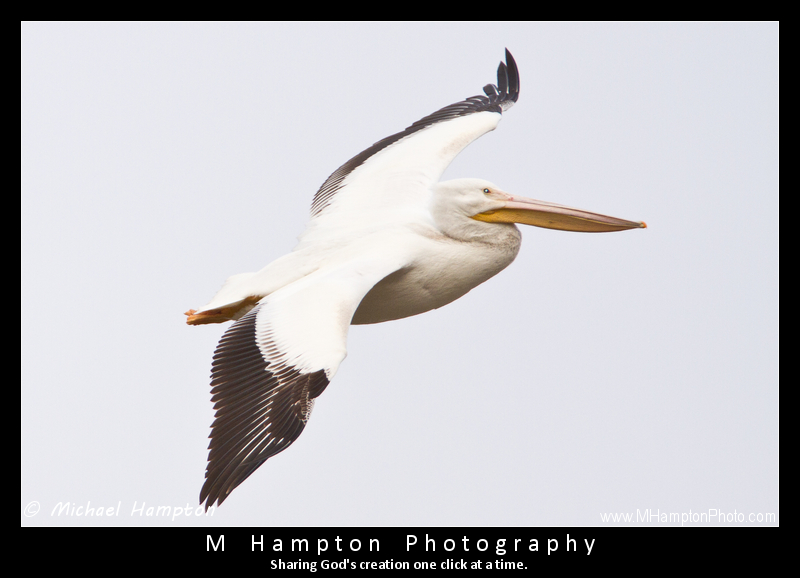 But it wasn't enough for just this one pelican.  There was a whole flock of them.  At one point they flew right over our heads, at which point I was glad they weren't mad at us for any reason.  I did capture this shot of a few of them flying in formation.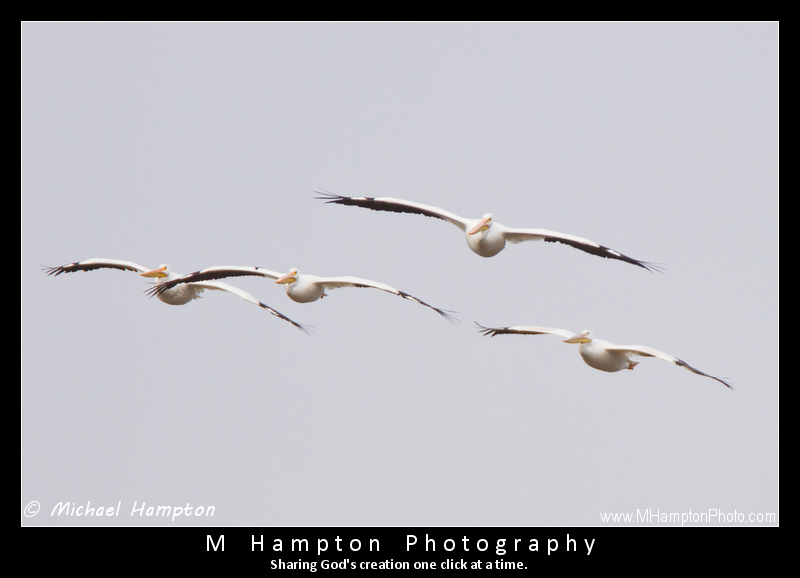 One last bird as we were leaving the marsh area.  This little song sparrow was sitting on the high grass just a singing away.  The cold and gray sky didn't seem to darken his spirits any.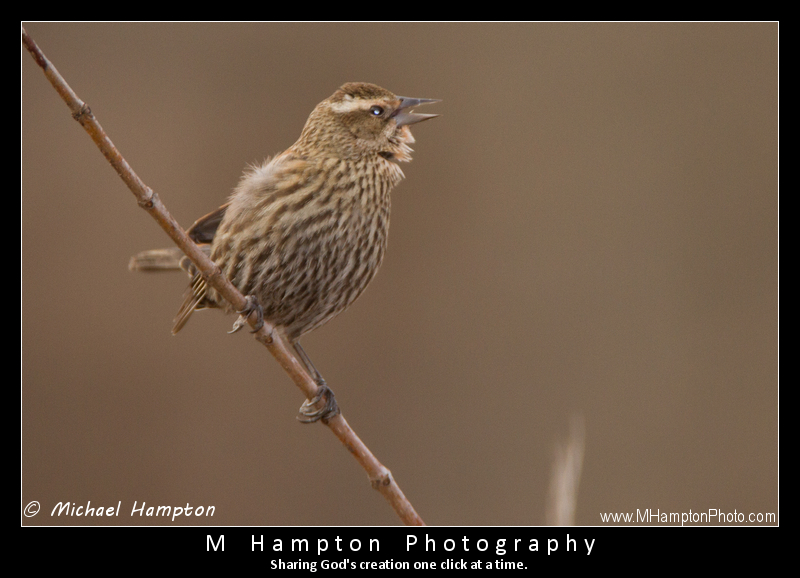 From here, we drove around a bit and found "Prarie Dog Town".  I knew I was going to be in trouble here.  I have this thing for small, cute, critters, and sure enough, I shot quite a few frames at this location.  I just couldn't get enough of these little guys.  Every time I would get a shot that I really liked, they would turn around and do something else cute.  So, here are a few of the many shots that I took.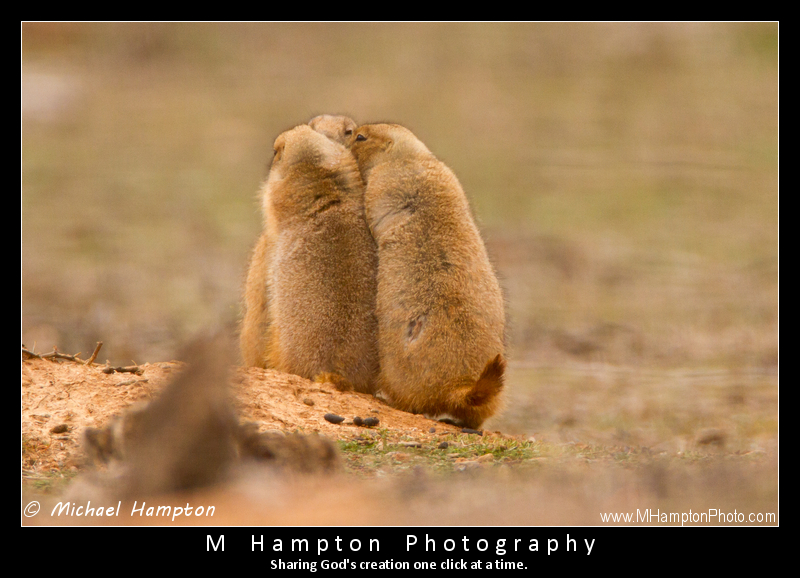 And what could be cuter than the husband prarie dog kissing his wife good-bye as he leaves for work.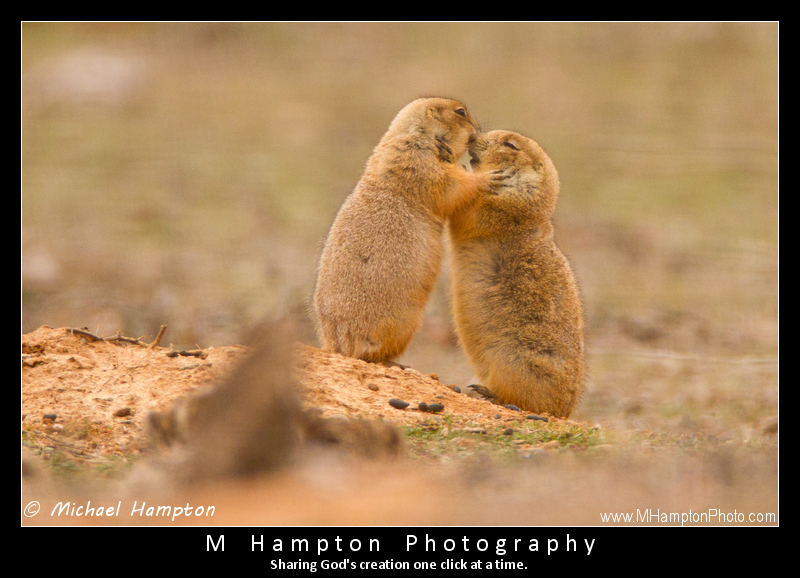 Okay, enough silliness.  Our next stop was Greer Island.  Yes, there is a sign as you cross over to the island that alligators have in fact been seen in the area, but we didn't see any today.  I'm guessing that the cold water has those cold-blooded creatures looking for warmer climates right about now.
Hoping to see some more bird life, we were quietly waking through the woods on the island, when all the sudden, we hear a loud voice and then the sound of little girls screaming (playing).  Yep, all the birds flew away.  Luckily, once things calmed down again, I did happen to catch the sound of a downy woodpecker doing his business on the side of a tree.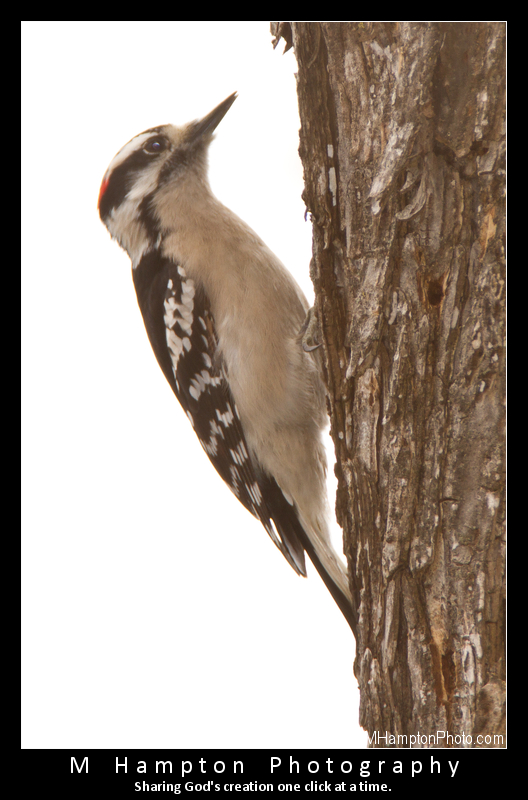 And finally, as we were leaving the island to conclude our visit I spotted a great blue heron on the shore of the island.  He was just hanging out at the edge of the water as ducks swam by.  One last picture before we left.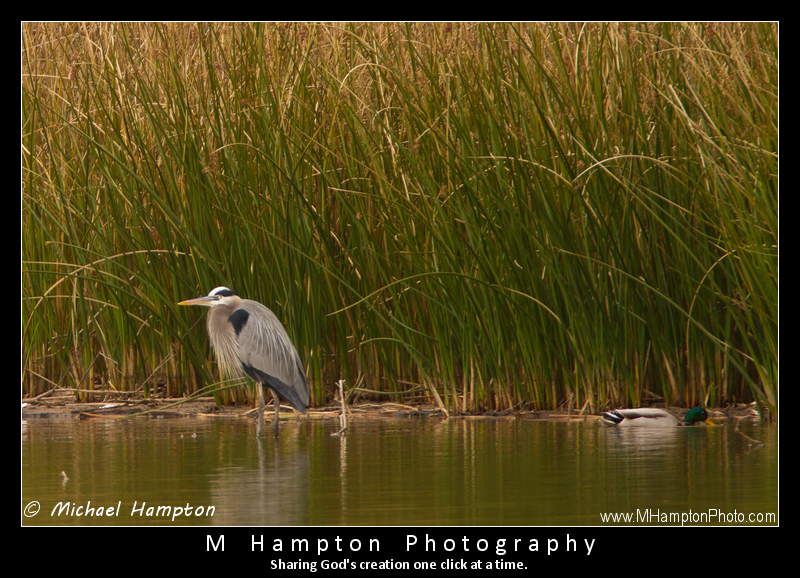 All in all, not a bad day.  Got to explore some new places, and even through it was cold and the sun refused to shine, I was still able to find some photo-worthy opportunities.  If nothing else, the Prarie  dogs alone were worth the trip! And speaking of prarie dogs, one more before we go…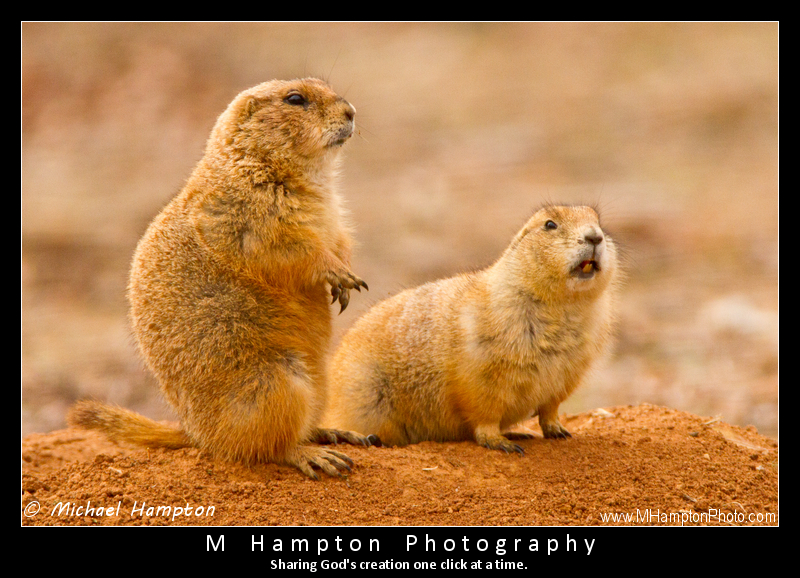 These guys are just too cute.  I could stay there and shoot these guys all day long.
All photos taken with the Canon 7D and the Canon 600mmL f/4 IS usm lens